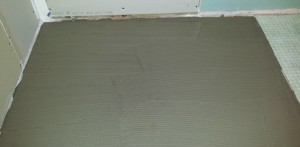 There are a lot of ways to screw up tile installation. You can have not enough mortar underneath the tile and it won't stick. You can have too much and it comes up through the grout joints and makes a big mess! The tiles usually don't tell you which trowel to use. So what's the secret? Can you just buy one size of trowel and use it for everything?
Why all the different trowel sizes?
All a notched trowel does is provide a way to gauge how much thinset mortar you put down. You use the notch trowel and you can put down the same amount of mortar every time. What you want to do is put down enough mortar to get complete coverage underneath your tile.
Different tiles require different amounts of thinset. Also different underlayments require different amounts of mortar.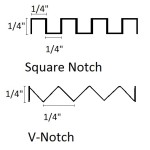 How are notch trowels measured?
Trowels are measured by the length, depth, and spacing of the notches, or teeth.
U-notch vs Square notch
I'll be honest with you. I don't really know the difference between the U notch and square notch trowels. It's my understanding that there is a slight advantage to the U notch but I couldn't tell you what it is. For the purposes of this post I consider square notch trowels and U notch trowels to be the same thing. If I list a 1/4″ x 1/4″ square notch and you purchase that size in a U notch then you'll be ok.
Subway Tile Installation: Three Basic Tips
What is the best trowel size to use?
This depends on a lot of factors. What are you installing? Membranes, cement board, tile, or ? What size tile? Which membrane? Are you looking for the best trowel size for subway tile?
Below I have some general guidelines on which trowel size to use for different situations. This is just a guideline and you'll have to try it out for yourself. What you want to achieve is the best possible coverage without getting too much mortar down.
Some of the factors involved in this are:  The size of the tile, the thickness of the tile, how big and deep the depressions on the back of the tile are, the consistency and type of thinset being used, and the surface that you are installing over.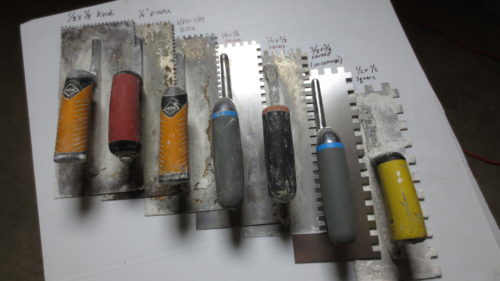 So start with this list below and you may have to fine tune things from here.
This post contains affiliate links. The site owner may earn a commission should you click on an affiliate link and make a purchase. Read more
1/8″ x 1/8″ notch trowel : Primarily a trowel to use for installing thinner membranes. After all, the Kerdi trowel is simply a 1/8×1/8″ notch trowel. Use it for installing kerdi, Valueseal, Hydroban sheet membrane, USG Durock shower membrane, etc. I can't think of any tiles that you would want to use this trowel for.
1/4″ x 1/4 "  (3/16) V-notch: I use this trowel and the Ditra trowel interchangeably. So this is a great trowel size for uncoupling membranes. Also I use this trowel for small thin glass tile mosaics. This may also be a nice trowel size for thin mosaics up to say 2×2 inches.
Which Thinset to use: Infographic
1/4″ x 1/4″ square notch: The most common trowel size in the tile industry. Use this trowel to install cement board on floors. Yes, you need thinset under your cement board and, no, construction adhesive isn't the same thing. Also, use this trowel for installing Ditra Heat and Prodeso Heat membranes.
A great trowel for installing small ceramic tile such as 4.25 x 4.25, 6×6, and 3×6 subway tile is this 1/4 inch square notch trowel. This may also be a good trowel size for thicker (5/16+) mosaics.
1/4″ x 3/8″ square notch: Use this for 8×8's and some of the 5/16″ thick 12×12 builder grade tile. Even some of the 4×12+ bigger subway-type tiles. Home Depot 4×16 Restore tile and such.
1/4″ x 1/2″ square notch: The 1/4″ x 1/2″ x 1/4″ square notch trowel is good for 12×12's and 13×13's maybe even up to 16×16's no more than 3/8″ thick.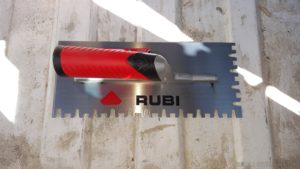 1/2″ x 1/2″ square notch: I use this trowel size for any large format tiles. 15 inches and larger. Including 12×24's, 16×16's, 18×18's, 12×12 marble and granite, and the popular 6×24 porcelain plank tiles.
3/4″ x 9/16″ U-notch: Anything bigger than what's listed. 24×24's maybe. Larger 24 inch natural stone. It's rare that I use this trowel size.
More tips for installing wood look tile flooring
Smaller than 1/8 notch:  A trowel size smaller than a 1/8″ square notch trowel is usually for glues. While I occasionally use glues with some of my installations (Noblebond EXT for example) it's not very common. The manufacturer of the glue will usually have a trowel recommendation for their product.
Euro notch and slant notch:   The Euro notch and slant notch trowels are trowels that are supposed to give more complete coverage. The idea is that they form notches in the mortar that are easier to collapse and leave less air pockets. However they really aren't necessary to achieve proper coverage underneath your tiles.
The proper notch trowel size is important to a successful tile installation. This guide should get you started in the right direction. If there's something that hasn't been covered please let me know in the comments.