At last, mixing small batches of thinset doesn't have to be a secret!
Finally, you too can know the exact amount of water and thinset powder to add together to get the perfect thinset consistency.
This means:
No more wondering what "peanut butter consistency" looks like
No more struggling to gauge how much a half of a bag of thinset powder is
Too-thin and over-watered mixtures are a thing of the past
Rather, this post explains how to mix the right amounts of the proper ingredients every time.
Note: Scroll Down to see the Exact Batch Cheat Sheet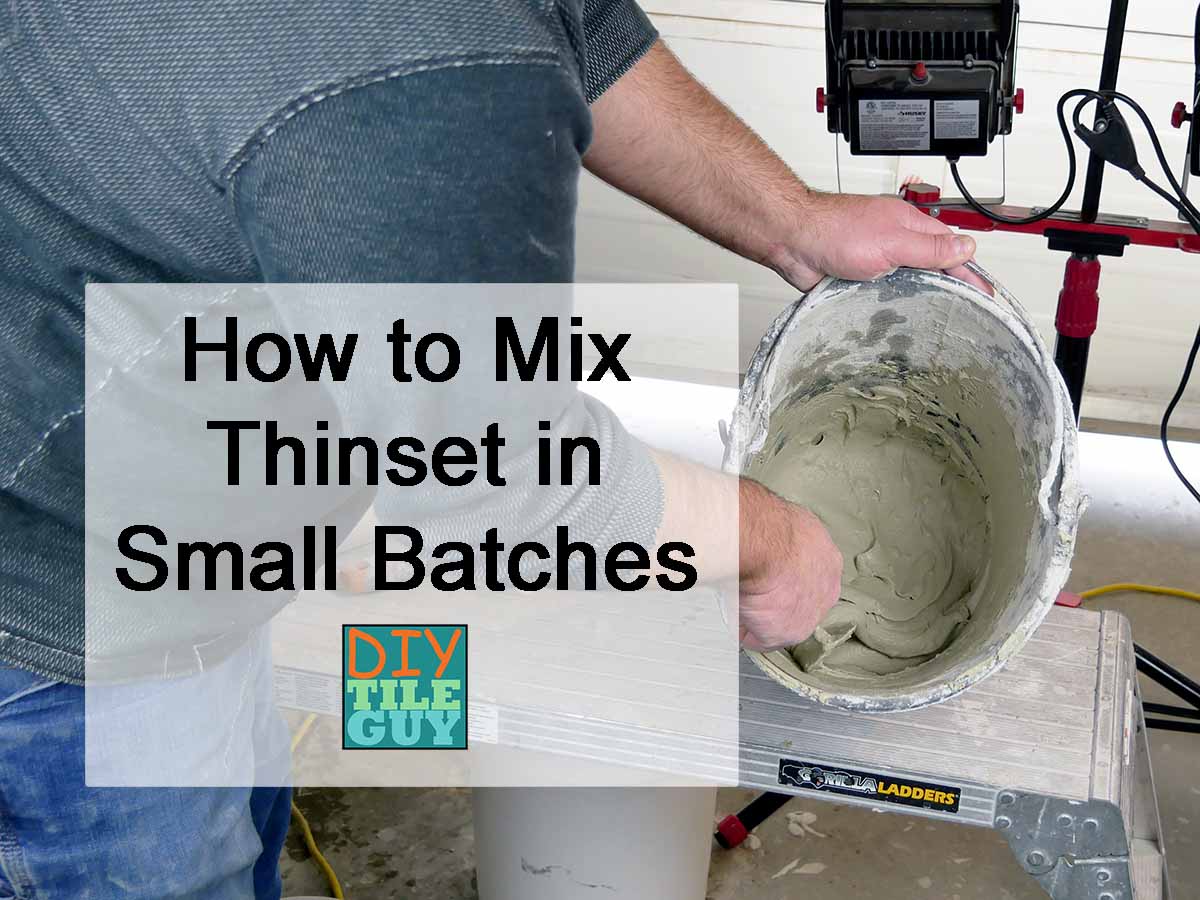 Estimated reading time: 7 minutes
One formula for proper thinset consistency
It'd be nice just to have one formula that covers every mortar. For example:
4:1
2.25:1
4lbs for every quart of water
But it doesn't work that way. I wish that it did.
In fact, that 4 to 1 ratio for hand mixing thinset is found elsewhere on the web. But it's wrong. In fact, I have yet to find one thinset that this ratio works for.
Alas, I had to abandon my dream of having one super-formula and came to the realization that this post was going to be a lot more work than I had planned.
Every Thinset is Different
Instead, I found myself buying about a dozen different thinsets. Then I would carefully measure how much powder I would have to add to 1 quart of water to get the proper thinset consistency.
All the while recording each individual product's powder-to-water ratio in a chart. See chart below.
How I did it
Here's how I came up with my water/thinset ratio chart:
Weight vs Volume when mixing thinset by hand
My first thought was to go by weight. I even purchased a special food scale that I wouldn't mind getting dirty in my garage.
However, what I have found is that mixing mortar according to volume yields better results than trying to weigh the mortar.
It used to be that every bag of thinset weighed 50lbs. But, now they have lightweight mortars that substitute different materials for traditional sand. Therefore, this means that the substitutes weigh less.
Consequently, I had bags that weighed:
50lbs
44lbs
40lbs
30lbs
25lbs
However, all the bags are similar in size and when the bag of thinset mortar is mixed they should all yield a similar amount of product.
Mixing small amounts of thinset by volume
This method had its challenges, as well.
For example, I would measure 1 qt of thinset powder and dump it into a larger measuring container which then showed it as less than 1 qt.
As a result, this meant that the measuring containers weren't directly compatible.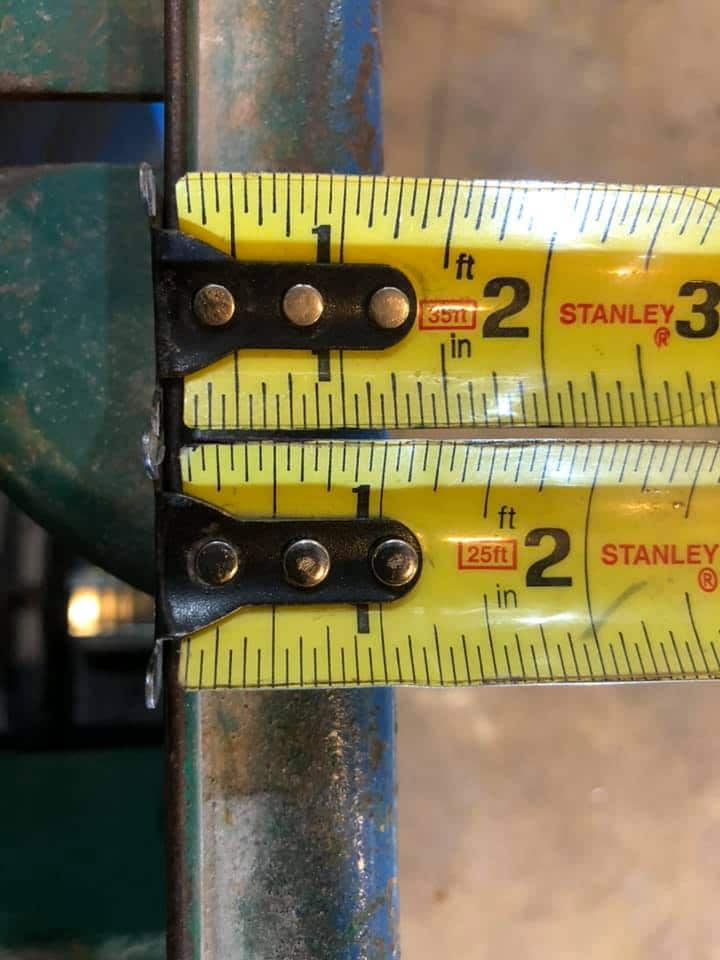 What I ended up doing was using a small 1 qt container for measuring all powder and another container with a pouring spout for measuring quarts of water.
How to Mix Small Batches of Thinset Step-by-Step
Tools needed
The tools are pretty simple for this. Here's what I used:
2 measuring containers
Bucket to mix everything in
Optional: drill with a mixing paddle
Two measuring containers are useful so you can use one for water and the other for powder. Consequently, if you use the same container for both the thinset powder would stick to the damp container.
Additionally, you want the container used for measuring thinset to have clear, individual ounce increments.
Mixing thinset in small batches
Once you get the measuring sorted out then you just follow the basics of mixing thinset mortar.
Time needed: 9 minutes
How to mix thinset in small batches
Add Water

Take 1 quart (32 ounces) of clean cool water and add it to a mixing bucket

Measure out the thinset powder according to the Exact Batch Cheat Sheet

Measure out the appropriate amount of thinset powder and add that to the water

Mix the thinset powder and water together

You can use a small electric mixer or a margin trowel and mix the thinset by hand. Mix the two components for 2-3 minutes and the mixture should be smooth and lump-free

Slake

Let the mixture sit for 5 minutes

Remix

Remix the mixture for up to one minute without adding any additional water
---
Exact Batch Thinset Cheat Sheet
Below is my chart which contains exact ratios for different thinset products. These products include:
Custom Building Products: Versabond, Versabond LFT, Prolite
Laticrete: Trilite, 253 Gold, Multimax Lite
Mapei: Porcelain Tile Mortar, Ultralite Mortar, Ultralite Pro, Ultraflex LFT SG, Keraflex Plus
Why these mortars?
I was looking for mortars that are widely available in retail stores. In fact, all of these products were purchased at either Home Depot, Lowes, or Floor & Decor.
Further, these products are very popular and range in use and performance. All are modified mortars meeting A118.11 and A118.4 at least. Some meet A118.15 as well.
Finally, this list will continue to be updated over time. Do you have a thinset that you would like to see on this chart? List it below in the comments.
Fine-tuning the consistency of the thinset
Inevitably, there is bound to be some variance in the way that two different people measure and mix the ingredients together.
If you find that your mixture is too thick try adding 1-2 additional ounces of water to the mixture. Make sure to add the water early in the mixing process.
On the other hand, if you find that your mixture is too thin then try adding 2-4 additional ounces of thinset to the mixture.
Thinset Consistency
Here's a gif of what the mortar consistency should look: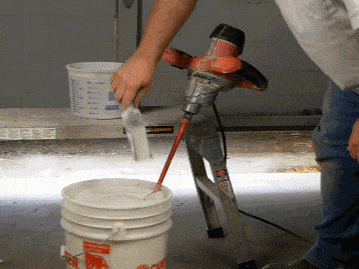 The Exact Batch ratio is the best thinset-to-water ratio that I found that gives optimal results for thinset consistency. These are not calculations based on the manufacturer's data. Every mortar was individually mixed until it was a desirable consistency.
The figure in the cell is the number of ounces of thinset powder
That number gets added to 1 quart (32 ounces) of cool, clean water
ratios can be doubled, tripled, or quadrupled as you desire
How many tiles can you install with this amount of mortar?
FAQ for mixing small batches of thinset by hand
Do I have to mix the whole bag of thinset?
No. You don't have to mix a whole bag of thinset at a time. This post shows exactly how to mix a small batch of thinset mortar perfectly.
Can you mix a half bag of thinset?
Yes, it's possible to mix a half bag of thinset but I recommend following the thinset/water ratios in this post rather than trying to eyeball how much a half bag is. If you triple the ratio you will be mixing roughly a half bag of thinset.
Can I mix thinset with a cordless drill?
It's safe to mix a small batch of thinset with a cordless drill but you definitely don't want to mix a full bucket with anything but a 1/2 inch drill with proper power.