Cement board installation is not something that is incredibly difficult.
I think most people worry about how to cut it and once they have a plan for that then they think it'll be a breeze.
But I've seen these screw-ups for several years now. It's the same ones over and over.
Estimated reading time: 7 minutes
Which products are we talking about?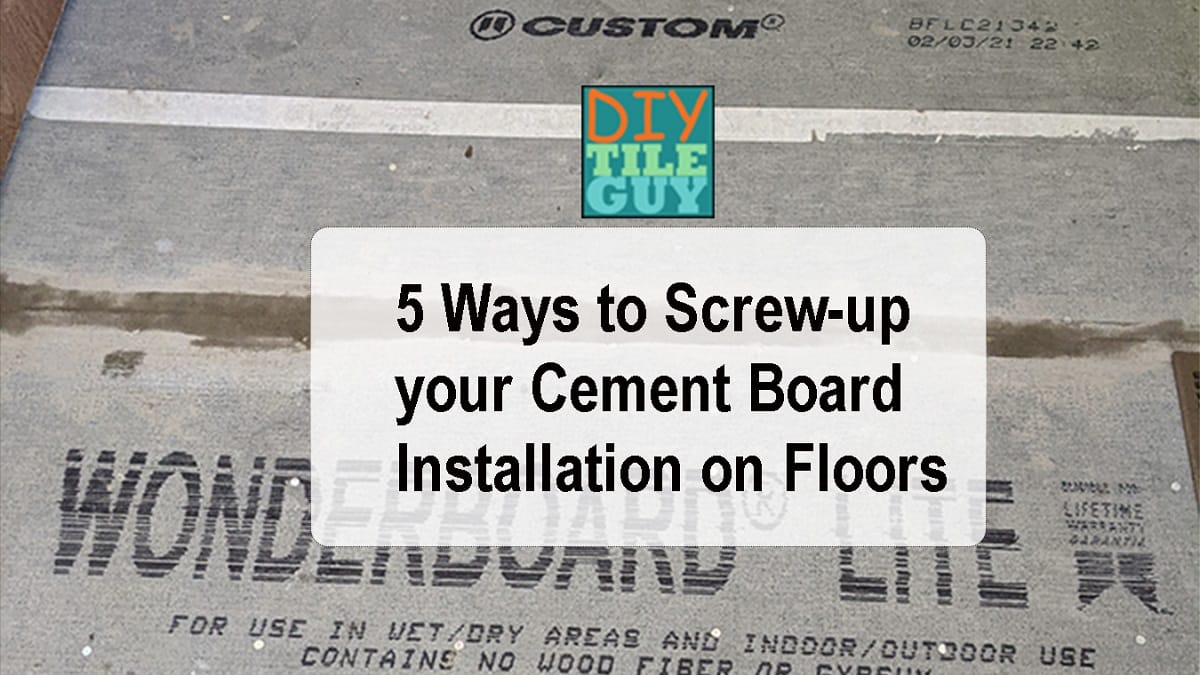 Mainly, the products I'm talking about are considered to be cement backer boards for tile installation.
These come in two categories: cement board and fiber cement board.
Examples of cement board are: Wonderboard, Durock, and Permabase
Examples of fiber cement board: Hardibacker and Fiberock,
Let me throw in one disclaimer here: These are general guidelines. Each manufacturer will have their own instructions for their own products and they will vary a little bit from each other.
So the moral of this story is to read the instructions and not simply this post.
Finally, if cement backer board isn't your thing, be sure to investigate other tile underlayment options.
Messing up cement board installation is not just limited to these 5 ways
Now there are more ways to screw things up than just these five things. In fact, this is already assuming that your wood subfloor meets the minimum requirements.
Hint: cement board should never be counted on to stiffen up your floor. The floor needs to meet minimum requirements for tile BEFORE any tile backer board is installed.
However, these are the five that stood out in my unofficial memory as being the most common.
Here they are: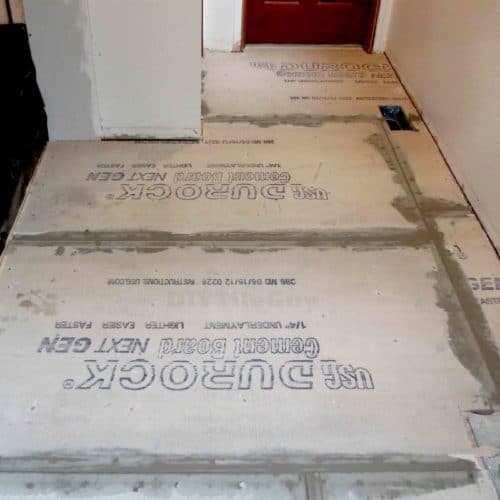 1. No Thinset underneath the backer board
Just the other day, I saw a video featuring someone fastening Hardibacker directly to the subfloor with nothing underneath it. I scrolled down to look at the comments and they did not disappoint. What were his replies, you ask?
"The thinset goes ON TOP of the cement board to stick the tiles!"
A simple perusing of the instructions would show otherwise. But most people don't look at them- not even the pictures.
Also, I know some are wondering but, no, Liquid Nails does not count as a thinset replacement. We have to remember that this isn't the same as installing plywood. Cement board is a different product and it needs to be installed in its own way.
Additionally, screws don't take the place of thinset either. I talk more about screws in #3.
Which type of thinset do I need for underneath the cement board installation?
Here's the bit of good news: it doesn't really matter which brand or type of thinset mortar you purchase. I know the manufacturers will want you to use their own brand and may even specify a type. If so, then you should purchase what they require.
But the system works by having a bed of mortar underneath holding the board up and fasteners from above holding the board down. You don't need any fancy mortar to accomplish that task and many will use an unmodified mortar in this situation.
Additionally, when mixing thinset for installing backer board, it doesn't hurt to add a bit more water to make it a little looser.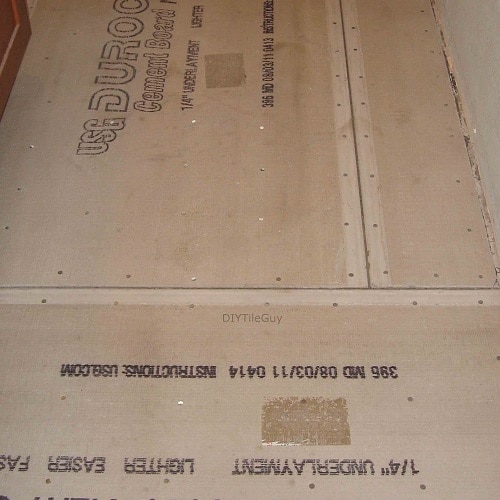 2. Not Staggering the Seams
Now, this is an area that the plywood installers will be familiar with. You don't want four cement board corners to all come together in one intersection.
You get around this by staggering the boards during installation. One nice thing about tile backer board is that it doesn't matter which way that you run the sheets.
You can run them in one direction or another but as long as the corners don't all come together it's OK. Additionally, you don't want the cement board seams to line up with the subfloor seams.
Those are the two things to watch out for with cement board installation.
3. Fasteners
Most cement board manufacturers require galvanized roofing nails or cement board screws.
But this doesn't stop people from trying to use ring shank nails, drywall screws, or who knows what else?
The problem is that those fasteners don't have the holding power that cement board screws and roofing nails have.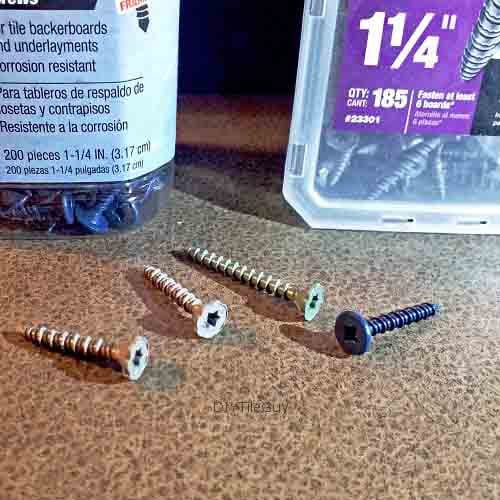 Additionally, people also mess up fasteners by not using enough of them and driving them too deep.
Typically, it's every 8 inches throughout but there is some variation between brands on that. Some backer boards will have the fastener locations printed on the board.
4. Not using Mesh Tape on the Seams of your Cement Board Installation
This is more of a little-known fact but most cement board manufacturers want fiberglass alkaline-resistant mesh tape embedded in thinset mortar over the backer board seams.
I remember a time when this wasn't a requirement but it has been required for the last several years.
5. Installing cement board over a concrete subfloor
If you have a concrete subfloor then you should not be contemplating installing cement board over it.
I know it seems like a smooth surface and it seems like it may fix some of the issues with the concrete floor but don't do it.
Not only is thinset a critical component underneath cement board but the other critical component is the fasteners. And you won't have the fasteners if you are trying to install it over concrete.
On the bright side, there are some options for concrete subfloors. One of which is self-leveling underlayment and other floor flattening products.
The other is foam backer board which is OK to install over concrete. This can be beneficial if you are wanting to insulate concrete from an electric floor heating system above it.
Finally, uncoupling membranes, like Ditra, can be installed over concrete. In fact, uncoupling membranes have become popular replacements for CBU in the cement board vs Ditra debate.
Honorable mention
I know, there are more ways to screw up cement board installation than just these five.
I could list wrong trowel size, thinset mixed too thick, thinset allowed to skin over, and others.
You tell me in the comments: which ones am I missing? Which mistakes do you see?
FAQ about cement backer board underlayment
What thickness of backer board should I use?
Most commonly, cement board underlayment comes in two sizes: 1/4 and 1/2 inch. While either size can be used on a floor the 1/2 inch is the only size recommended for walls.

Further, 1/4 inch typically works best for most flooring transitions. In fact, the 1/4 inch thickness works particularly well when transitioning from hardwood to tile.
What is the thinnest backer board for tile?
1/4 inch thick cement board is typically the thinnest size that you will find. However, foam backer boards can be found as thin as 1/8 inch in some brands.
Do I need cement board for floor tile on concrete?
You definitely do not want to install cement board over a concrete subfloor. However, there are alternative underlayments that you can use such as an uncoupling membrane or perhaps a foam backer board.
Can you tile a floor without backer board?
You don't need to use a backer board to install tile on a floor but you definitely need to use a tile underlayment is you are installing tile over a wood subfloor.
Do you put cement board under a tile floor?
Cement board is an appropriate underlayment for tile being installed over a wood subfloor.
Should you waterproof cement board floors?
You are not required to waterproof cement board installed over a floor unless it is considered a wet area. Bathroom floors outside of showers are not considered wet areas.
Is HardieBacker good for floor tile?
Hardiebacker, and other fiber cement boards, are appropriate underlayments for tile floors over wood subfloors.