4 Shower Waterproofing systems for tile showers
Waterproofing a shower. This seems like common sense, doesn't it?
Well, a lot of showers that are built these days still have no shower waterproofing whatsoever. Or they have poor or improper waterproofing.
Estimated reading time: 14 minutes
What! No Waterproofing!?
How can this be? Well, I think there are multiple parties to blame.
For starters, the companies that manufacturer tile backer boards deserve some blame. Many times they are vague on whether shower waterproofing is required, or not.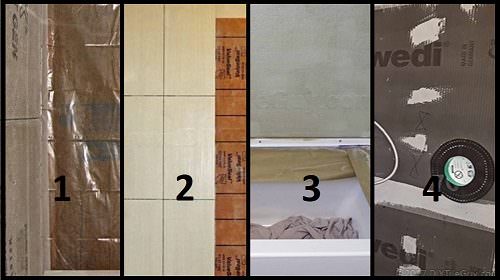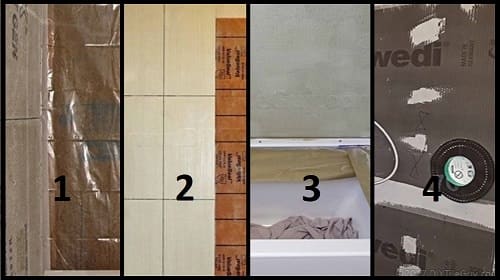 This post contains affiliate links. The site owner may earn a commission should you click on an affiliate link and make a purchase. Read more
Also, home builders, remodelers, and homeowners focus too intently on the price and go with whoever is the cheapest rather than paying for a properly built shower.
Tile installers lacking proper training and education would be another cause. They just do as they've been taught. Maybe sometimes they reason it out themselves and decide waterproofing a shower isn't necessary.
A common line of thinking is: "I've been doing it this way for "X" amount of years and never had a problem."
Is Hardibacker and Durock cement board waterproof?
Lastly, a lack of enforcement by local inspectors. Most local building codes require some sort of moisture barrier and oftentimes this is overlooked.
The original five posts on my blog were combined into this one new, updated, and snazzy post. If you've been redirected here from another post then now you know why. :-)

At any rate, you're researching what kind of waterproofing your shower needs. Good! This post will cover 4 different shower waterproofing systems.

But first…
Is Shower Waterproofing required?
There's a handbook, especially for tile installers. It's called the Tile Council of North America Handbook (TCNA). It covers different ways to install tile in different applications.
There are certain sections that cover wet areas like showers. The book gives two different options for moisture membranes. Then it says "Membrane is required".
Now I can't copy their material because of copyright restrictions but here's my own drawing based on their information: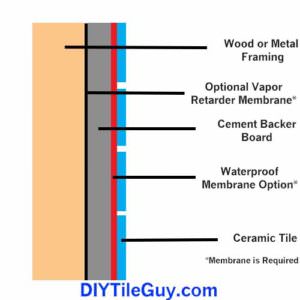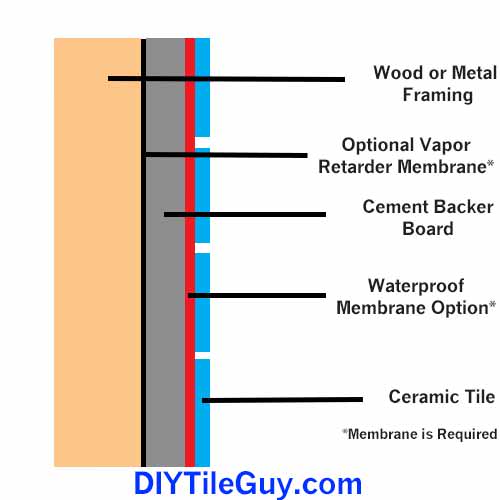 So you can see that, yes there are options for membranes. But a moisture membrane isn't optional. It's required.
Moisture barrier or Waterproofing membrane?
What I term a moisture barrier is a membrane that isn't completely watertight. It can have penetrations and breath-ability.
Examples of moisture barriers would be a sheet of plastic or tar paper that is stapled to studs. It may be loosely overlapped and not sealed completely.
A lot of times these are used behind cement backer board and mortar "mud" walls. It's a minimal waterproofing system and would be used in areas like vertical shower walls and areas that don't require more heavy duty shower waterproofing systems.
A waterproofing membrane, however, is a more watertight option. If you have horizontal surfaces, more extreme conditions, or simply want a heavier duty system then you'll want a complete waterproofing membrane for your bathtub or shower.
For more information on waterproofing the critical areas in a shower see my post:

No Waterproofing: Will this cause shower leaks?
Vapor Barrier vs Moisture Barrier
As far as I know, there is no official distinction between these two membranes in the world of tile. In fact, the term moisture barrier isn't used in the TCNA handbook. They use the term vapor retarder instead.
But I want to make a distinction between these two terms because a residential shower doesn't necessarily need a vapor barrier (retarder). But it does need a moisture membrane.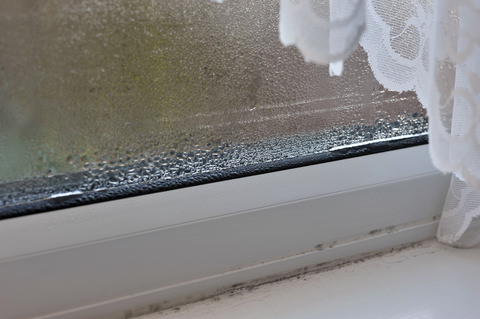 When do you need a vapor retarder?
In the world of tile, you need a vapor retarder when you have extreme amounts of water vapor that need to be managed. If you have a steam shower with a steam generator then a vapor retarder is required.
But most residential showers don't generate enough water vapor to be problematic. But they do generate enough water to need moisture management.
It can be confusing because even though they serve different purposes these membranes are often the same materials.
How bad of an idea is a marble shower?
Perm Ratings
While this post really isn't about vapor barriers and perm ratings I do want to touch on the basics.
Perm Ratings:
If you are building a steam shower then you should know there are very specific ways to build these types of shower enclosures to manage both the water and water vapor that these will be exposed to.
Vapor barriers have perm ratings. To qualify as a vapor barrier the perm rating has to be below 1.0 perms for residential use and below 0.5 perms for commercial use.
This chart has some different shower construction materials and the listed perm ratings.
So that's the background. Now let's get to the 4 types of shower waterproofing methods. Starting with
What are the 4 shower waterproofing systems for tile showers?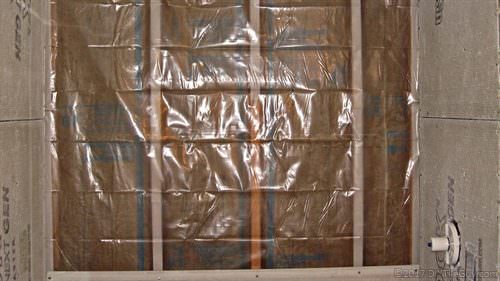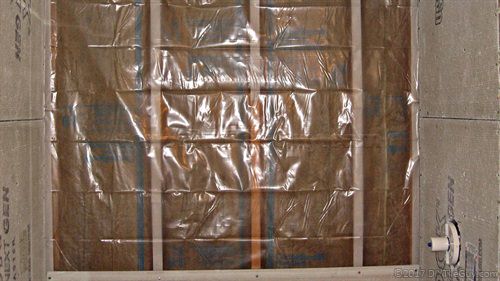 1. Traditional Shower construction
What is a traditional shower? For years showers were built out of "mud" and a sort of metal chicken wire.
The shower floor would have a copper or lead pan, a rubber liner, or a "hot-mop" tar waterproofing underneath the tile. Tar paper was stapled to the walls underneath the mud.
While this method is still practiced today over the years those mud walls have more commonly been replaced with cement board and fiber cement backer board. Hardibacker is an example of fiber cement board.
So this is what I'm referring to when I think of traditional showers. These have a moisture barrier behind the walls. Typically the moisture barrier is 4 mil plastic or tar paper. The wall backing would either be mud walls, cement board, or fiber cement board.
Here's a drawing of how these are built. I'm using cement board in this example.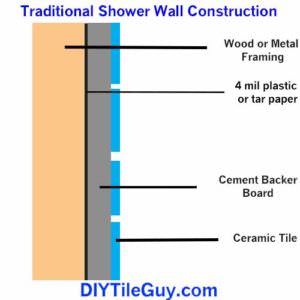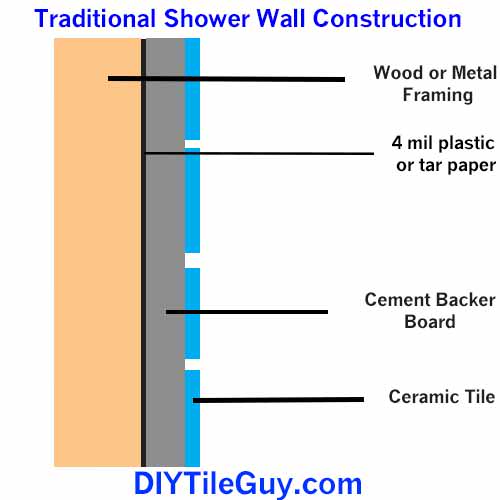 This is an adequate way to build most showers. However, if you have any horizontal surfaces or other critical areas this method won't work.
No Waterproofing: Will this cause shower leaks?
You'll need to use what's called a bonded waterproof membrane. These come in both sheet membrane and liquid form.
Bonded Shower Waterproofing membranes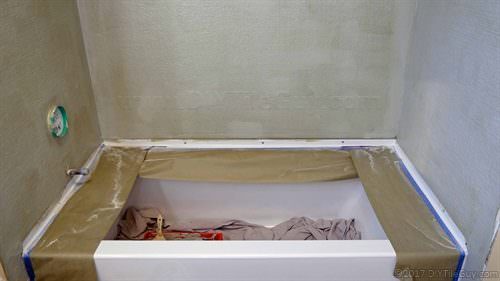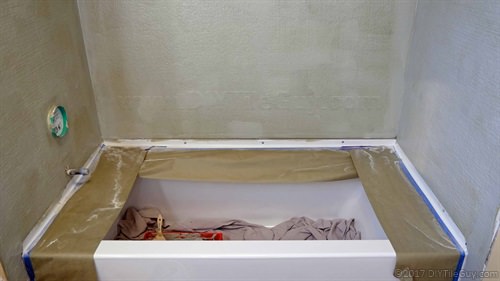 2. Liquid waterproofing membranes
You've probably heard of Redgard waterproofing. Also Hydroban and AquaDefense. These are the most popular liquid waterproofers although there are much more.
The concept of liquid waterproofing membranes is wonderful. You build your shower to any configuration that you want and then paint over it with a liquid membrane and *TADA* It's completely waterproof!
Unfortunately, the reality isn't quite like that. Although these liquids are excellent for shower waterproofing there are some details that need to be honored.
Mil Thickness
One of the tricks to applying these liquids is that you get the proper thickness of each coat. This is more difficult than it sounds.
Each product will have a requirement for the number of coats and how many "mils" (thickness) is necessary.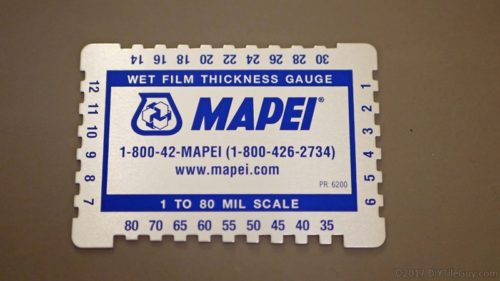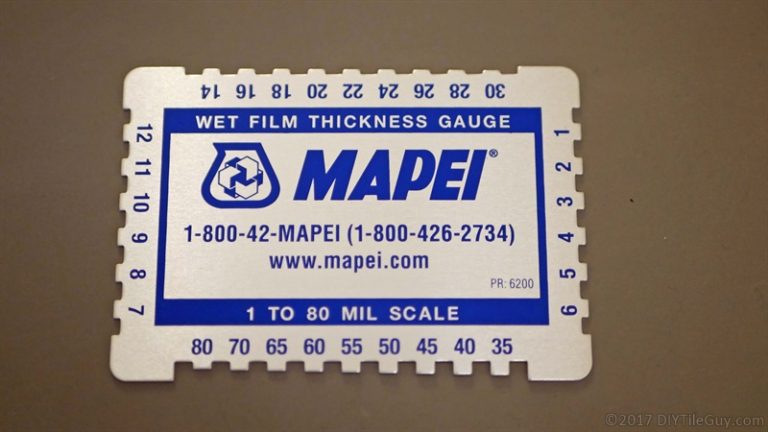 They make special tools called wet film gauges. These help to measure how many mils thick a liquid waterproofing is.
A rule of thumb is that each coat needs to be "driver's license" thick. Another rule of thumb is that if you can see the lettering on the backer board underneath then it's not thick enough.
These aren't hard and fast rules but general guidelines. Putting the liquids on too thin is a problem but you don't want them too thick either. More isn't necessarily better.

Cure times
Another drawback of liquid waterproofing membranes is the amount of time things take to dry. You'll put one coat of waterproofing on a shower wall and have to wait for it to dry. Yes, it needs to dry completely.
Generally, this takes a day for the first coat to dry. Then you'll need to apply a second coat and allow that one to dry. The second coat tends to dry quicker.
Liquid waterproofing products are constantly improving and so are the dry times.
In fact, Custom Building Products now has a product called Redgard SpeedCoat which is urethane-based and supposed to dry really fast. See also, Hydro Ban Quick Cure.

Mud beds
We just talked about cure times while waiting for the liquid waterproofing products to dry. There are also cure times involved with shower mud pans.
A mud pan for a shower is a custom shower base that is sloped to the drain using a cement and sand mixture. It's still a very common practice today although prefabricated foam shower bases are gaining in popularity.
The traditional way of building a mud pan was to install a waterproof liner inside the mud bed.
But when using bonded waterproofing membranes (Redgard, Hydroban, Aquadefense) the waterproofing layer would go on top of the mud pan. Then the tile sticks directly to the waterproofing.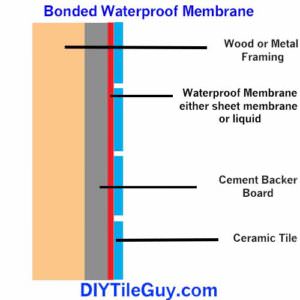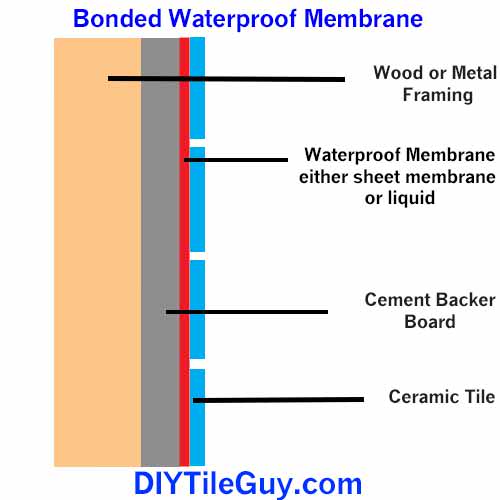 The reason I'm bringing this up is that before a liquid waterproofer can be applied to the mud bed the mud bed needs to cure for a minimum of 72 hours in "normal" conditions- so sometimes even longer.
So if you want to build, for example, a Redgard shower the cure times start to add up: 1 day to build a mud shower pan; 3 days wait for it to cure; 1 day to Redgard the shower and wait for it to dry completely; 1 day for a second coat and dry time, 1-3 days to flood test the shower pan.
Flood testing a shower pan: Why it's done and how to do it
Update: Custom Building Products now has a dry pack mortar called Speed Slope which is designed to speed up the curing process.
Reinforcing fabric
One of the perks of using liquid waterproofing products is that they don't need any special banding or reinforcement in the corners or anywhere else*.
However, my recommendation is that you do use fabric reinforcement in the corners of the shower pan and around the drain and any other critical area when using liquid waterproofing products.
I don't care what they say on the instructions. It's too critical of an area to take a chance on. I do know of some shower failures that have come from a separation in these critical corners. It's very likely this separation would be prevented simply by adding reinforcing fabric or mesh in the corners.
This will add a minimal and probably unnoticeable amount of thickness to these areas but it's worth it, in my opinion.
*Be sure to read the instructions on the products that you are using. The many liquid waterproofing products don't require fabric reinforcement but there are still some on the market that do.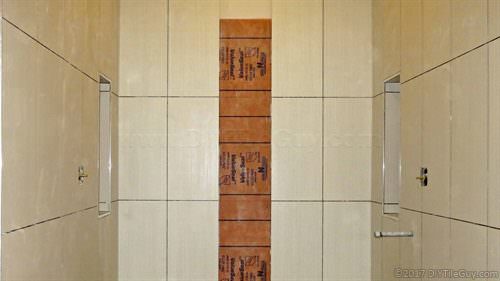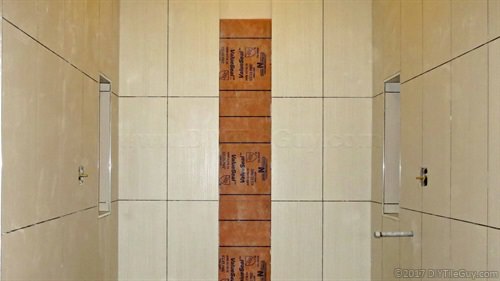 3. Sheet membranes
The third type of shower waterproofing system is the bonded sheet membranes. The most well-known example would be the Kerdi Shower system by Schluter Systems. But there are many other products- Laticrete has a Hydroban sheet membrane shower waterproofing system and there's the USG Durock Shower system. Additionally, many other companies like Noble Company, Blanke, Prova, and others have waterproof shower sheet membranes.
What's nice about these sheet membranes is that you don't have to worry about the mil thickness of the sheet. Another advantage is that you don't have to wait 72 hours for the mud pan to cure. Additionally, there's no applying multiple coats and waiting for them to dry.
The overlaps
But they do have some drawbacks. The biggest one is how you waterproof the seams. Typically, waterproofing is achieved by overlapping one waterproof membrane over another.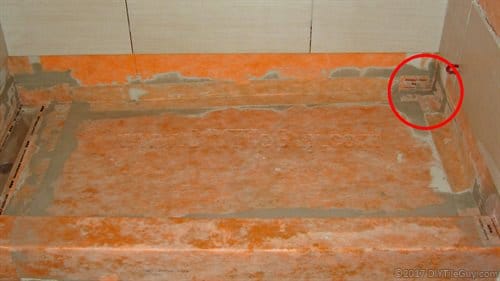 Most membrane manufacturers require the sheets to overlap one another by two inches. Alternatively, there's a 4-5 inch banding material that also is made for this purpose along with preformed waterproof pieces for the corners.
Once you get into the corners you can have both a 5-inch banding material and a preformed corner over the top of the membrane. This adds up to three total layers of fabric. Consequently, this causes the corners to be built up and stick out further than the flat middle parts of a shower.
Other challenges include getting the membrane and the seams to be well bonded to one another and keeping wrinkles out of the membrane.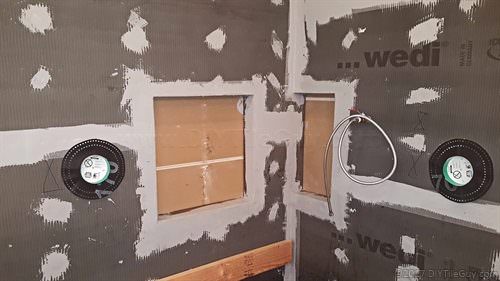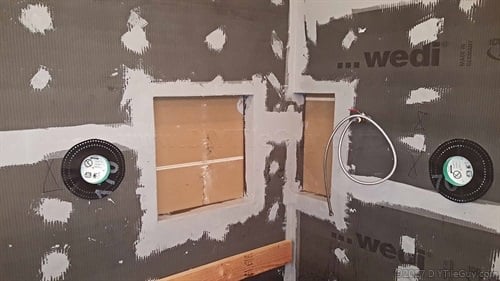 4. Waterproof foam backer board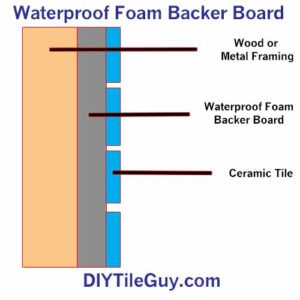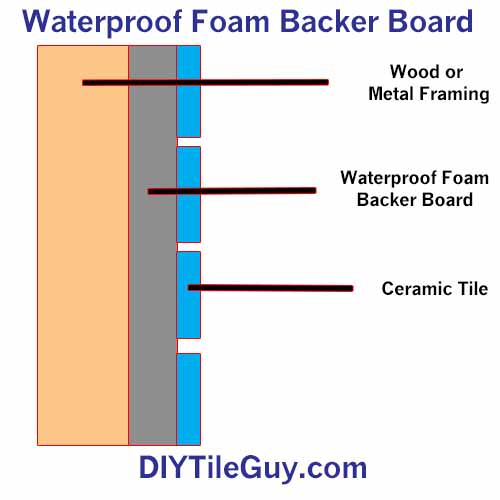 Lastly, the final method to be covered is foam backer board building panels. The most popular products are Wedi board and Kerdi board. However, there are a good number of competitors coming onto the market. Such products as Durock foam backer board, Hydroban Board, FinPan ProPanel, GoBoard, and Prova board to name a few. Not all of those may be currently on the market but they are coming soon.
The waterproofing concept is essentially the same as with the bonded waterproofing systems mentioned above. They are waterproof on the surface rather than letting moisture absorb through to the back of the board.
What are the advantages of these backer boards? Well, there are many. They are lighter and easier to carry. The board itself is waterproof so you don't have the labor of installing cement board and then waterproofing on top of it.
How to Install GoBoard Tile Backer Board | Video
The waterproofing is where they really have an advantage. Usually, they have a waterproof sealant that you stick the boards together with to waterproof the seams. Others, such as Kerdi-Board, require a banding material that they want you to use like you would with Kerdi fabric.
Basically, once you install the board and glue everything together the shower is waterproofed and ready for tile.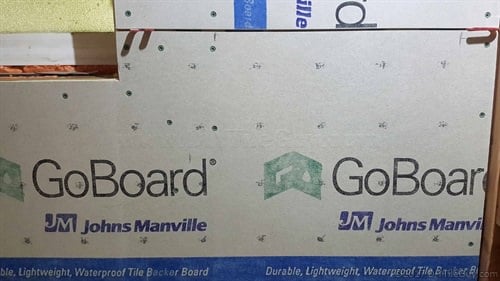 Costs
As you can imagine the costs are much higher than other options. In addition to the foam board panels, there's usually stainless screws and washers to buy. Don't forget the urethane glue either.
Some of the newer boards such as GoBoard, Hydroban board, and Durock board can be installed with cement board screws.
Additionally, there's more flex in these foam board panels and tile doesn't like flexing. Some are worse than others. In my unscientific opinion, Wedi makes the stiffest foam panels. As you can imagine they aren't cheapest either.
Well, that's the breakdown on 4 waterproofing methods for tile showers: traditional, liquid, sheets, and foam. My hope is that this will give you enough information to make a choice on how to waterproof your own shower or tub walls.
Alternatively, it could arm you with the information needed for selecting a contractor. Do they intend to use waterproofing? Which method do they prefer? Which method would you prefer?

Let me know which shower waterproofing systems you guys choose to install and why in the comments below.