Cement board or Ditra. Which is better?
There are a lot of opinions but I'm going to try to stick to facts.
This post compares:
Cutting and installing
Waterproofing
The weight & handling of the products
Costs of Ditra vs Durock
Pricing 3 different scenarios of installing these products
2 different comparison charts
Let's get to it!
Estimated reading time: 15 minutes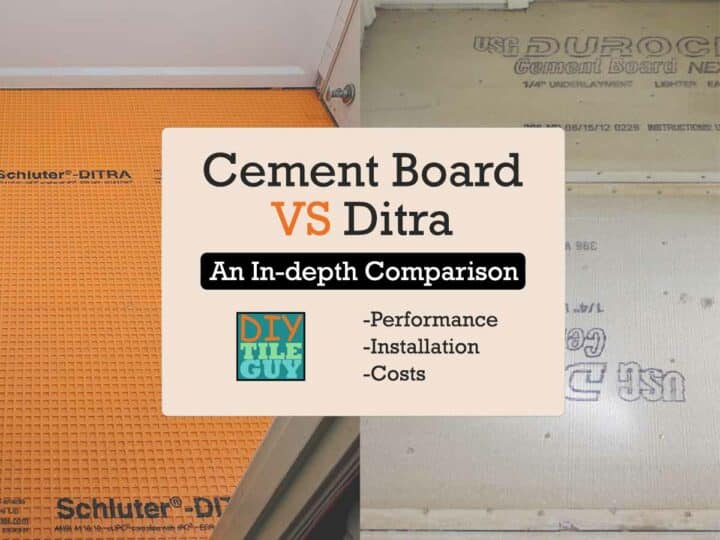 What do Cement Board and Ditra do?
The function of both cement board and Ditra is that of a tile underlayment. You install them over your subfloor and then install floor tile over the top of them.
Ditra is a brand of uncoupling membrane manufactured by a company name Schluter Systems. It is not the only uncoupling membrane as there are several Ditra alternatives on the market.
A cement board is a tile backer board that has many different brand names: USG Durock, Custom Wonderboard, and Hardiebacker (technically a fiber-cement board) are just three popular name brands.
Although you can use cement backer board on both walls and floors, Ditra is limited to just floor applications. So, for the purposes of this post, we will only be referencing cement board as a floor underlayment.
However, I do have a post on comparing wall tile backer boards if that is something you are interested in.
Cement Board vs Ditra Size and Thickness Options
For starters, let's see how both Ditra and cement compare regarding sizing.
Cement board dimensions
Cement board comes in sheets that are usually 3ft x 5ft and either 1/4 inch or 1/2 inch in thickness. The 1/4 inch thick version is what is typically installed on a floor and works best for most flooring transitions such as carpet to tile and tile to hardwood transistions.
Schluter Ditra sizes
Ditra is a membrane that comes in a roll. The rolls are one meter wide (3ft. 3 3/8 inches) and vary in length.
You can order a roll in either 54, 150, or 323 sq. ft.
Ditra is 1/8 inch thick or you can order Ditra XL in 1/4 inch thickness.
You can compare the dimensions of Ditra to cement board using the chart below.
Cement Board vs Ditra Comparison Table
Handling of Cement Board vs Ditra
When it comes to picking up, delivering, and moving the two products around, Ditra is much preferable to handle.
Comparing cement board to Ditra by weight
It takes 22 sheets of 1/4 inch cement board to cover the same amount of area as one large roll of Ditra.
Would you rather load 858 lbs of cement board into your vehicle or one 39 lb roll of Ditra? What about when it comes to loading the two products in the house?
Ditra requires one trip whereas cement board would require at least eleven at 50+ pounds per trip.
Handling cement board vs handling ditra on a job site
Then, when it comes to moving the products around in a home, Ditra is much less abrasive.
Since it's plastic, it isn't going to mar or scratch the finished trim and fixtures.
On the other hand, cement board is bigger and bulkier, and carrying it through doorways or up & down stairwells carries much more risk of damage to the finishes in your home.
So when it comes to weight and handling Ditra is the clear winner.
Ease of Installation
Now let's look at the nuances of cutting and installing Ditra or cement board.
Cutting cement board
One of the most vocalized complaints about cement board is when it comes to cutting the sheets.
Scoring and snapping the sheets by hand leads to jagged edges and cement crumbs that fall off of the edge.
For straight manual cuts, I use a scoring knife [6] for cutting the top of the sheet and a razor knife for cutting the mesh backing after the sheet is snapped.
Although with Hardiebacker, a razor knife is all that is needed but snapping the sheets on the score line is challenging, especially when it comes to small pieces.
Electric grinder cuts will cut much more cleanly and easily but the amount of dust they put out is alarming and requires an N95, or better, dust mask for the operator.
Even trying to use water or a vacuum to minimize airborne dust is only partially effective unless you have a proper shroud.
Cutting Ditra
Compared to cement board, cutting Ditra is a dream. You can still score it with a razor knife and straightedge. Doing so will give you clean cuts that are dust-free.
Also, you can use scissors if you like. These work great for cutting holes and notches.
Installing Ditra vs cement board
Now, to compare the installation of the actual products themselves.
Both are required to be installed in a bed of mortar so there's no clear advantage either way as far as this step is concerned.
Ditra
With Ditra, this is all that is required. However, you will need to apply pressure to every bit of the surface of the membrane and make sure that it is properly embedded into the mortar.
I have some suggestions for this very task along with other Ditra installation tips in another post.
Cement Board
On the other hand, cement board needs to be fastened to the floor with proper nails or screws. Additionally, the seams will all need to be covered with alkaline-resistant mesh tape and embedded into thinset.
So, this may seem like an easy win for Ditra but I would say- not so fast.
Because Ditra comes shipped as a roll, there can be a bit of 'memory' in the membrane, in particular towards the end of the roll.
Further, because there are no fasteners, extra care must be taken to keep the ends down. While this is not a huge problem it does take a little extra time.
Finally, cement board is installed with the top being a solid surface. To make Ditra the same, the indented waffle shapes would need to be filled with mortar.
While I prefer to prefill the waffles, Schluter recommends that you don't. As a result, this may require mixing extra batches of thinset for Ditra when it comes time to install the tile.
Ditra is the winner when it comes to ease of installation but they win mainly because of how much easier it is to cut.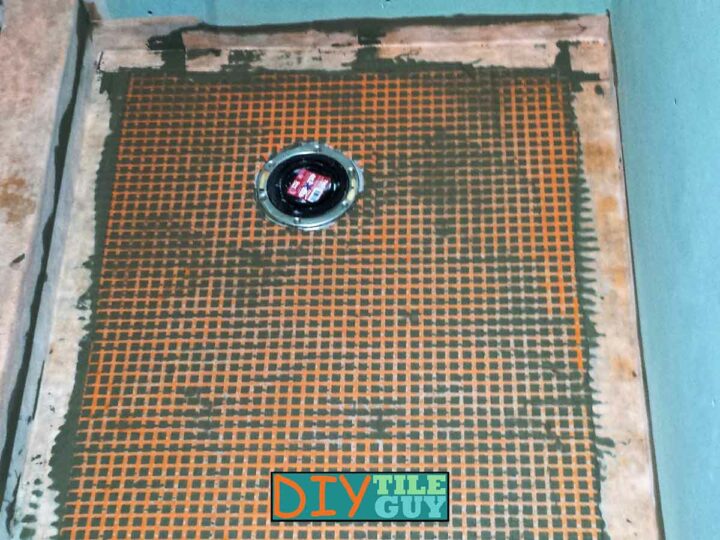 Waterproofing
Although most floors, including bathroom floors, don't need to be waterproofed you may decide that completing this step makes you sleep better at night. So let's compare waterproofing.
Waterproofing Ditra
Ditra is already waterproof because it's a big, plastic sheet. However, when it's installed, the seams would be the weakness in the system.
To remedy this problem, Schluter wants you to adhere with thinset a strip of the Kerdi-band over the seams.
For curbless showers, Ditra, or other uncoupling membranes, are a popular way of waterproofing the floor immediately outside the shower area.
Waterproofing cement board installed on a floor
Cement board is typically water-resistant but not waterproof. If you do want to waterproof the board you will need to cover the entire surface with a waterproofing product.
A liquid waterproofing product would be the easiest and most cost-effective so we'll use that as a comparison.
While this is fairly easy to apply, it's still not as easy as Kerdi band plus, it's more expensive.
This leaves Ditra the winner when it comes to a waterproofing comparison.
Structural Comparisons
[Scroll down for a comparison chart of Ditra vs cement board.
It should be mentioned that neither Ditra nor any of the cement boards contribute to the structural integrity of your floor.
So, even though cement board is stiffer than Ditra before it's installed your floor still needs to be structurally sound before adding any tile underlayment.
Consequently, we will assume that you have a wood subfloor that already meets minimum industry requirements for the installation of tile.
Floor Joist Spacing
If your floor joist spacing is a maximum of 16-inches from the centers of the joists then you have your choice of any uncoupling membrane and any backer board that you want to install over it.
In fact, the centers of your floor joists can be up to 19.2 inches apart and you can still use either product. Although, I did notice that Custom's WonderBoard had some exceptions to this. [7]
Maximum floor joist spacing for Ditra
The maximum floor joist spacing for Ditra is 19.2 inches on center.
If your floor joists exceed that then Ditra requires that you add an additional layer of 3/8-inch (minimum) exterior plywood underlayment over your existing plywood or OSB subfloor. [8] Then you can install Ditra over that.
Maximum floor joist spacing for Ditra XL
However, if you use Ditra XL you can have floor joists as wide as 24-inches on center without having to add any additional plywood underlayment. [8]
Maximum floor joist spacing for Durock and Hardiebacker
Both Durock and Hardiebacker appear to allow up to 24-inch spacing for floor joists over a single layer of subflooring. [2,3]
However, WonderBoard cuts it off at 19.2 inches over 3/4-inch subflooring. [7]
Minimum Tile Size
If you have your heart set on small penny round tiles then you are going to have to go with a backer board.
The reason is that Schluter requires a tile size of 2 x 2 inches, or larger, to be installed over Ditra or Ditra XL. [8]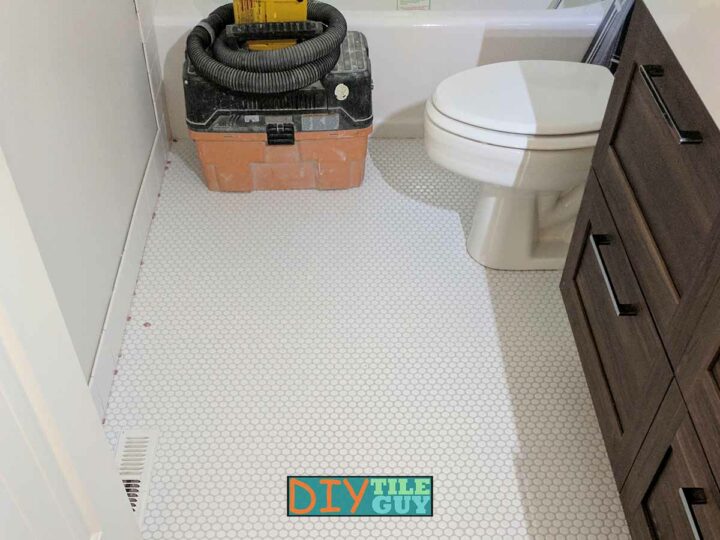 Cost Comparison of Ditra vs Cement Board
Let's compare costs. First, we're going to compare the costs of the products themselves but, to be fair, we need to compare the cost of the products installed.
After all, no one buys these products unless they have the intention of seeing them installed. So we are going to compare both.
Cost of Ditra vs Cement Board
To make this as simple and transparent as possible, I'm going to take the prices listed on the websites of my local home improvement stores in August of 2022 and use those for comparison.
Ditra vs cement board pricing
Lowes: I picked Lowes for the 54 and 150 sq. ft. rolls. However, they just weren't competitive when it came to the large Ditra roll or Ditra XL. The pricing for Durock also came from here.
Floor and Decor: had good pricing for both the large roll of Ditra and Ditra XL.
Home Depot: I priced both Hardiebacker and WonderBoard here. 1/4 inch thickness only and the 3×5 sizing only.
Ditra

54 sq. ft roll is $103 ($1.91/ft)
150 sq. ft roll is $270 ($1.80/ft)
323 sq. ft. roll is $543 ($1.68/ft)
Ditra XL (175 ft) is $413 ($2.36/ft)
Durock

3x5x0.25= $11.50 ($0.77/ft)

Hardiebacker

3x5x0.25=$14.00 ($0.93/ft)

WonderBoard

3x5x0.25= $13.00 ($0.87/ft)
It's pretty conclusive that if we go by the cost of the product only that the cement boards win this comparison easily.
Now, let's look at the cost to install these products.
Cost to install
Here we need to factor in thinset selection, fasteners, and mesh tape.
Thinset for Ditra
I don't want to get into the whole modified or unmodified debate here. Since this is over a wood subfloor, Ditra needs a modified thinset that meets ANSI A118.11.
The only modified mortar that Schluter recommends is their own Schluter All-Set. Consequently, since Lowes doesn't list it we'll use Floor and Decor for pricing which is $39 per 50lb bag of white.
Besides Ditra this is the only product that we need.
Thinset for cement board
Cement board is unique in that it doesn't require the mortar to bond to the subfloor. Consequently, we'll purchase inexpensive mortar, when it makes sense, for under the board and premium mortar for installing the tile.
Fasteners/tape for cement board
For each installation, we'll need to purchase the following and we'll get it from Home Depot:
Alkaline-resistant mesh tape is $9 per roll
Galvanized roofing nails 1-inch are $5/1lb box or $16/5lbs
Alternatively, you could purchase cement board screws which are $23/185pk or $61/750/pk
Cost to install 50 sq. ft
For starters, let's look at a small 50 sq. ft. bathroom floor.
Cost to install small bathroom floor with Ditra
For a Ditra installation we'll need the following:
One 54 sq. ft roll of Ditra ($103)
Two bags of All-Set ($78)
Total Ditra Installation Material Cost: $181
With Ditra, we need to embed it into thinset mortar. According to Schluter, you can get 150 sq. ft of coverage when installing with a Ditra trowel.
We'll assume that we will be installing 12×24 tile on top of Ditra. This means that we will only get about 35 sq. ft of coverage per bag of All-Set using a 1/2 x 1/2 inch square notch trowel.
So, we need 1/3rd bag of All-Set to install Ditra + about 1.5 bags to install the tile.
Cost to install small bathroom floor with cement board
Here's what we need for this installation:
four sheets of Durock ($46)
One Mapei Floor Tile Mortar ($9.30)
One Mape Keraflex Plus ($25)
One roll of Mesh tape ($9)
One small package of nails ($5)
Total cost to install a small bathroom floor with cement board: $94.30
In this example, four sheets of cement board are 60 sq. ft. I figured that since we were getting the Durock from Lowes that the floor tile mortar would come from there too.
However, I didn't really see anything that I liked for installing the large format tiles so I picked out some Keraflex Plus from Floor and Decor.
Judging by the coverages, it's highly possible that one bag of Keraflex Plus would be enough to install both the cement board and the tile but it's too close to call. So, we're going to play it safe and install the cement board with a separate product.
Cost to install 135 sq. ft.
For this install, we are going to assume that 10 sheets of cement board or one medium roll of Ditra will be enough to cover the floor.
Cost to install 135 sq. ft with Ditra
Products to purchase:
One 150 sq. ft roll of Ditra ($270)
Six bags of All-Set ($234)
Total cost to install 135 sq. with Ditra: $504
This is pretty simple. One medium roll of Ditra and 6 bags of All-Set. One bag does 150sq. ft of Ditra install and the other five do 30 sq. ft each according to Schluter.
It would prudent to order one more bag of All-Set for insurance that you have enough but we'll exclude it for our comparison.
Cost to install 135 sq. ft of cement board
Materials:
Ten sheets of Durock ($115)
Two bags of Floor Tile Mortar ($18.60)
Four bags of Keraflex Plus ($100)
One roll of mesh tape ($9)
Two 1lb boxes of nails ($10)
Total cost to install 135 sq. ft with cement board: $252.60
There's one sheet extra of cement board for an overage. Otherwise, it should be pretty straightforward.
Cost to install 300 sq. ft.
This will require the big roll of Ditra or 22 sheets of Durock (two extra).
Cost to instal 300 sq. ft with Ditra
Materials:
One 323 sq. ft roll of Ditra ($543)
Thirteen bags of All-Set ($507)
Total cost to install 300 sq. ft with Ditra: $1050
For this example, it takes exactly two bags of mortar to install Ditra and then exactly ten for the tile. I added one extra as the coverage is never as far as they say. In real life, it would probably be prudent to order two extra.
Cost to install 300 sq. ft of cement board
Materials:
Twenty-two sheets of Durock ($253)
Four bags of Floor Tile Mortar ($37.20)
Eight bags of Keraflex Plus ($200)
Two rolls of mesh tape ($18)
One 5lb box of nails ($16)
Total cost to install 300 sq. ft with cement board: $524.20
In this example, I'd order one more bag of K-flex in real life. Otherwise, it's fairly accurate.
Cost and Performance Chart of Ditra vs Cement Board
Conclusion
Figuring out whether cement board or Ditra is better isn't a straightforward answer.
Really, it depends on whether you value ease of installation or place more weight on the pricing. Perhaps, tile size is a consideration?
Whichever you choose, I hope this post was helpful for you. Let me know what questions you have in the comments section.
FAQ Cement board vs Ditra
References
Amazon Product pages (for product weights)

Ditra 54 sq. ft roll
Ditra 150 sq. ft roll
Ditra 323 sq. ft roll
Ditra XL roll

USG Durock Cement Board technical datasheet
Hardiebacker installation guide
Home Depot Wonderboard Lite 1/4 inch product page
Home Depot Wonderboard Lite 1/2 inch product page
https://marshalltown.com/pro-1796-scoring-knife
Custom WonderBoard technical datasheet
Ditra Installation Handbook 2022