Thinset Decoded Part 2: Which is the Best Thinset to use for…
There are too many thinsets. How are you keep supposed to keep track of them all?
Besides, all you really need to know is which is the best thinset to use for your project without screwing it up. A quick look at Lowes.com currently shows 19 different kinds of thinset mortar.
That's not including the "premixed" variety (hint: don't bother). So this is my attempt at solving this problem.
This post contains affiliate links. The site owner may earn a commission should you click on an affiliate link and make a purchase. Read more
The Infographic
My first post discusses some of the technical terms, like modified and unmodified, medium bed, and LFT.
But, I ended up scrapping my idea for this post because it was simply too technical to explain by typing it out in paragraphs. It would have been a very tedious post to read through. Then came my idea of an infographic.
Thinset Decoded: A buyers guide to purchasing the right tile adhesive
The infographic is more flowchart than infographic but I'm hoping it will do a better job. It is simplified and it won't answer every question that you have.
Additionally, with all of the different applications, it's critical to choose the right trowel size for your project.
There are still going to be gaps and there are still going to be questions. Some of these things I will answer below. The others you'll have to ask in the comments.
Down at the bottom are specific products. The products are all from Mapei, Custom Building Products (CBP), and Laticrete.
I've chosen these three because they are the three brands because of my familiarity with them but also because these brands are the easiest for the DIY'er to get a hold of.
There's also Ditraset from Bostik which isn't as easy to get for DIY'ers but is a great product for installing with Schluter products.
Also, in the chart, I've put an asterisk next to the best thinset choices in different brands (in my opinion).
Take a look at the chart and I'll add some more details below: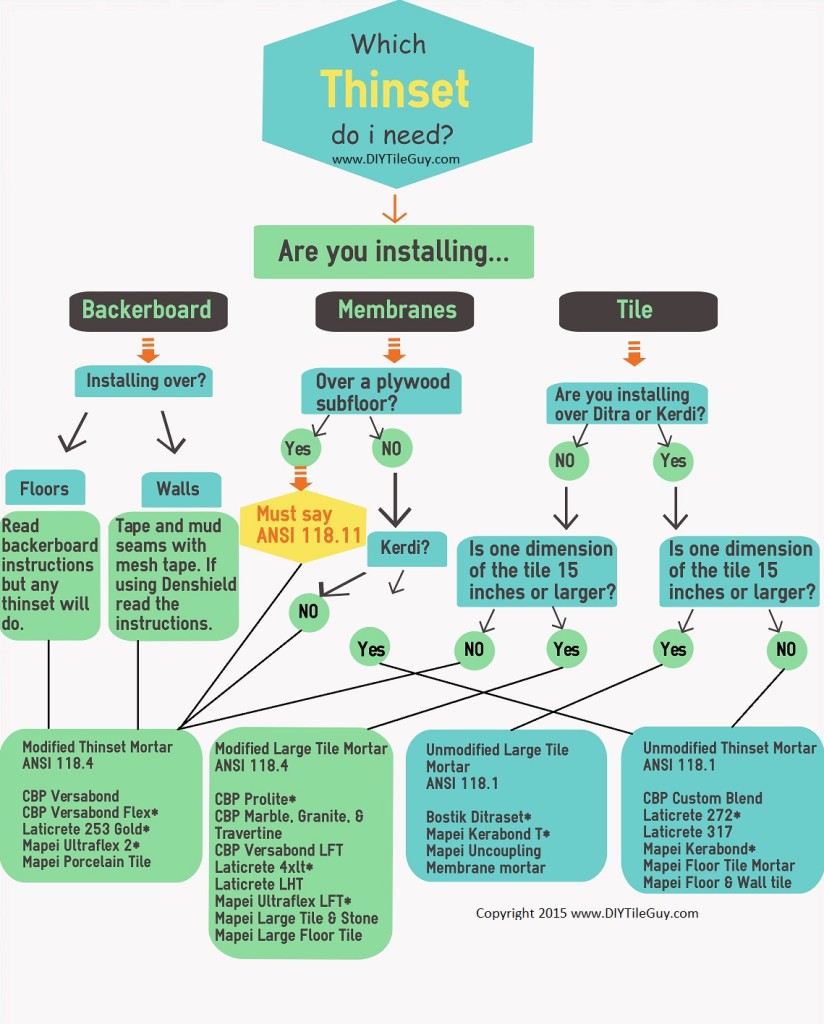 Specific applications:
Below are some more details about which thinset to use for different applications. In no particular order:
Glass Tile: For glass tile, it can be a bit of a challenge to get the mortar to grab. They make specific glass tile thinset's which I recommend you use. My favorite is Laticrete's Glass Tile Adhesive.
But the ones from Mapei and Custom Building Products work well also. Sometimes the glass tile manufacturer will have specific instructions on which thinset to use. It's a good idea to read the instructions.
Large Tiles: This includes the ever-popular wood grain plank tiles. This category went from being called Medium Bed Mortar, to LFT (Large Format Tile), and is now officially called Large and Heavy Tiles (LHT). So when you go to the store you may see any of these terms.
What's a large tile? One size is 15 inches or longer. 12×24's are large tiles. 6×24's are large tile. 18×18's are large tiles.
You need to get the best thinset for these and it needs to say something about "Large Tiles" on it.
Additionally, you'll want to make sure to use the correct tile notch trowel for these large tiles.
More tips for installing wood look tile flooring
ANSI ratings: The mortars get tested and need to perform to certain levels. That's where these ratings come in. Tiles that are outside in harsh conditions need to have a much stronger thinset than the ones inside.
ANSI stands for American National Standards Specifications for the Installation of Ceramic Tile. Now you know why we use the term ANSI.
Exterior Applications: If you're installing tile outside you need to be very careful which thinset you use.
The thinset should cost you north of $40/ bag and should have ANSI 118.15 stamped on it. Laticrete 254 Platinum is one example of this.
Make sure you read the instructions on the bag. These mortars really are the best thinset of the bunch because they have to be.
Exterior tile installation over occupied space
Plywood: For going over plywood with products like Ditra or any other membrane the thinset will have to have an ANSI 118.11 rating on it. This is a requirement.
This rating means that it's been tested to bond to plywood. Don't stick tile directly to the plywood subfloor no matter which thinset you use.
Ditra and Kerdi: For Schluter products like Ditra and Kerdi they want you to use an unmodified mortar. The exception is when you are installing Ditra on plywood (see above). This also would apply to Ditra Heat. I've listed specific products in the chart above. Some of these can be found at big box stores.
For large tiles, you are going to want to use an unmodified thinset that specifically says it's ok for large tiles.
The one I prefer is Bostik Ditra-set. It can be used for any size tile and works great with Schluter products. I've never found it at a box store though.
The other one that would work is Mapei's uncoupling membrane mortar which can be found at Lowes.
Another good option for big tiles over Schluter products is Mapei Kerabond T.
Although, you'll probably find that Mapei's uncoupling membrane mortar, which can be found at Lowes, is more readily available. This will work too.
Update: Schluter now has its own line of thinset mortars now called Schluter Set, All-Set, and Fast-Set. The last two being modified. All are approved for their products.
Why Schluter Ditra is so cool: Uncoupling membranes explained
Porcelain Tile: Most thinset manufacturers want you to use a modified mortar for porcelain tile.
Porcelain tile is near impervious and can be difficult for the mortars to grab a hold of which is the reason for the modified mortars. They grab better.
The exception again is Schluter products which want unmodified mortars used.
Backer board: For backer board on floors, specifically cement board and fiber cement boards (think Hardibacker), it's my understanding that it doesn't matter which thinset you use. The thinset doesn't need to bond to the plywood.
Instead, it's part of a system with fasteners. The nails or screws hold it down and the thinset holds it up. So this is an example where you don't need the best thinset- it seems the worst will do.
But some backer board manufacturers have a more specific set of instructions. As always, follow instructions.
5 Ways to Screw Up your Cement Board Installation on Floors
Mesh Tape: Don't Skip This Step
For walls, you'll want to use a modified mortar to tape and mud the seams. Make sure you use alkaline resistant mesh tape.
I recommend staying away from Denshield and other similar gypsum-based products in wet areas but if you want to use it make sure to read the instructions.
You'll need to waterproof the seams and they don't waterproof the way that you would think.
Wall tile: They do make a good number of lightweight thinsets now which work great for walls. They can help keep your tile from sliding down. An example is Tri-lite from Laticrete.
Hopefully, this helps clarify some of the mystery around the many different thinset products. If I've left anything out or you have any questions please ask in the comments below.
Always read the manufacturer's instructions for the products that you will be installing.
Also, see:
Part 1 Thinset Decoded: A buyers guide to purchasing the right tile adhesive