I love Schluter Ditra and would recommend it to anyone. However, there are many alternatives to Ditra that have entered the market and they are worthy of consideration.
There are many reasons to consider an alternative to Ditra, which could be:
Local availability of a particular brand
Price
System warranty with other components you are using
Individual features
This post will examine Schluter Ditra and four Ditra competitors. These are all reputable companies that make quality products and respect tile industry standards.
This post contains affiliate links. The site owner may earn a commission should you click on an affiliate link and make a purchase. Read more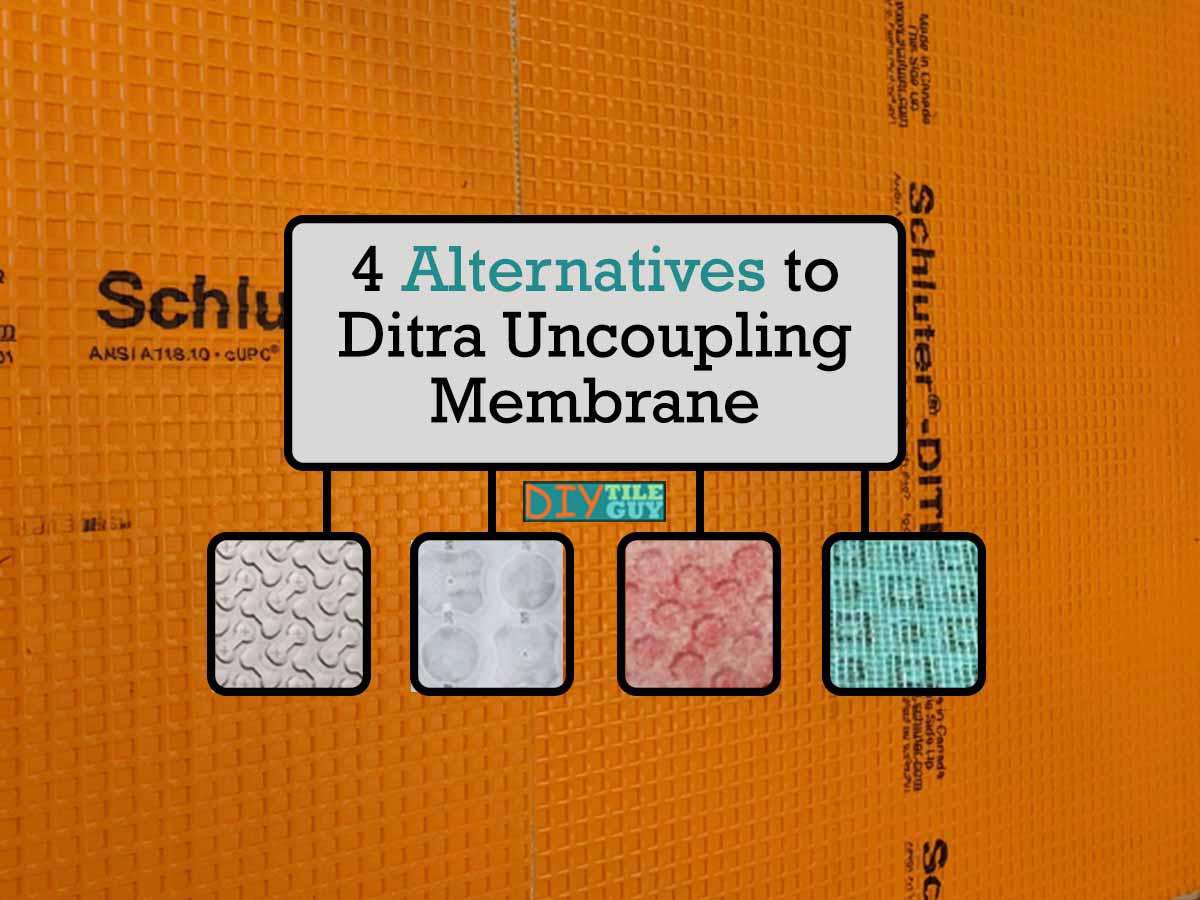 Estimated reading time: 8 minutes
The 5 Uncoupling Membranes Options
The five membranes being compared are:
These products are NOT RANKED but, instead, are listed in alphabetical order.
The Original Uncoupling Membrane
First, we'll start with the original.
Originally launched in 1987, Ditra was truly an original as there were no alternatives. In fact, it helped to usher in a sweeping change in the tile industry. Uncoupling membranes are now commonplace as a tile underlayment.
Ditra is a plastic sheet membrane that is 1/8 inch thick and has a square dimple pattern on the surface. The dimples create a dovetail system where they are larger at the bottom and narrower at the top.
Mortar fills the dimple and, once dry, is locked in the cavity.
Additionally, the underside of Ditra has fleece attached to it which gets embedded into a layer of thinset.
Schluter Systems touts four characteristics that form the core function of their membrane: Uncoupling, Waterproofing, Vapor Management, and Load Distribution.
Ditra, created in Germany, is one meter wide which converts to 39 3/8 inches. It comes in three roll sizes: 54 ft; 150 ft; and 323 ft. It also comes in a 1/4-inch thick version called Ditra XL and a heated version called Ditra-Heat and Ditra-Heat Duo.
My thoughts:
In 2022, Schluter launched a new version called Ditra 2.0 with larger squares and more flexibility to the membrane.
Some of the complaints about the previous version of Ditra were that the dimples would crush down sometimes when working on it and that the plastic roll had a bit too much "memory" and wouldn't want to stay unrolled.
I expect these issues to be fixed with the new membrane. Further, the new membrane will be a little easier to fill with thinset and less likely to trap air in the recesses.
The old stuff didn't take pencil and chalk lines very well and I would assume the new would be similar.
You might want to check out my post on Ditra installation if you are considering this product.
But I haven't got my hands on the new product yet so I can't comment with any real experience at this time.
---
4 Alternatives to Ditra
Perhaps you want to explore your options beyond Ditra. Here are four uncoupling membrane alternatives to Ditra.
Flexbone is Ardex's alternative to Ditra. Rather than squares, Flexbone uses a long, rounder shape that looks like a bone you might see in a cartoon.
The bone shapes sort of weave and overlap on the membrane which doesn't allow for any long channels that run through the length of the membrane. This is by design and Ardex claims that this creates more tensile bond strength.
Additionally, Flexbone's 'bones' are wider at the top to mechanically lock in thinset mortar. It also has a fleece layer attached to the bottom so that it attaches to the floor via a thinset layer.
Interestingly, this Ditra alternative claims to be waterproof but, on their website, they are announcing that it has new 'ventilation channels'.
So, I don't know if this indicates pass-through channels similar to Strata_Mat or if this is some other innovation. We'll have to wait and see.
Flexbone UI 740 is 39 3/8 inch wide (1 meter) and comes in both a 54ft and 215 ft roll. Additionally, you can purchase Flexbone in a heated version, Flexbone Heat, and a floating version, UI 720 Flexbone, that doesn't attach to the floor.
My thoughts:
Flexbone is a nice membrane to use. I don't know how much stock to put into the interlocking bone system but the lack of roll memory is amongst the best in class and the bones don't crush like some other products.
---
This Ditra competitor would appear to be a fairly normal-looking membrane except it has a type of netting over the entire top of it.
So, Mapeguard is still a plastic membrane with fleece attached to the underside. It has squarish and circular dovetail dimples. But then it has a screen-type material over the top.
The screen material helps to protect the middle plastic layer from being crushed while being worked on.
Mapeguard UM is a waterproof membrane that is 1 meter wide and comes in both 54 ft and 323 sq. ft. rolls. Additionally, there is Mapeheat for heated floors.
My thoughts:
This is a nice Ditra alternative that lays flat on the floor and the dimples fill nicely.
However, I would have thought that the top mesh layer would allow for a smaller minimum tile size. But, Mapei still limits the minimum to 2×2 inches which is the same as the others on this list.
---
Redgard mat looks the most different of the five Ditra competitors mentioned in this post. It feels more like carpet than it does a plastic membrane.
While it still has geometric dimples Redgard doesn't rely on a dovetail design like its competitors. Instead, it has fleece-like fibers on both the top and bottom sides which lock in the mortar.
Additionally, Redgard is the only one on this list that is an ANSI A118.12 crack isolation membrane.
So, if you are using it over concrete with cracks then this may be the better choice if you want to use an uncoupling membrane in that situation.
Redgard Uncoupling Mat is a 39 3/8 inch wide waterproof membrane that comes in both 54 ft and 323 sq. ft. rolls.
However, there's no 1/4 inch thick version so this may not be a good choice if you are trying to match heights for a tile to wood transition.
My thoughts:
Redgard Uncoupling is a joy to work off of as it feels like carpet. You need to be careful not to let debris like sawdust get into it because the top fleece layer will trap it right in.
Additionally, it's rolled up tighter than Ditra or an alternative so the end of the roll can be deformed. But, your pencil lines show up easily on it.
---
Stratamat looks similar to other uncoupling membranes but it does have some unique qualities.
Similar to others, it has square dimples that lock in mortar. Stratamat is white in color and translucent so you can tell when it's embedded into mortar. The white color also allows chalk and pencil lines to be visible.
Another quirk of this Ditra competitor is that it has ventilation holes in the mat. These allow the mortar to dry more quickly.
I don't want to get into the whole modified vs unmodified argument but this is Laticrete's way of making sure that modified mortar will be able to dry underneath the tile.
Another advantage of the air channels is that they don't trap air under the membrane. So it's easier to embed and it's not so crucial that you start rolling it from the center of the mat. The air can escape through the air holes as well as through the edges of the membrane.
The obvious consequence of air holes is that the membrane is not waterproof. If you need waterproofing then you are better off looking at either Ditra or a Ditra alternative.
Strata_mat is 45-inches wide and comes in a 150ft and 323 ft roll. Also, there is Strata_mat XT at 5/16 inch thickness and Strata_Heat for heated tile floors.
My thoughts:
Strata_mat has some nice qualities to it. I do like the translucent aspect of it. However, the air channels can be uncomfortable on your hands because they poke through.
Personally, I don't see the 45-inch width as either an advantage nor a disadvantage. It would depend on how it works out for the width of your room.
---
Comparison Table for Ditra and 4 Ditra Alternative Uncoupling Membranes
*See comments above for clarification
Conclusion
That's the low-down on five different uncoupling membranes and how they compare to one another. Ask your questions in the comments.