Mixing thinset. It must be a big secret. Otherwise, why can't you get a straight answer?
Perhaps you've heard these:
"Mix it until it's like peanut butter"
"thinset consistency should be yogurt-y"
"Thinset should stay on your trowel when you turn it"
"Add powder until you make a volcano"
Yes, I've heard every one of those before and it's frustrating. I know premixed tile mastic is easy but there are very few places that you want to use that stuff.
My goal is to make mixing thinset mortar as simple and straightforward as possible.
Let me know in the comments how I do.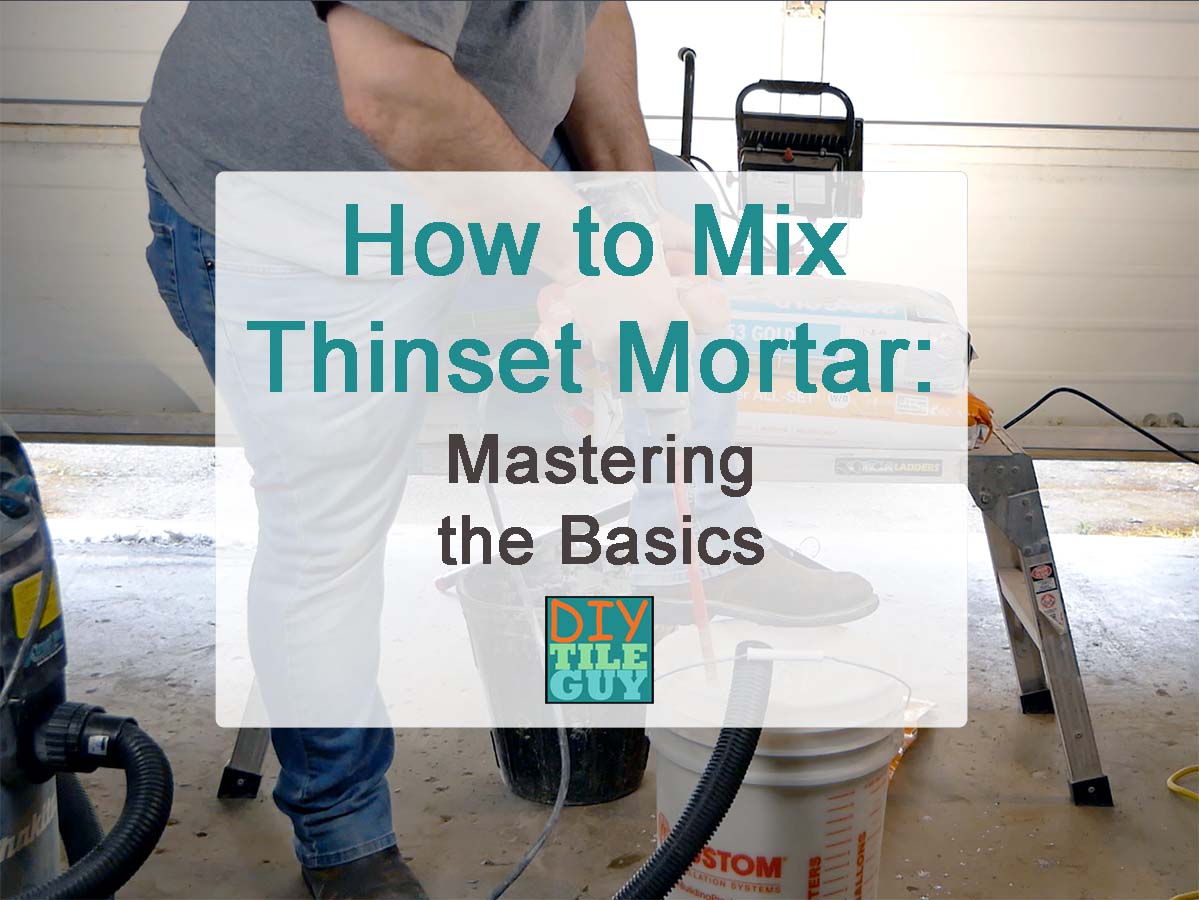 Estimated reading time: 7 minutes
Thinset mixing basics
Below are general mixing instructions for mixing full batches of most mortars.
It's important to know the basics of mixing full bags of thinset mortar before moving on to learning how to mix small batches of thinset.
Individual products will vary so always be sure to check your specific mortar for its own mixing instructions.
Water Measuring Warning!
In my research, practice, and experience with adding water, it seems that some thinset manufacturers don't let you add enough water to the mortar.
If you only add the maximum water volume that they allow your thinset is going to be too thick and difficult to work with.
So, here's the issue:
Yes, you want to add the manufacturer's recommended amount of water
But you want to add more if they don't allow you to add enough
Simple, right? Not really. More on this below.
---
The Basics of mixing thinset
Time needed: 10 minutes
The Basics of Mixing Tile Mortar in Full Batches
Add the proper amount of cool, clean water or liquid additive to a clean mixing bucket

Oftentimes, around 6-7 quarts for a full bag but always check your specific product and application.

Add the bag of mortar

Full 50 lb bag (or equivalent for lightweight mortars)

Begin mixing

For most mortars, mix at a low speed (300rpm) using an electric mixing drill. Always check your product instructions for specific speeds as they do vary.

Mix for a full two to three minutes

Continue mixing for 2-3 minutes until the mortar consistency is smooth and lump-free. Move the drill around a bit to ensure all powder is mixed.

Let Slake for five minutes

Let it sit for 5-10 minutes

Remix for one full minute

Remix for up to one minute without adding any additional liquid.
Those are the basics of mixing full bags of mortar at a time.
Adding additional water
As I mentioned, you may need to add additional water even if you are following the manufacturer's thinset mixing instructions.
If you need to add additional water, make sure that you add it within the first minute of mixing.
When added too late in the process additional water will mess up the thinset, cause a loss of strength, and potentially cause a failure of your tile installation.
As a general rule of thumb:
Never add more water once the mortar is fully mixed.
If additional water is needed, add it within the first minute of mixing, then mix for two full minutes.
How much mortar do you need?
So, the obvious questions are:
How far does a bag of mortar go?
How many bags of thinset do you need to buy??
Here are some general guidelines:
Mixing thinset specifically for Ditra, Kerdi, waterproofing, or uncoupling membranes
Generally, when installing uncoupling membranes, you will want the thinset mixed looser (more water) than you would if you were installing tile. [2]
Schluter, for example, advises adding an additional 1-2 quarts of water per bag for Ditra, Ditra-Heat, Ditra-Heat Duo, Ditra XL, and Kerdi waterproofing membrane. [1]
As a result, you'll want to make sure that you are using the correct thinset for Schluter branded products.
Tools need to mix thinset
If you are looking for the best drill for mixing thinset mortar you will typically want one that has good power (minimum 7.5 amps) and mixes at slow speeds (300rpms).
Therefore, it's not advisable to mix thinset with smaller drills especially if they are battery-powered. Mixing a full bucket of mortar for 2-3 minutes is too much of a load for smaller drills.
They do have inexpensive mixing drills that meet these criteria or you could simply choose to mix smaller amounts of thinset.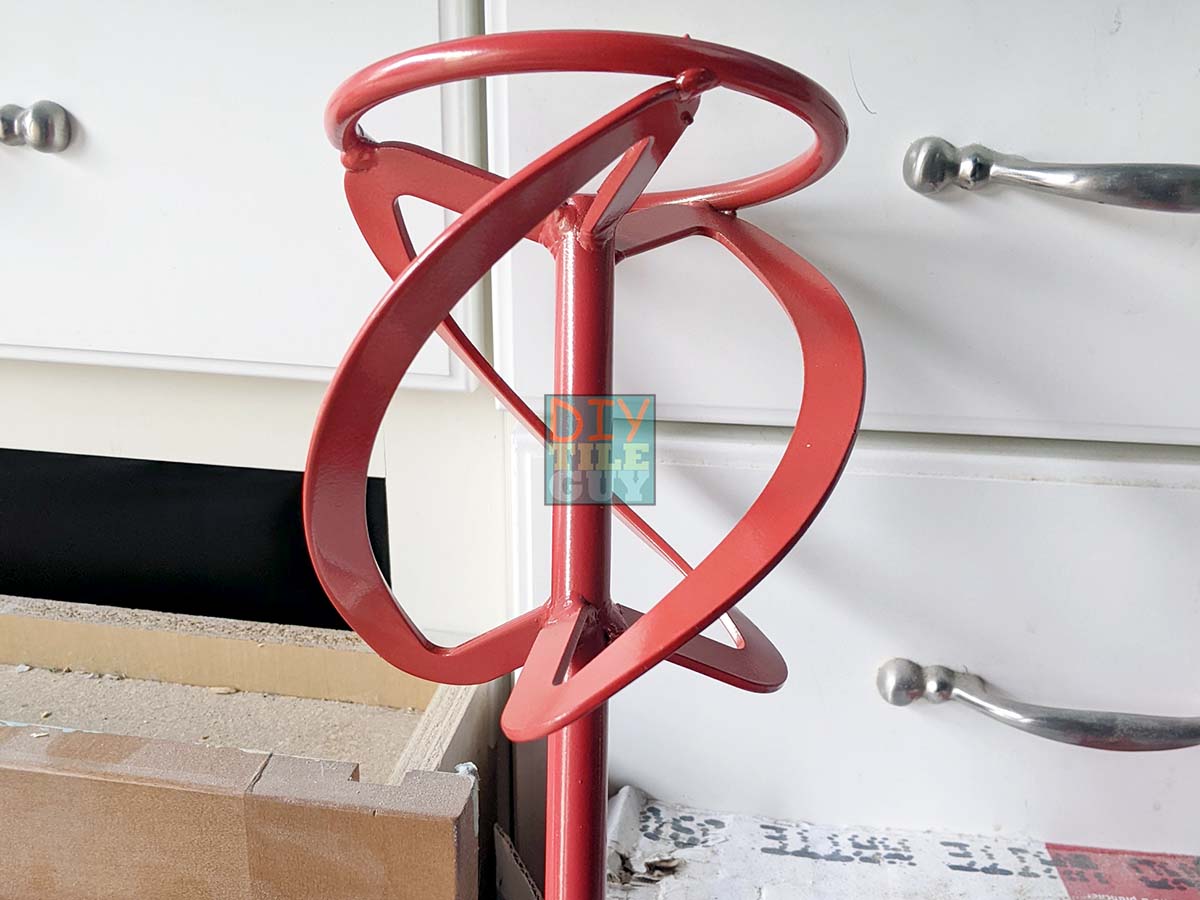 Thinset Mixing paddle
The proper mixing paddle for mixing thinset is the "ribbon style" paddle. This paddle outperforms other paddles, including the egg-beater-type paddle, when it comes to the bond strength of the mortar.
Years ago, Dave Gobis, a well-respected tile consultant in our industry, did some independent testing on three different mixing paddles and the ribbon style came out on top. [3,5]
However, the egg beater mixing paddle has its place. In fact, it's recommended for mixing self-leveling underlayment.
Dust Mask
It's really important to protect yourself against the silica dust contained in most thinset mortars. When mixing thinset, a vacuum is advisable but an N-95 mask is a must. [4]
Mixing thinset properly is just one factor in a good tile installation
You'll also want to take into account proper mortar selection, trowel size, and directional troweling when installing tile, backer board, or membranes.
---
Frequently Asked Questions about Mixing Thinset Mortar
Can I add water after the thinset is mixed?
When mixing thinset mortar, the water should be added first before the powder. If you do need to add additional water then you want to do that at the beginning of the mixing process (within the first minute) and not after you've mixed it for three minutes.
Is it OK to add water if the thinset starts to get too hard?
No, it is not OK to add additional water to the thinset after it has been fully mixed. There are some cementitious products that allow tempering with water but thinset is not one of them.
Can I remix the mortar if it gets hard?
Yes, you can remix the mortar in the bucket as long as you do not add additional water
Can I add a polymer thinset additive to a modified mortar?
Do not add a polymer additive to modified mortars unless the instructions specifically state that it's OK. In most cases, it's not OK.
Can I add a polymer thinset additive to an unmodified mortar?
Yes, adding a polymer additive to your unmodified mortar is OK and will turn the mortar into a modified mortar. If you want to keep your mortar unmodified, don't add it.
What speed should thinset be mixed at?
You'll want to check the instructions for the particular thinset product that you are mixing but, in general, 300 RPMs is an OK mixing speed for many of the mortars on the market.
What is the right thinset consistency for tile backer board on floors?
It's not a bad idea to have a little looser mix for installing backer board on floors, such as cement board or Hardibacker board.

This will allow you to spread mortar over a large area and lessen the chance that the thinset will get too dry before it's covered.

With this in mind, adding an additional quart of water to your mortar for installing backer boards would probably be ideal for mixing thinset.
How to mix thinset mortar for large format tile?
You may choose to have a little thicker mortar mixture for installing large format tile. You might try lightening up the amount of water by up to 8 ozs for this purpose.

Keep in mind that you'll want to have the right mortar for large format tiles.
---
References
Schluter All-Set technical data sheet (revised 2019) (download here)
https://www.schluter.com/schluter-us/en_US/faq/consistency-mortar-to-set-membranes-compared-setting-tile
https://www.johnbridge.com/vbulletin/showpost.php?p=569284&postcount=25
https://www.cdc.gov/niosh/topics/silica/default.html
http://www.ceramictileconsultant.com/