Are you confused about why you need to spend $100 on a Kerdi drain when a clamping ring drain is $8?
Perhaps your plumber installed the wrong drain and now you want to use the Schluter Kerdi Shower System?
This post is going to tell you:
What a standard 3-piece clamping shower drain is and where they are used.
What bonding flange drains are (aka Kerdi Drains) and how they are used.
How you can adapt your Kerdi drain to a clamping ring drain.
Another way to use your 3-piece tile shower drain with a sealed shower system and NOT purchase an expensive Kerdi drain.
Want to know more? Read on!
Estimated reading time: 5 minutes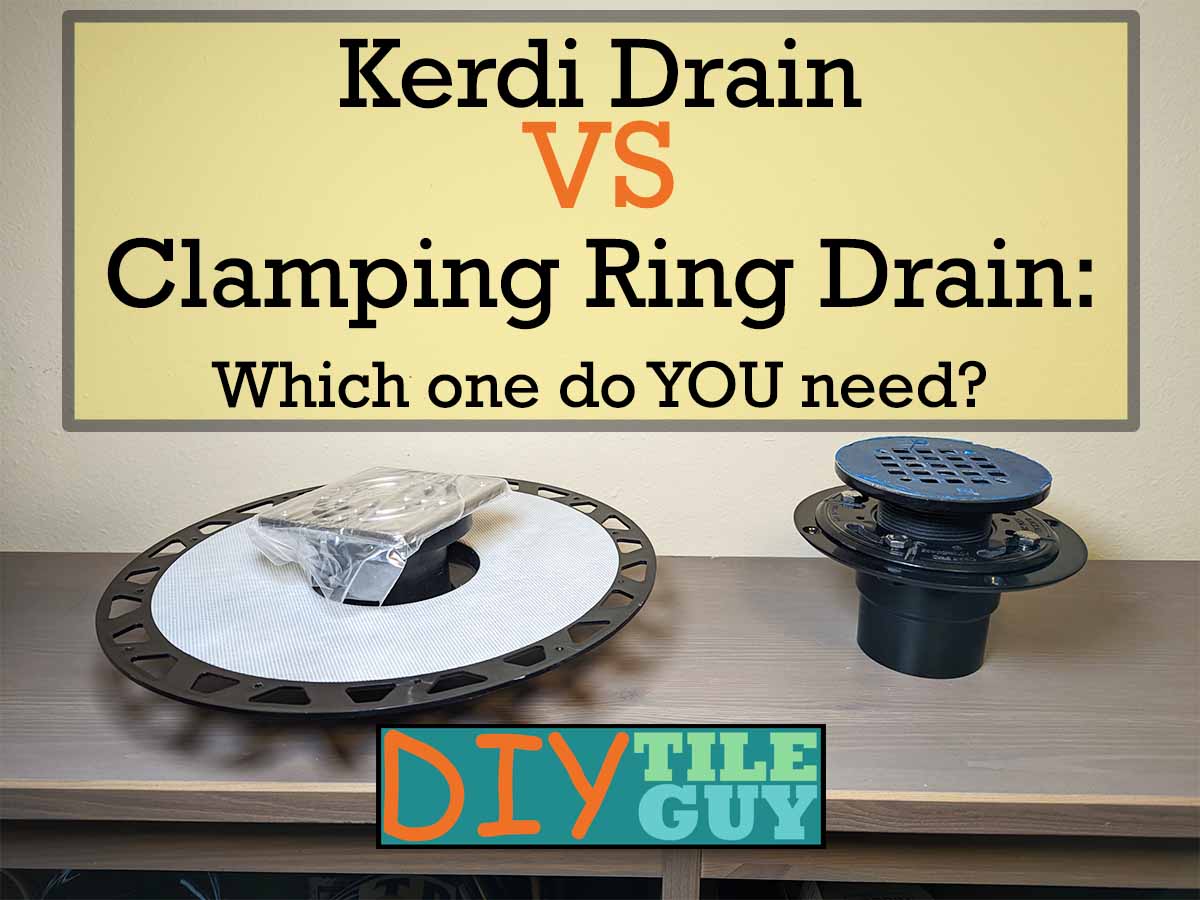 3-piece clamping ring drains for tile showers
You'll find that most hardware stores simply refer to these drains as shower drains. However, since there are multiple different kinds of shower drains, I like to distinguish which one I'm referring to so that you don't end up with the wrong one.
The type of shower drain that you want for a tile shower comes in 3-pieces:
The drain body (which glues to the pipe)
A ring that clamps the shower liner down and secures it to the drain body. The clamping ring is also where the weep holes are located.
An adjustable strainer threads into the clamping ring and the top strainer portion is visible and part of the finished shower.
These clamping ring drains are made out of either ABS or PVC plastic and have been used for several years now.
Prior to this style of drain, cast-iron clamping drains were commonplace in showers going back decades.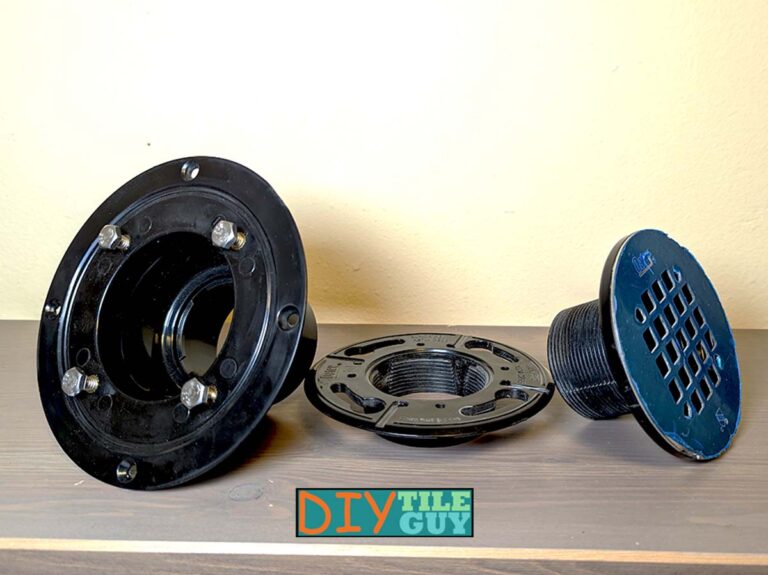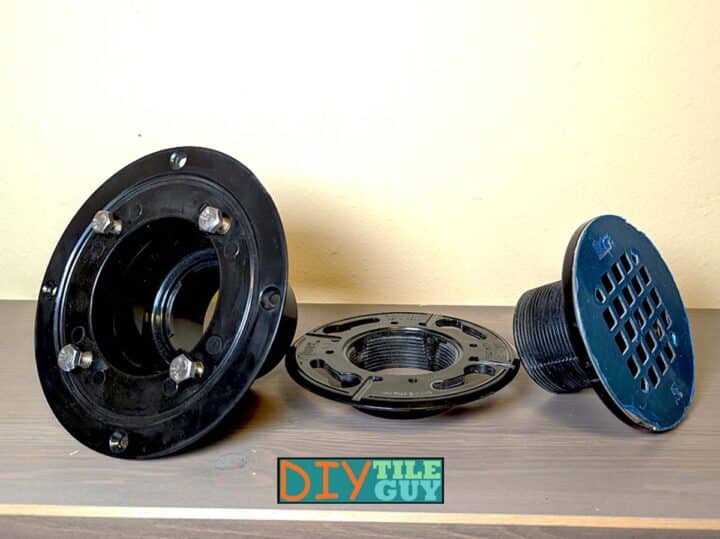 Clamping ring drains are to be used with traditional water-in/water-out shower systems
These types of tile shower drains are designed to be used with the old-style water-in/water-out liner systems. The link in the previous sentence contains a diagram of how the shower drains manage the flow of water.
The Kerdi Drain is a bonding flange drain
Perhaps, you are planning on using the Kerdi Shower System or another brand of sealed shower system. If so, then you'll want to use what is called a bonding flange drain.
The Kerdi Drain is the original and most famous bonding flange drain on the market today. Additionally, it is also commonly used for curbless shower applications.
See this post for a diagram of how water is managed using a bonding flange drain with a sealed shower system.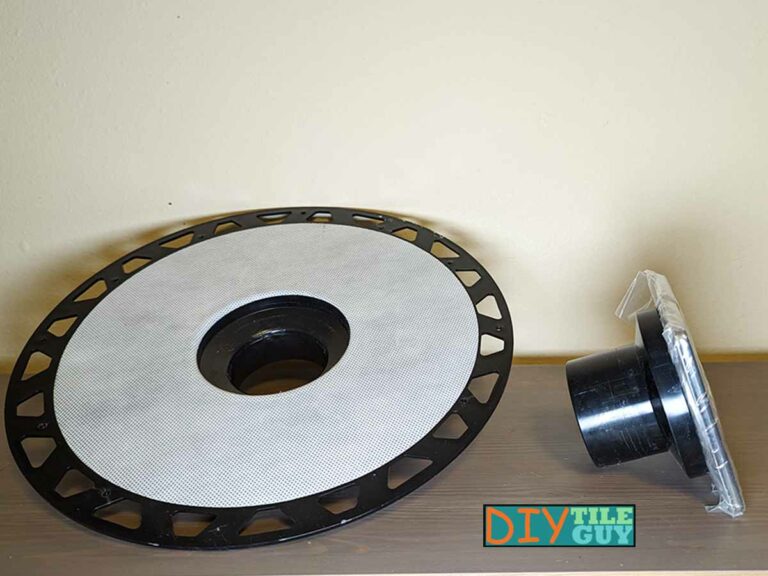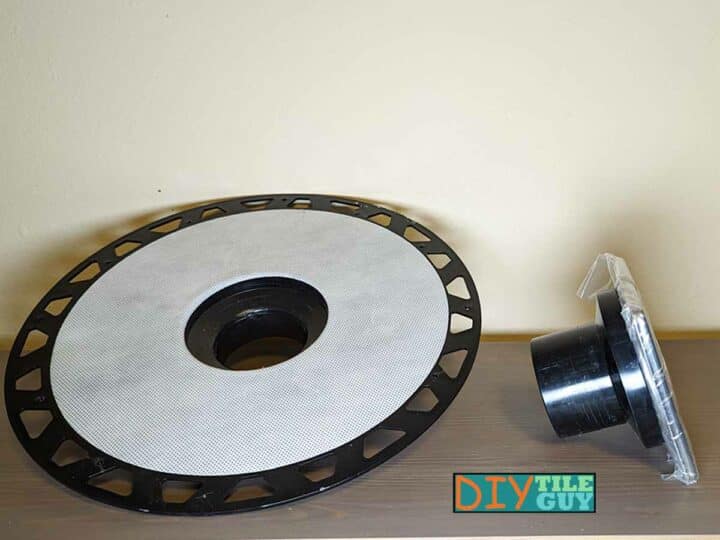 Can I use another manufacturer's drain with the Kerdi System?
You may use another manufacturer's bonding flange drain with the Schluter Kerdi Shower System. Keep in mind these two things:
If you are using Schluter's foam shower pan, you will want to make sure that the bonding flange is compatible with its drain placement.

For example, if you wanted to use Flo-FX drain with a Kerdi shower pan you will want to choose the 'traditional bond flange kit', which is round and similar-sized as the Kerdi drain.
Using another manufacturer's bonding flange drain with the Kerdi Shower System will void Schluter's warranty.
Can the Kerdi Shower kit be used with a regular shower drain?
Schluter makes a drain adapter kit that will adapt a Kerdi drain to a standard 3-piece clamping ring drain.
Purchasing both the Kerdi drain and the adapter kit isn't cheap but at least you don't have to cut any pipes and this is covered by Schluter's warranty.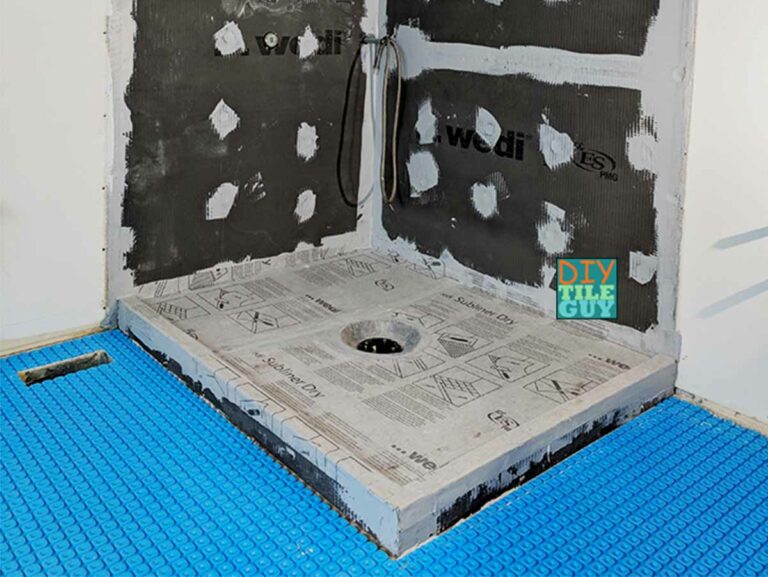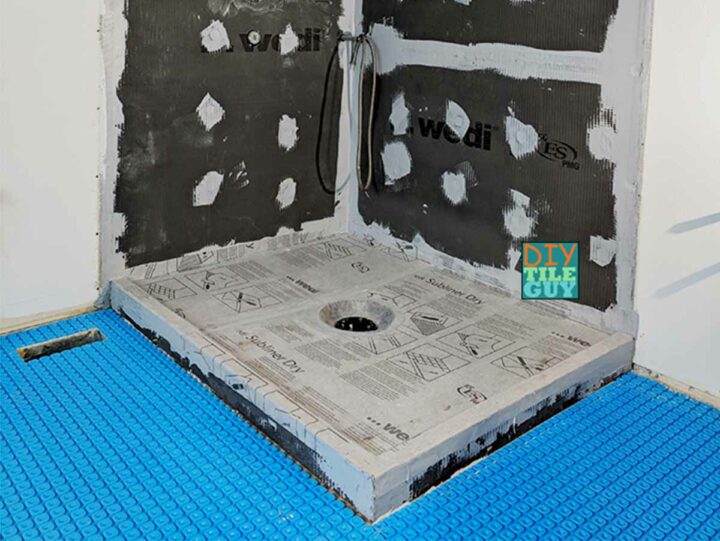 The Divot System
Finally, it is possible to build a sealed shower system and not use a bonding flange drain at all.
This is what we call the divot system.
You build a sealed shower, like normal, except the waterproofing layer will 'scoop down' to the clamping drain. This makes a divot around the drain.
This is a popular method if you are using liquid waterproofing to create your shower. But, it's also possible with sheet membranes by using a drain flashing like this one from Noble Company.
Doing this will allow you to use the popular Ebbe drain grates with the Kerdi system or other sealed shower systems.
If you are building a curbless shower, you will need to either use this method or a bonding flange drain.
Conclusion
So, there you have it. Two different drains and two ways to adapt shower systems to each other.
Let me know what questions you have in the comments.