The appeal of a marble shower is quite understandable. Marble is beautiful and timeless.
So, why would anyone frown on putting natural stone in your home?
As a contractor, I get asked about putting marble and other natural stones in bathrooms quite often. In fact, it's quite common for a homeowner or designer to have picked out a marble mosaic for the shower floor, at least.
But, after I tell them my concerns about the product and the potential things that can go wrong. they almost always change their selection.
Why is this?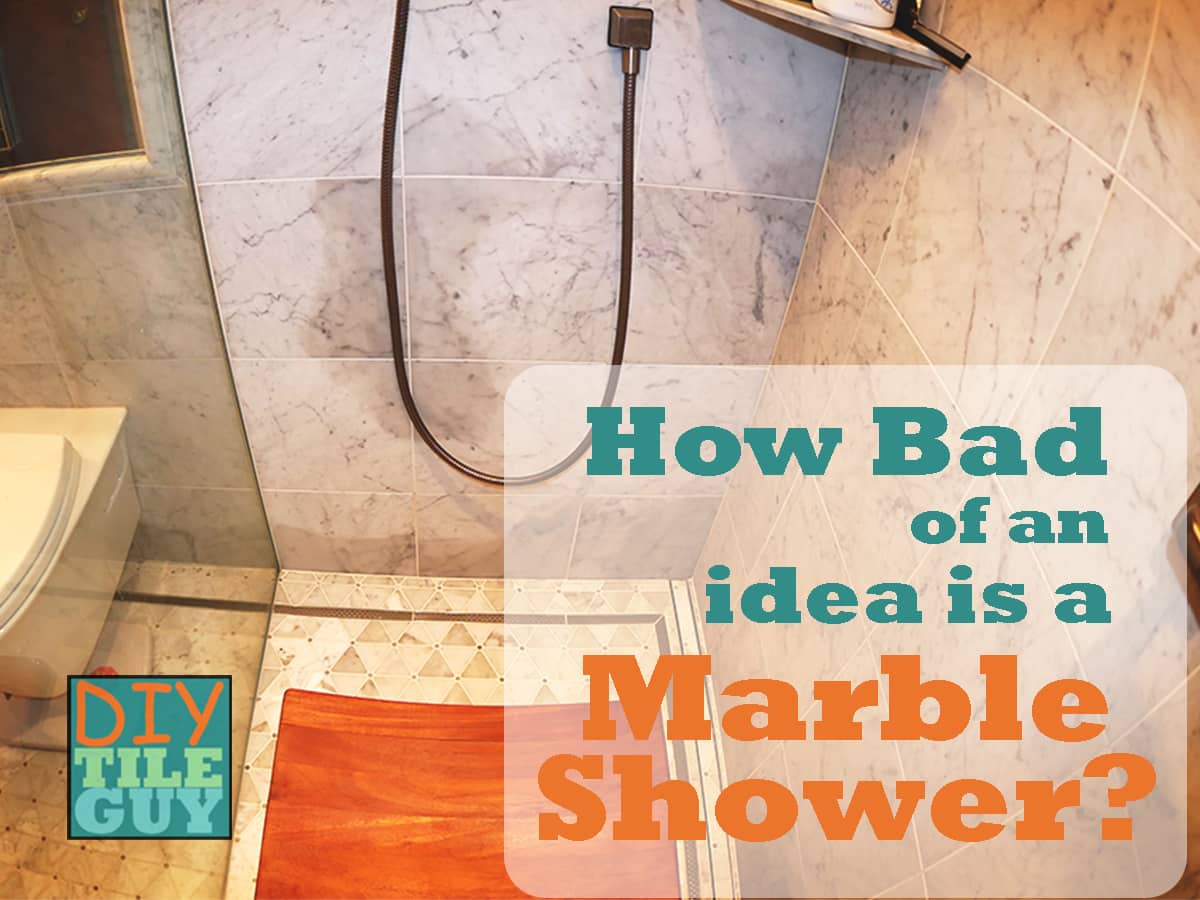 Estimated reading time: 12 minutes
The problems with marble showers
Over the years, I've seen and been made aware of a lot of the issues with natural stone in a shower.
It's not that a marble shower can't be successfully installed. But there is definitely more risk of things going wrong.
Also, there's the maintenance… which means cleaning products… and most of them you can't use. But, we'll get to that. Firstly,
Natural Stone showers vs Ceramic or Porcelain Tile Showers
Why are marble showers so much more difficult than porcelain tile?
The answer is in the porosity. Natural stone has pores whereas most porcelain is considered impervious.
Characteristics of natural stone
Marble is soft and porous
Marble, travertine, limestone (especially limestone), and even granite all have pores. These pores allow water a way to get inside the stone. Furthermore, it's not just water that's allowed in.
Marble gets dark when it gets wet
Once water is in, it causes darkening in natural stones, particularly in light-colored marble like Carrara and Calcutta.
Marble can rust
Yes, another characteristic of some natural stones is that they can oxidize and leave rust stains when they are exposed to water and some chemicals.
Not all stones are created equal
Another nuance is that natural stones are all different than one another. It really is unfair to lump granite in with limestone and consider them both as behaving the same.
In general, natural stone will have these characteristics in varying degrees:
Light colored stones
Light-colored marble tends to be more prone to issues of darkening. A lot of the dark shower floor stains that I see are typically Carrara or Calcutta marble.
Some of this is simply because of the lighter color. It also has to do with density and the ability to see through the stone.
Moisture sensitive stone
I know we've talked about the natural stone being porous. Furthermore, some stones aren't just porous but they are actually classified as moisture sensitive.
This means that they definitely shouldn't be used in a wet area, like a shower.
A lot of green marbles are considered moisture sensitive as are many limestones.
Is the stone that you are considering known as moisture-sensitive? This is something that you need to know and you should check with your supplier that sold it to you.
They should know or they shouldn't be selling it. Although you'd be surprised how many retailers sell the stone and know nothing about it.
Looking at you big box hardware stores!
Marble shower floors commonly have a resin backing
A lot of times, natural stone will come with a kind of clear, or translucent, backing on it that is supposed to help strengthen it and help to keep it from breaking.
This backing can cause issues with the installation because mortars don't like to stick to it.
Moreover, the coating typically is waterproof so moisture from above it can't get through and moisture beneath can be trapped.
Typically, epoxy mortars are what's required to install resin-backed stone. Epoxy mortars are different than cement mortars that you mix with water.
So, we've gone over the different stone characteristics and quirks that one can accept and/or watch out for with selecting a natural stone shower.
But we haven't even begun to talk about the different issues with installation until now.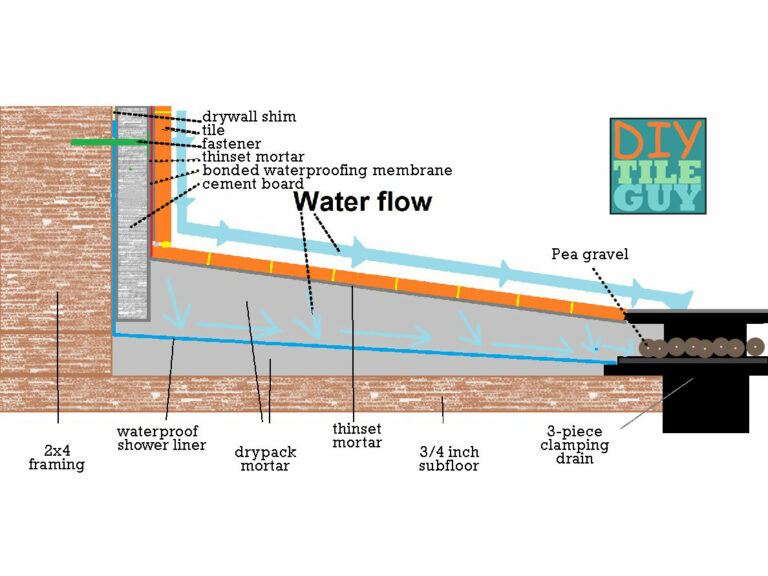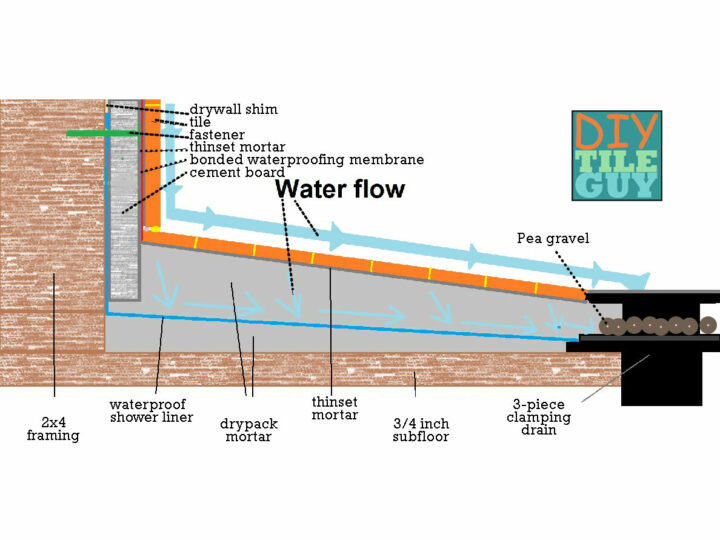 Tile installation products and marble showers
Let's start with some of the different products and shower systems that are out there.
Some of this is going to get a little technical but knowing which shower systems to use with marble showers is important. Let's begin with:
Sealed Shower Systems
Sealed shower systems are a way of building a shower where the waterproofing layer is on the surface of the shower pan and the tile sticks directly to it.
The Kerdi Shower System from Schluter Systems is probably the best-known brand that would be an example of this. The Kerdi membrane goes over the surface of the mortar bed (or foam shower tray) and the tile adheres directly to the membrane.
The Wedi Shower System is another well-known brand that would fall into this category. However, with the Wedi system, the foam tray and backer board are completely waterproof all by themselves and they don't need an additional layer on the surface.
These types of shower systems started to come around about 20 years ago and have been growing in popularity with both curbed and curbless showers. This is for good reason. They are good and innovative ways of managing the water.
The issue with these types of systems is that water can get trapped in between the marble and waterproofing layer, causing the stone to darken, and not have a way to evacuate away like it could with a more traditional mortar bed shower system that has the waterproof layer underneath the mud bed.
First, two different types of shower drains
To get just a little further into the shower process…
There are two different types of shower drains:
3-piece clamping drain (I'm including cast-iron drains here)
The bonding flange drain is used with the sealed shower systems that I mentioned above. The Kerdi system uses the Kerdi drain. The Kerdi drain is the original bonding flange drain and also the most popular example of that type of drain.
Bonding Flange drains
Bonding flange drains can sometimes sit a little big higher than the waterproofing membrane and this causes moisture to dam around the drain. This can be visible with a marble shower floor.
Additionally, many of these types of drains lack a traditional weep system and may not drain residual water away as efficiently as their traditional clamping drain counterpart.
Can we use marble with the Kerdi Shower System?
The types of showers that I've just described, in which Schluter's Kerdi System is included, have been suspected of contributing to a growing number of cases of darkening marble shower floors and walls.
To Schluter's credit, they have a section in their Kerdi Shower System Handbook (download from Schluter's website) that talks about tile selection for their showers and in particular natural stone.
They mention the issues with lighter-colored marble along with resin-backed and moisture-sensitive stones.
They won't tell you not to use natural stone in their showers but they do have good recommendations and cautions when selecting tile for bonded waterproof showers.
Bonded waterproof shower systems can have natural stone successfully installed in them but greater care must be taken to account for the different variables that have been mentioned in this blog post.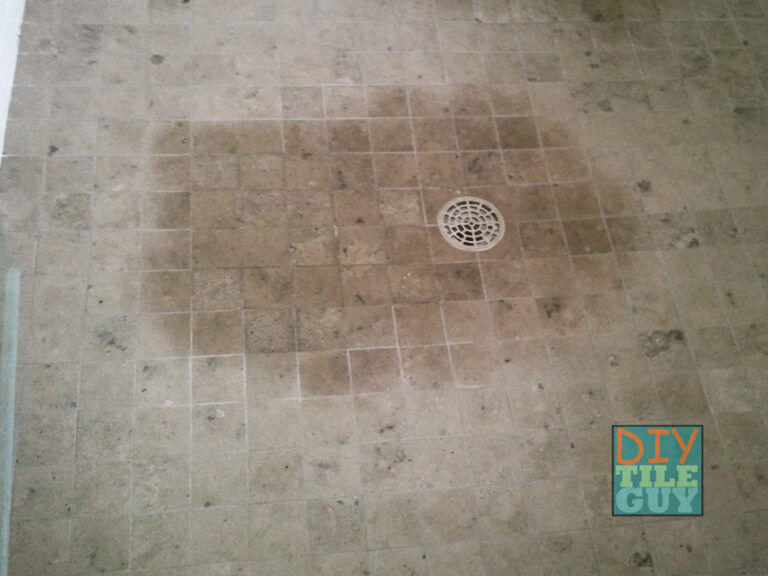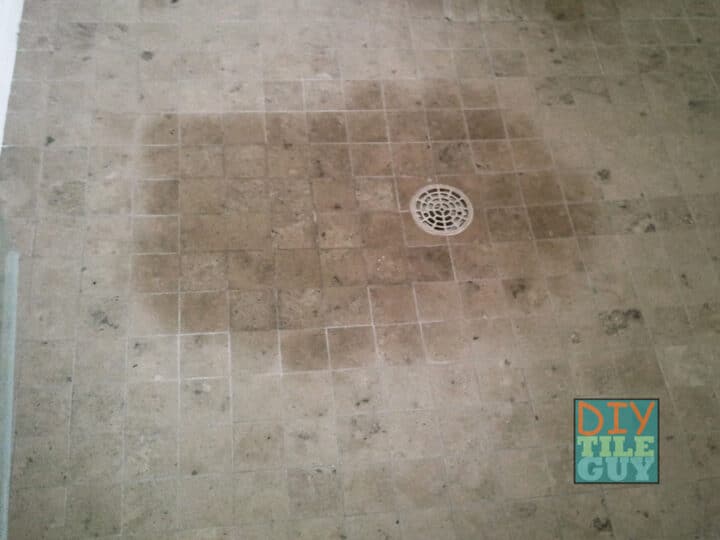 Tile installation errors in natural stone showers
The section above has talked about shower systems and products and how they relate to natural stone showers.
This section gets into installation mistakes that can contribute to issues with marble shower and, in particular, marble shower floors.
For starters, remember the two drains that we talked about above? Let's now talk about the other drain.
Clogged weep holes
This is something that is unique to the 3-piece clamping shower drain. These types of drains are typically used with traditional water-in/water-out shower systems where the liner is underneath the mortar bed.
The issue here is that if the weep holes are clogged they won't let the water below the marble tile to drain. So, what happens is you get a big dark spot around the drain that doesn't go away.
When building the shower, it's important to always make sure the weep holes work really well before the tile is installed.
Side note: It is possible to combine the sealed shower system with a 3-piece clamping drain. Us tile setters call this the "divot" system. But I'm not going to get into the divot system in this post.
Bird baths
Water likes to sit in low spots. I don't think this is news to anyone.
Consequently, if the shower floor has a low spot, that isn't the drain, water will want to sit in this area and not travel down the drain.
We call these "bird baths" and if you have them on your shower floor they are highly likely to darken with marble shower floor tile.
Uncollapsed mortar ridges
This is an installation error that can rear its head with either shower system that I've mentioned above.
Uncollapsed ridges are from troweling mortar with a notched trowel. The mortar is "combed" in notches with a notched trowel and the tile is supposed to fully collapse the notches when it's "set" into the mortar.
If the tile doesn't fully collapse the ridges of the mortar then this leaves pockets for moisture to sit in directly underneath the stone. These will show with a natural stone shower floor.
Marble showers: to seal or not to seal
Finally, we get to sealers. After all, if natural stone has pores it only makes sense to seal them, doesn't it?
Well, there's more controversy around this than one would probably guess.
Many of the knowledgeable stone professionals recommend NOT sealing natural stone in showers.
Even though a sealer may be advertised as "breathable" they feel that a sealer still impedes the breathability of the pores. So, things may not dry out as quickly.
This isn't the consensus in the industry though. There are many on the other side of the argument that natural stone should always be sealed.
Sealers aren't a solution
Further, sealers are often misunderstood. Many seem to think of them as miracle products that prevent marble from getting dirty or somehow have waterproofing properties.
Here's what sealers don't do:
Eliminate stains
Eliminate dirt
Waterproof
So, why use a sealer at all?
Rather than think of sealers as some sort of miracle protection a better way to think about them is to liken them to fabric and carpet protection coatings such as Scotchgard.
If you spill wine on your carpet with Scotchgard you aren't going to assume that it won't stain the carpet. Rather, you're going to hope it holds long enough for you to run and grab a cleaner and some towels.
It's the same thing with sealers. Sealers don't eliminate the pores in stone but they can aid in reducing the amount of moisture that the pores will allow through.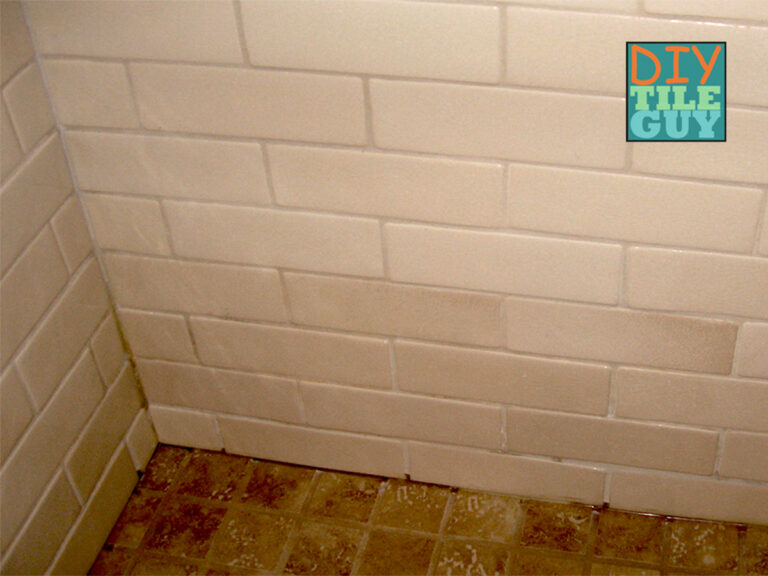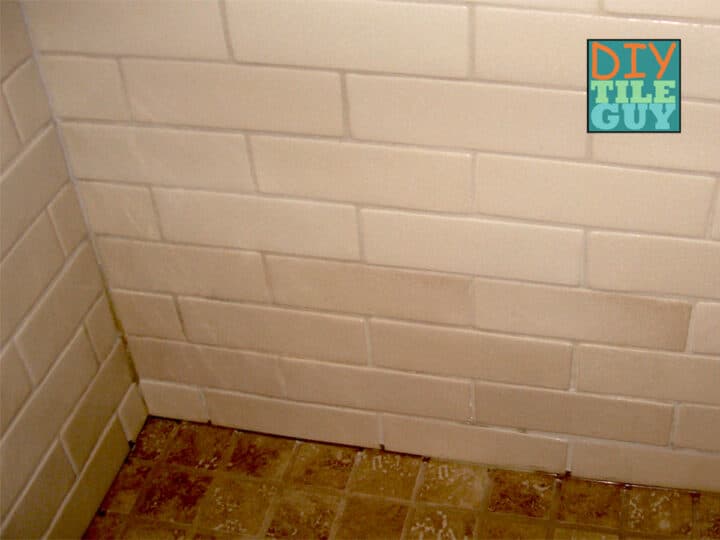 Natural Stone Maintenance
Even with a completely successful natural stone shower installation, there is an area where marble is at a disadvantage compared to porcelain or ceramic tile.
And it's in regards to cleaning and maintenance.
Cleaning Marble Showers
Cleaning natural stone requires more care than you may realize. Natural stone is more prone to staining, scratching, and etching than ceramic or porcelain tiles.
A successful cleaning regiment involves the following:
Proper natural stone cleaning products
Soft brushes and other tools
More frequent cleaning
A Marble Shower Success Story
When doing a bit of research for this post, I came across this website with the post titled:
Do we regret using marble tile in our shower?
It's a case of a couple of DIY'ers that built their own beautiful Carrara marble shower despite the negativity from others.
Spoiler alert!: They love it
If you are considering adding a natural stone shower, or even just a marble mosaic shower floor, I would encourage you to read what they have to say.
Pay particular attention to their cleaning/maintenance routine. Although it isn't a big deal to them I have a hunch that it's more involved than some are willing to commit to.
My recommendation
For my customers, I'm going to continue to caution them about the pitfalls of a natural stone shower in their home.
Typically, this hasn't been too big of an issue. I simply start with
"Impervious porcelain tile with non-cementitious stain-resistant grout which means no more sealing…"
That's usually the end of it.
Whichever way you choose, making an informed decision is the key to happiness. I hope you make the choice that your lifestyle will enjoy the most.
Common objections
Haven't marble showers, baths, pools, fountains, etc. been around for centuries?
This is one that I hear a lot. Keep in mind that most of the natural stone that you see has flaws in it.
When seeing it infrequently, you may not be aware of the flaws but looking at it every day you will definitely notice them.
Are flaws bad? Not necessarily. I think the first few scratches, chips, and etches are painful. They probably were hundreds of years ago also.
But over time, what once was considered a flaw is now called character.
Further, much of the stonework that is historical hasn't been subjected to the chemicals in shampoos and hair dyes.
Finally, it doesn't typically have a waterproof membrane immediately underneath it.
But my friends/family/neighbors have it and they don't have any problems
I would say "good for them!" but their success doesn't guarantee others' success.
There are many factors that go into building a shower. It's usually impossible to know:
how your friend's marble shower was built
where the stone came from exactly
what types of products they use
how diligent they are in maintenance
The main question that you need to ask yourself is "Is a marble shower the right choice for us?"
We shopped around for a good stone and/or are buying from a trusted dealer
Good! A trusted dealer selling good natural stone is definitely a positive. Sourcing proper natural stone through a good dealer is recommended and can help prevent oxidation marks (rusting) by selecting the right type of stone.
However, this still doesn't solve any of the issues in the above post. Well-sourced natural stone still has pores.
We chose a good installer and they've never had a problem.
A good experienced installer that understands the quirks of installing marble is an asset on any project. But it still doesn't guarantee success.
We're putting in the best shower system money can buy
That's great, but the problems with natural stone have to do with its porosity and other inherent characteristics. A really great shower system doesn't solve those issues.
We'll put on a really good sealer
Good sealers are nice piece of the puzzle but not a solution by themselves.