How do you know what size a grout line should be? Are grout lines even necessary?
When should you use 1/16-inch or 1/8-inch grout joints?
Well, sometimes there is a reason or a 'rule' that you should adhere to. Whereas other times, it's up to your personal judgment.
This post will explore the nuances of grout lines, what the guidelines are, and when you can decide the look that you want.
Estimated reading time: 8 minutes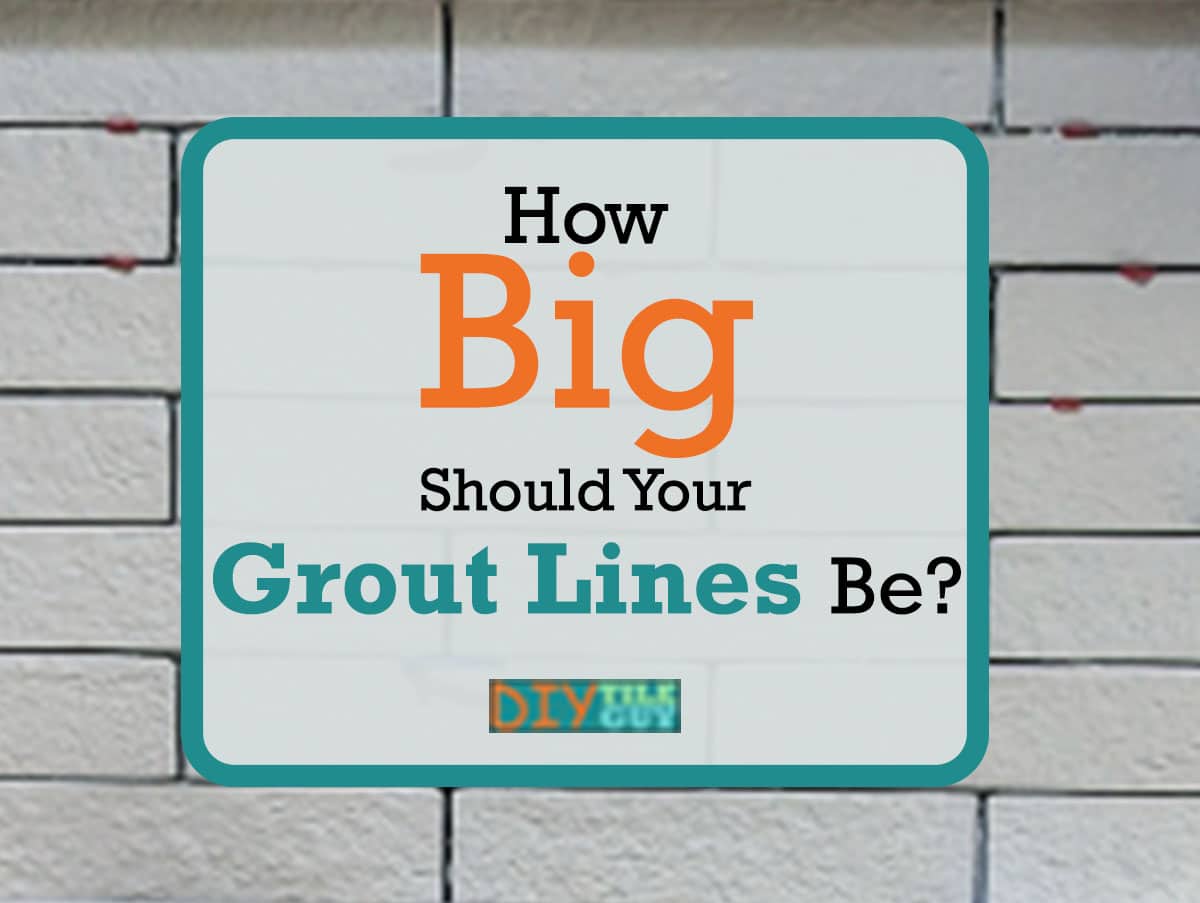 Things to Consider When Determining Your Tile Spacing
First off, let's talk about some different factors that may come into play when determining the size of the grout line.
Type and size of the tile
Take a look at the type and size of the tile that you are using. For example:
Grout line size for marble and natural stone tiles
When installing marble, travertine, or other natural stone tiles a 1/16-inch joint is expected. I'm talking about the 3/8-inch thick natural stone tiles with square (or square-ish) edges.
Oftentimes customers will ask that these be tight-set with no grout lines. However, this would go against tile industry guidelines and not be an advisable course of action. [1]
As long as these tiles are consistently sized they should be set with nice narrow grout joints and grouted with a non-sanded or fine-aggregate grout. [2]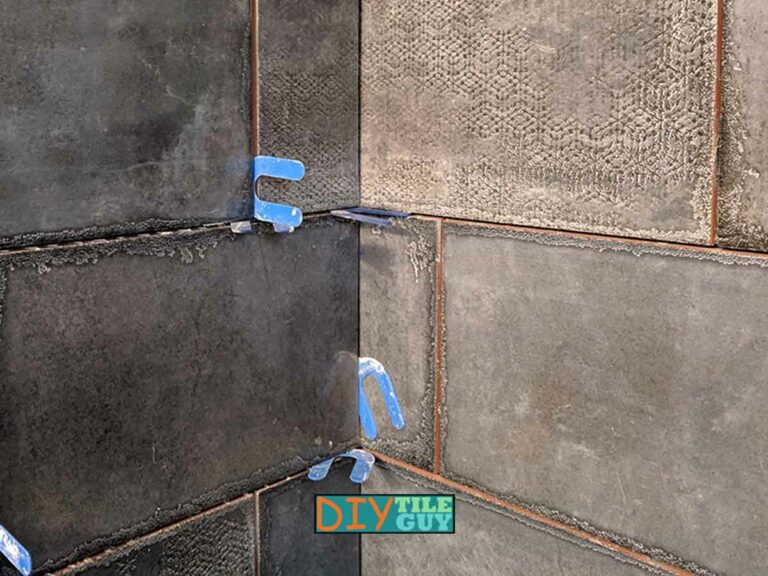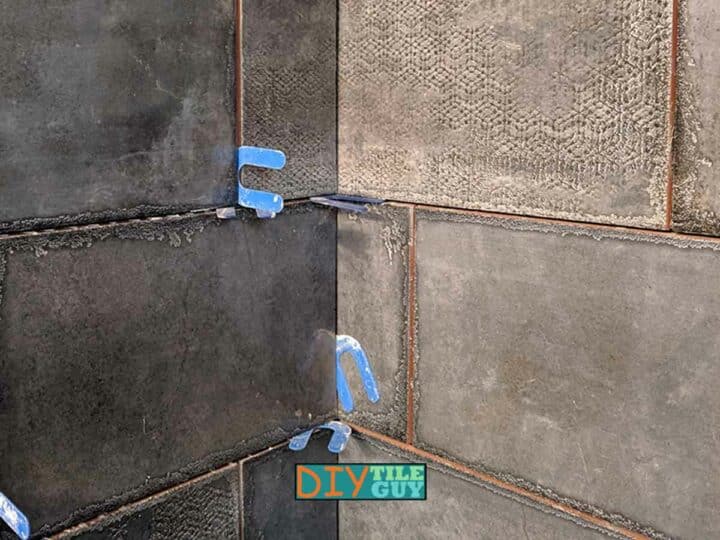 Subway Tile Spacing
While grout lines on subway tiles tend to be pretty narrow, it's not uncommon to open up the spacing and make joints larger if that is what is desired.
However, the 1/16 minimum grout joint size should be honored with these tiles like you would with other tiles. With one exception, that is:
Subway Tile with no-spacing
Subway tiles are a rare exception to the 1/16-inch grout line. Why?
It depends on if the tiles have spacing lugs already built-in to them.
Some tile manufacturers will have small spacing lugs on the edges of the tile as a built-in spacer. Further, they may specify that these types of tiles would be OK to stack on top of one another using these spacing lugs. [3]
If that's the case then you can feel free to stack your subway tiles on top of one another if you desire a nice & tight grout line size.
Otherwise, stacking tiles with no grout joint is not advisable.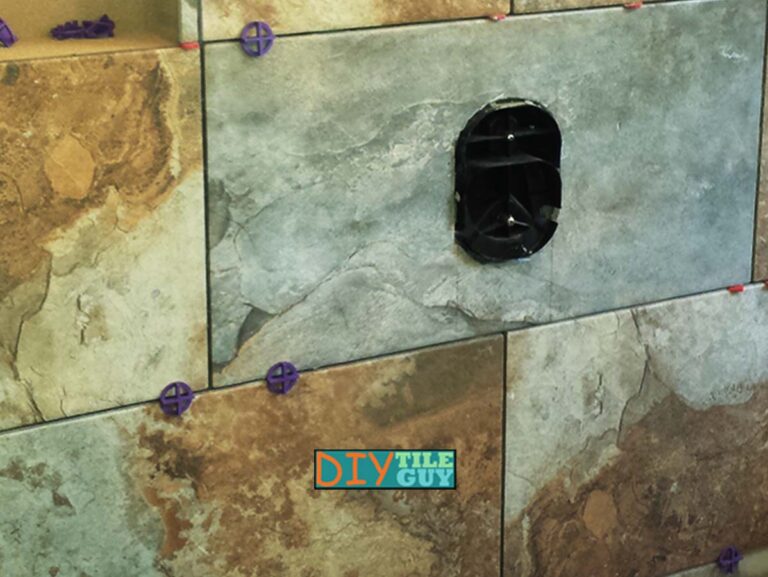 Grout joints for large format (12×24) tiles
When installing the popular 12×24 tiles, you have to remember that these tiles are usually warped to some extent.
Further, people like to install them in offset patterns.
Because of this, there is a technical and somewhat complicated formula for calculating the minimum grout joint size. More on this below.
The simple way to figure grout lines for 12×24 tiles
In general, you want a minimum of 1/8 or 3/16 inch wide grout lines for 12×24 tiles. I cover a more technical way to calculate the minimum grout joint size below.
The skill of the person installing the tile
Lastly, it's important to calculate the skill of the person installing the tile into the formula.
If you have a highly skilled installer that has looked at the tile and determined that a 50% offset and 1/16 grout joints can be done then there is no reason not to proceed with that plan.
However, if it's your first go-round with 12×24 tiles you will probably want to stick to 1/3rd offset (or less) and 1/4 inch grout joints.
In general, tighter grout joints are more difficult installations than larger grout joints.
How to Calculate the Right Grout Joint Size (according to the tile industry)
The correct grout joint size, according to ANSI standards is… [1]
For large format tile, if you installing an offset pattern, the minimum grout joint size is 1/8 inch for rectified tile and 3/16 inch for non-rectified.
But it doesn't end there.
I've talked before about large porcelain tiles having a 'basket-weave' effect when they are installed in an offset pattern.
This means that the centers will be higher than the edges. This matters because this gets factored into the grout joint formula.
If your tiles are, for example, 1/32 inches higher in the middle than the edges, then you multiply that 3x and add that to the minimum grout joint size. (1/32 is half as thin as 1/16)
So, if you have a rectified tile in an offset pattern the minimum joint is 1/8 inch. then you add 3/32 to that and the minimum grout line width is 5/32! (this is larger than 1/4 inch)
For clarity, the formula is:
minimum grout joint size + (variation of tiles x 3)= new minimum grout line size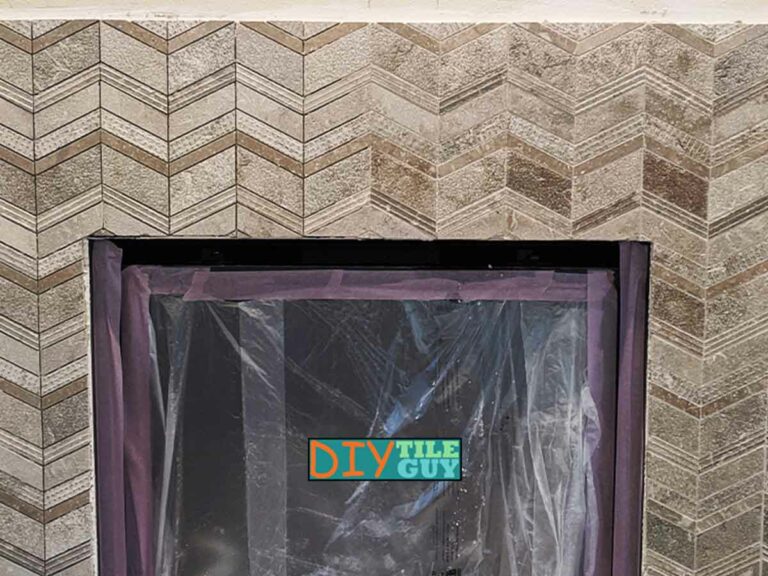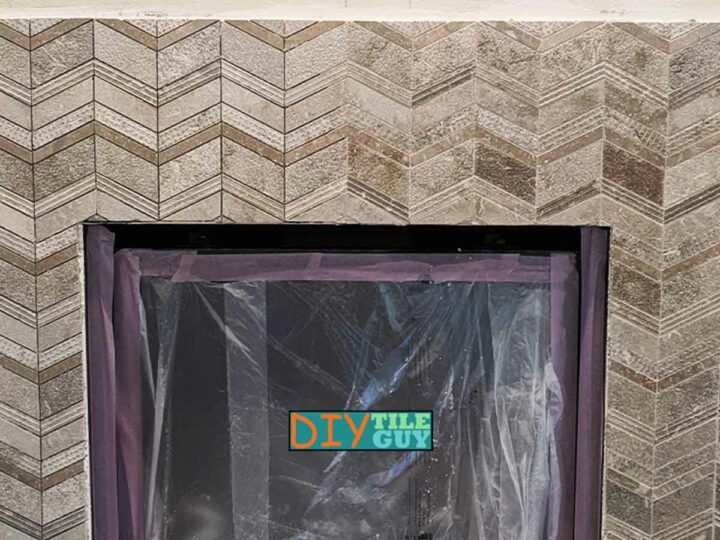 This formula isn't for everyone
This formula applies to the entire world of tile. From Mrs. Jone's bathroom to the airport lobby to the local fast food joint's bathroom.
But it doesn't have to apply to your installation. If you and the tiler agree to go a little narrower with the grout lines then you are free to make that decision. There is no tile police that will arrest anyone for using a 1/16 grout line.
The ANSI standard ensures that the average installer can install an average tile in an acceptable fashion.
This is an industry guideline that you should pay attention to but not view as written in stone.
What if the tile pattern isn't offset?
In cases where you don't want an offset pattern, you would still use the 1/16-inch minimum grout joint and add the variation in the tiles to that 1/16.
Variations?
If you take 20 tiles out of a box and lay them on the floor, how much will the sizing of those tiles vary? If you find the largest and smallest tiles and they are 1/16 inch different then you use this in your grout joint calculation.
The formula: minimum grout joint + (variation in tile sizes X 3) = Final grout joint size
In the example above: 1/16 variation between biggest and smallest tile is multiplied by 3. So, 3/16 inch.
Then add the variation to the minimum grout joint size which was 1/16 inch. This adds up to 1/4 inch grout line.
Keeping things simple
Like I mentioned above, for most residential settings, if you are using large porcelain tiles, like 12×24's, the average grout joint is going to be 1/8, 3/16, or 1/4 inch.
I hope I haven't made this too technical but some people want to know the 'rules' for grout line sizes. I've stated them here.
1/16 vs 1/8 Grout Lines
This question gets asked a lot. Here are some things to consider:
1/16 grout lines
Feels clean and modern
Can accept non-sanded grout which has a smoother appearance
Tiles need to be perfectly sized with one another
Installation is going to be more difficult with less chance for error
1/8 grout lines
Can't choose between the two? You might see if you can find some 3/32 spacers for a happy medium. 3/32= more than 1/16 and less than 1/8 inch.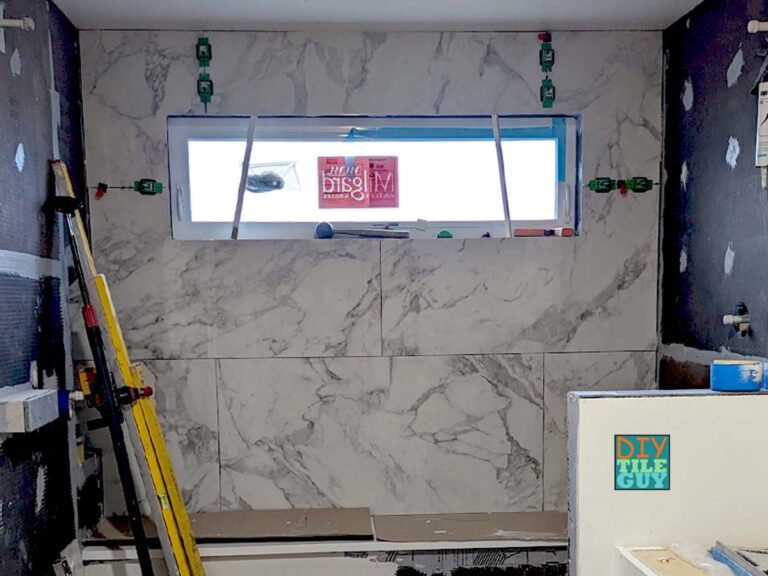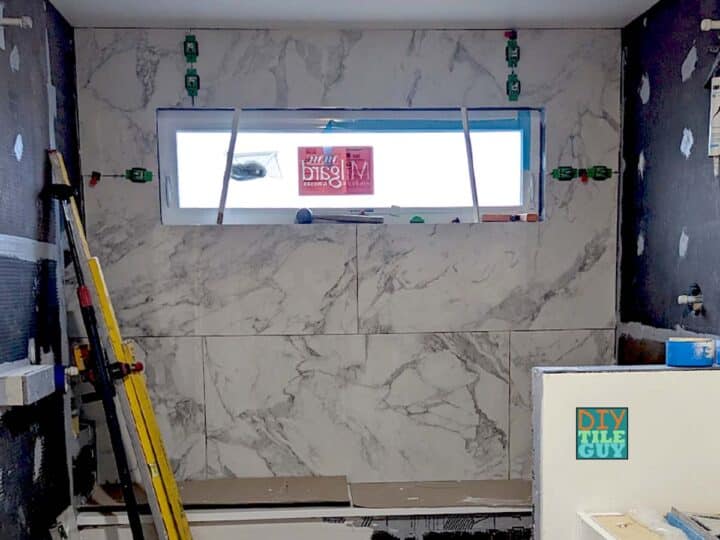 Can Tiles Be Installed with No Grout?
Every tile needs space for a grout joint and the minimum grout joint is 1/16th inch (2mm) unless it's otherwise stated that the spacing needs to be greater.
If the tile manufacturer has included spacing lugs and stated that it's OK to stack the tiles then that would be the only exception.
Wrapping it up with bullet points
The minimum grout line is 1/16 (2mm) wide
Small, ceramic tile are OK with tight grout lines
Tile with spacing lugs can be stacked on top of one another
Bigger tiles need bigger grout joints
Tiles that vary in size need bigger grout joints
Offset patterns need bigger grout joints (large format tiles)
1/8 inch is the minimum grout joint for large tile in offset patterns
Marble and natural stone tiles usually have 1/16 inch grout joints
The formula for grout joints is unnecessarily technical for most people
References
ANSI A108.02, Section 4.3.8
Tile Council of North American Handbook for Ceramic, Glass, and Stone Tile Installation, section "Natural Stone Tile Selection and Installation Guide" and "Grout Selection Guide"
Daltile Wall Tile Installation Guide Step 2: Wall Layout