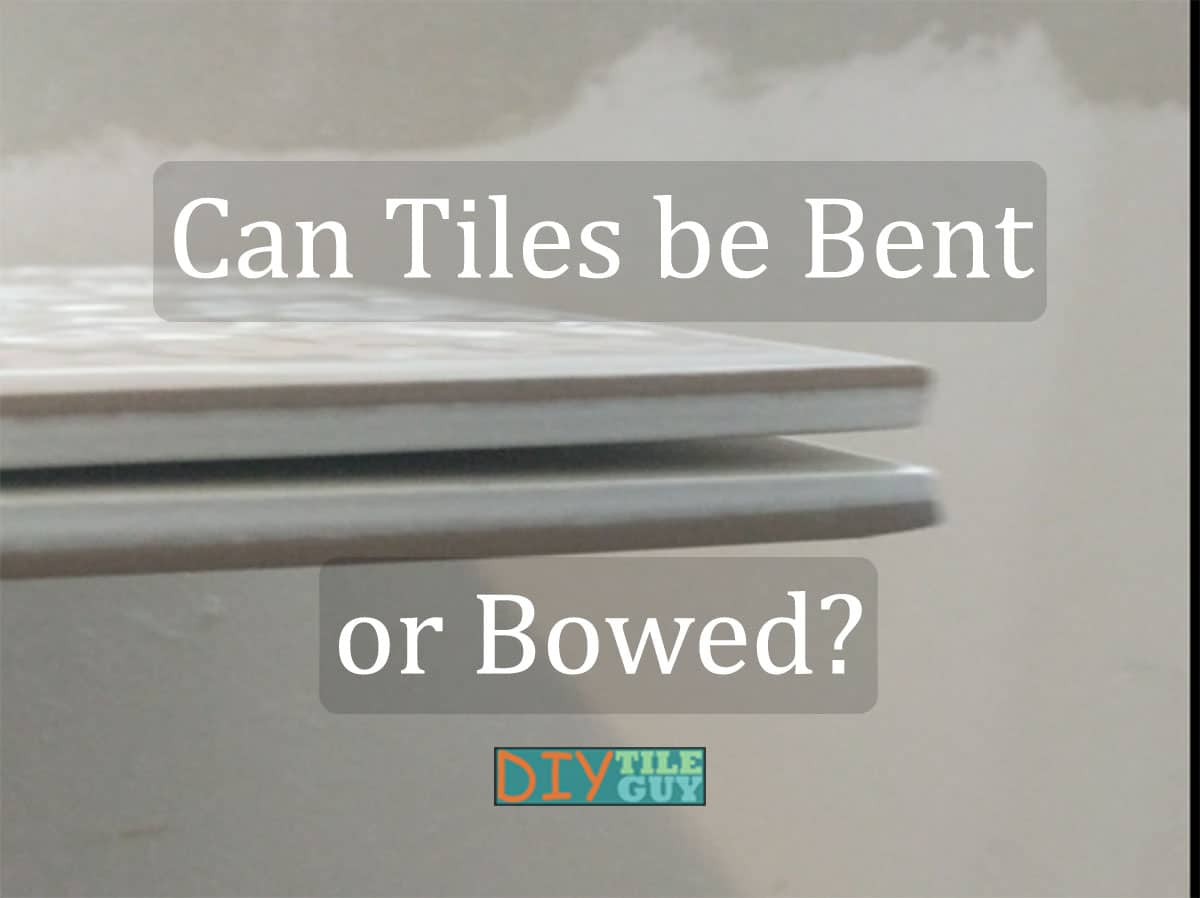 Estimated reading time: 5 minutes
Can tiles be warped or bowed?
Yes, your tiles can have a warpage or curvature to them. The question is: how much tile warpage is OK?
Back when tiles were smaller, it didn't really matter if they had a little curvature to them. But now tiles are getting bigger and bigger and minor warpage can be pretty significant.
This post talks about:
Why tiles warp
How much warpage is OK
How to deal with bowed tiles
Without further ado…
These cheap 12x24 porcelain tiles are bowed, not flat. They are warped with a crown in the center
Why does tile warp?
Tiles bend during the manufacturing process. They get heated up, then they cool down, and during the cooling process, the edges cool faster than the middle.
Consequently, this causes a bit of curling. [1]
Tile warpage can be even worse with rectangular, or oblong, shaped tiles. The longer shape means that the edges cool unevenly and can bend even more.
How much tile warpage is OK?
There are two parts to this:
You have to measure your tile to see how much warpage it has
Then you have to determine if that's an acceptable amount, or not.
This gets complicated but the simplest answer is this:
For many floor tiles that are 24 inches in length, you can have just a bit more than 1/16th inch (2mm) of warpage.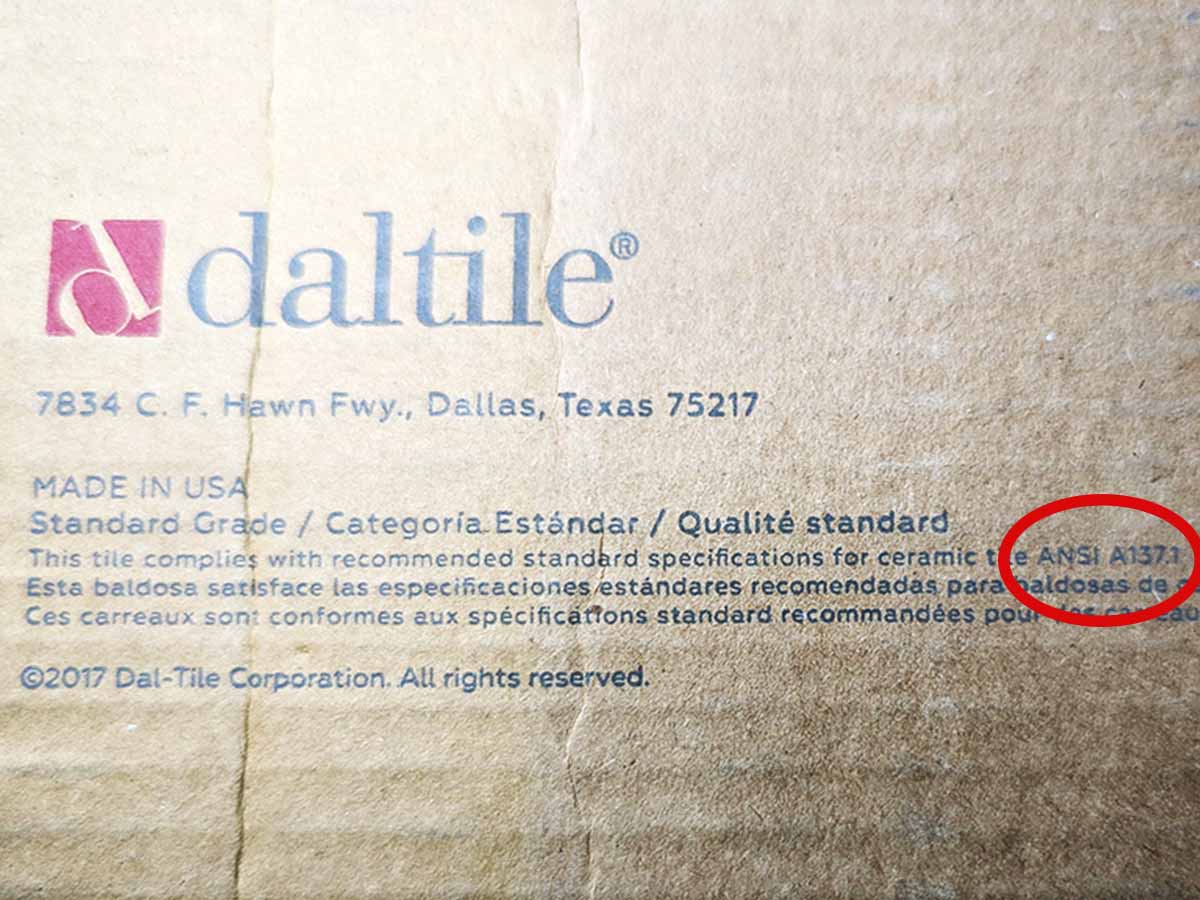 Now a more complex answer:
First, you have to know how to officially measure the tile. That's where this comes in:
ASTM C485
This is the official test method for measuring the warpage of ceramic tile. Once you have your measurement then you have to see how much crowning is too much. [2]
Once you have your warpage measurement you can then compare it with the official standard which is this:
ANSI A137.1
This is the American National Standard for tile manufacturing. This sets the standard for how much warpage is allowed in the manufacturing process.
Further, A137.1 is going to ask you to figure out which kind of tile you have as there are three categories.
Types of ceramic and porcelain tiles
The three categories of tile are:
Oh, and take the sizing into account. Longer tiles get more leeway on the amount of curvature they can have.
That's a crash course into the official way of figuring out how much bowing is allowed in the tile that you've purchased.
If you want to know more about it then you can order an ANSI 137.1 handbook from the Tile Council of North America. [3]
How to deal with installing warped tiles
Rather than spending your time trying to figure out the nuances of tile warpage, I'd rather see you put your efforts into setting yourself up for success.
This involves purchasing the right tiles and installing them correctly.
In my post on installing wood-look tiles, I talk about ways that you can minimize the crowning of the tiles during installation. These include:
Offset tile patterns
Tiling over flat floors
Types of thinset mortar
Tile leveling systems
Methods for installing
So, head over to that post if you want to know how to install bowed tiles that have a crown to them.
But there is one thing that I didn't mention:
Buying the right tiles
Remember all that stuff up above about manufacturing standards and A137.1?
That only matters if your tiles are made according to the A137.1 standard.
A lot of tiles that are sold in stores are imported from sketchy sources and not made to any standards whatsoever.
The worst offenders? Big box stores.
They sell whatever they can sell and don't require the tiles to be made to A137.1 standards. They will stock bent tiles as long as people buy them.
The power is in your hands
Don't buy tiles unless they have an ANSI 137.1 stamp on them. If you won't buy warped tiles then stores won't sell them.
Frequently Asked Questions about Warped and Bent Tiles
Can porcelain tiles warp after they are installed?
Once porcelain tiles are installed they are not going to warp any further.
Can ceramic tiles warp during storage?
No. Warpage in tiles happens during the manufacturing process.
Can you fix a bent tile?
If a tile is bent you can't bend it back. Set it aside and don't install it.
Do porcelain tiles flex?
Yes, porcelain tiles can flex a small amount.
What causes tile to warp?
Warpage happens during the manufacturing process and is caused by the edges of the tile cooling differently than the middle.
What is tile warpage?
Tile warpage is the amount that your tile flexes or moves during the firing process
References
https://www.qualicer.org/recopilatorio/ponencias/pdfs/0823173e.pdf
https://www.tcnatile.com/164/
https://www.tcnatile.com/products-and-services/publications/218-english-publications/191-a137-1-2017.html