Why do things have to be complicated?
You pick out a grout color and now you're faced with another decision: sanded or nonsanded? Which kind of tile grout is right for your project?
First, we're going to break down the tile grouts into two categories cement and non-cement. This post will examine the different kinds of cement grout that are on the market today.
Check out my next post on non-cement grouts like Epoxy or Urethane Stain Proof grouts including Fusion, Flexcolor, Spectralock, and more.
Tile Grout- so many choices…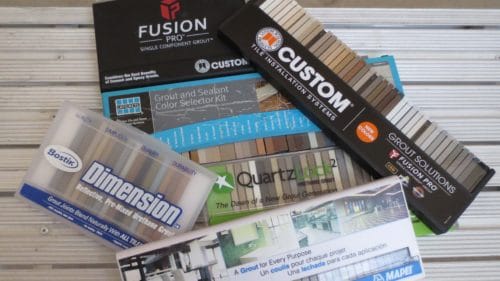 This post contains affiliate links. The site owner may earn a commission should you click on an affiliate link and make a purchase. Read more
Cement grouts
Cement grout is the most common and well-known type of grout. Advantages of cement grouts include:
inexpensive
been around forever
can be installed in almost any application
easiest to work with
Drawbacks of cement tile grout include:
Regular sealing
Easiest to stain
colors can fade over time
Prone to discoloration problems
The discoloration problems can be caused by mixing:
too much water
too little water
not mixing well enough
mixed with hard water
applied in too much heat
You get the picture.
Here are some of the different kinds of cement grout:
Unsanded Grout
Also known as nonsanded grout. It's used for thin grout lines or where scratching the surface can be an issue. Although rare, this can happen on sensitive natural stones and when installing glass tiles.
Common uses for this grout include ceramic wall tiles like subway tiles and also natural stone, such as marble, that is usually set with a tight joint.
The rule of thumb is if your grout joint is 1/8 inch or smaller then you want to use a non-sanded grout. Personally, I think 1/8″ is too big and would limit it to 3/32″.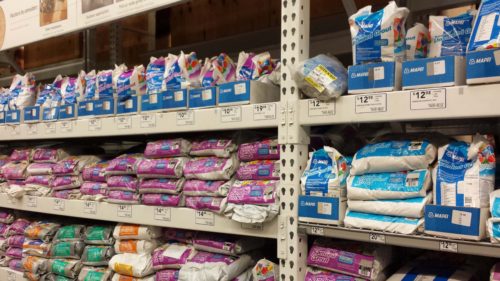 Sanded Grout
I think it goes without saying that sanded grout has sand added to it. It's for volume- the same way that you would add gravel to concrete.
Although probably still the most popular grout today the technology is always changing.
Applications for this grout typically include floors, large tile, pebble tiles, and anytime you have a grout joint 1/8 inch and larger.
High-Performance Cement Grouts
This is an actual category of cement grout. While still being in the cement grout category these are not ordinary cement grouts.
They have the best color consistency, no efflorescence, are the densest, and therefore, most stain-resistant of the cement grouts.
These are fast-setting grouts which can be a good thing and it can be a bad thing.
High-performance cement grouts can be used in grout joints as small as 1/16th inch and usually go up to 1/2 inch. This kind of grout is a sanded tile grout.
Some examples are Prism, Ultracolor Plus FA, and Permacolor Select. Note: when purchasing Permacolor Select make sure that you purchase both the base grout and the color as they are sold separately.
Even with the increased stain resistance, they should still be sealed with a grout sealer.
Update: Laticrete now has a product called Permacolor Select NS (unsanded) which is a really nice high-performance grout if you need a non-sanded option.
Grout sealer additives
There are some products out now that are liquids that are added to the grout (instead of water) when mixing and claim to make cement grouts stain proof.
Examples of these products are Grout Boost, Grout Shield, StainBlocker, and Mapei Grout Maximizer.
I don't have a lot of experience with these products and it seems to me that the reviews have been mixed.
Maybe some of the kinks have been worked out by now but I would encourage you to do further research before committing to these.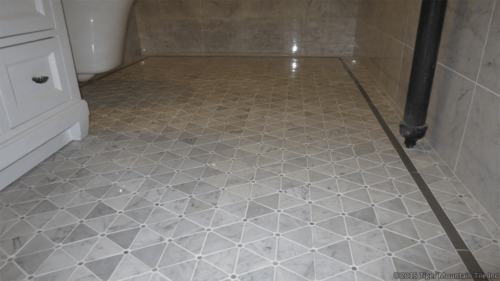 Which tile grout is best?
The high-performance grouts are the best performers as far as cement grout goes.
Sanded and non sanded tile grout is just too finicky for my tastes and too prone to callbacks.
There are exceptions, like if the tile is likely to scratch, then I'll use unsanded grout like Permacolor Select NS. But the bulk of my cement grout usage is Prism, Permacolor, or Ultracolor.
Until recently, the consumer had trouble purchasing these products because they weren't available in the retail stores.
However, I've been noticing these grouts showing up in the aisles in places like Lowes, Home Depot, and Floor and Decor.
They are a little more expensive and are fast-setting which means it may be easier to get in trouble with them when you are installing them.
For these reasons, you may elect to go with a "normal" kind of tile grout. If so, I still recommend putting on a penetrating grout sealer or using one of the additives mentioned above.