Do you mix grout and stick the tiles on with it? What about caulk? Where does that go?
DIYers can't be expected to know specific tile industry terms and use them appropriately. The point of this post is to help you understand what the different terms mean and what goes where.
Estimated reading time: 4 minutes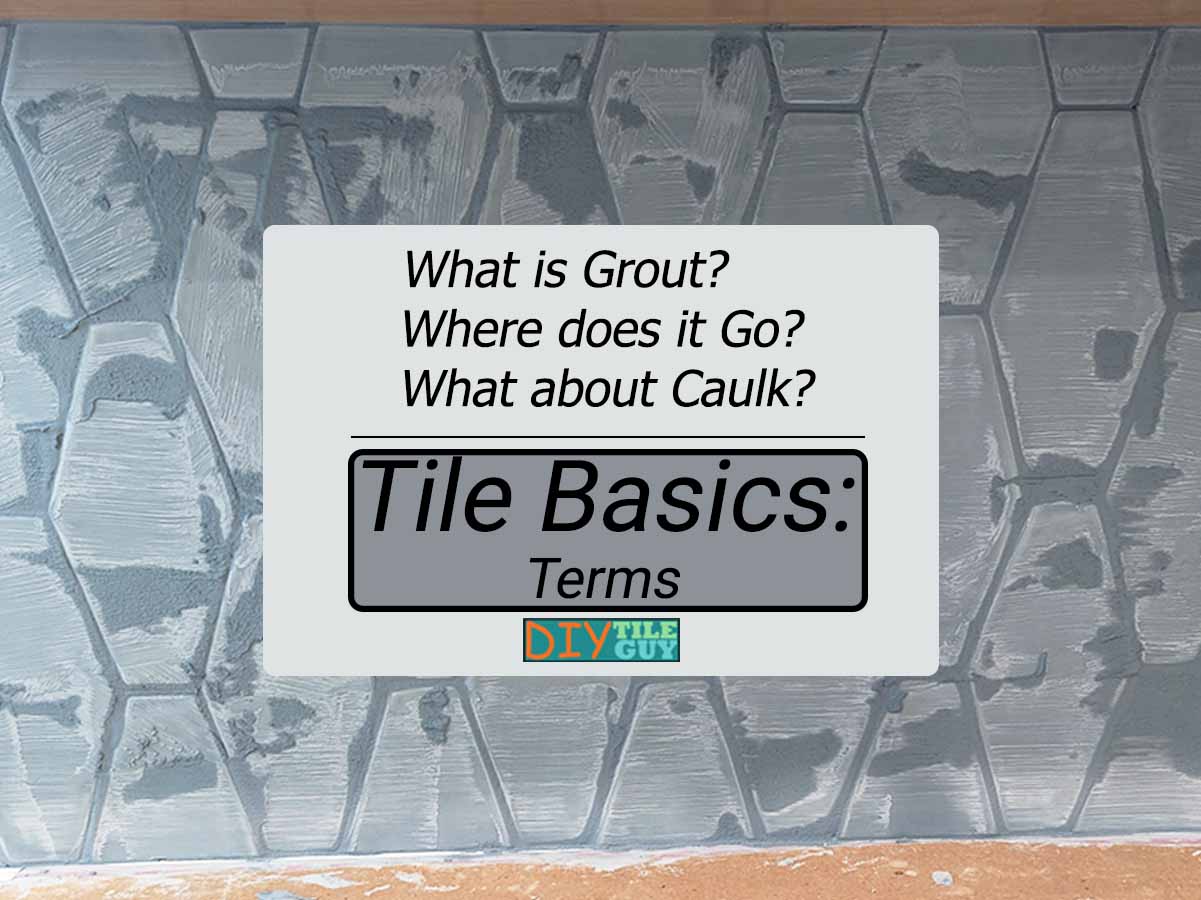 Let's start with the grout.
What is grout?
Grout is not what you stick the tiles to the wall with. Rather, it's what goes in between the gaps in the tiles.
It's part of the finished look of the tile installation and you can choose which color you want the grout to be.
Further, there are different types of grout to choose from such as cementitious and non-cement grouts. Which one you choose depends on your budget, skills, size of the grout lines, type of tile, and level of stain resistance desired.
Grout vs Caulk
Grout and caulk are not the same thing. In fact, the word 'caulk' is often misused in our industry.
We know grout is the hard filling that goes in between the tiles. However, if the corners and edges are filled with group then these tend to crack.
This is why a flexible sealant, often incorrectly referred to as caulk, is necessary. This sealant goes in the corners and is flexible and shouldn't crack as easily.
Typically, grout manufacturers make a caulk or silicone sealant to match their grout colors. This way, the corners will still look like grout joints even though it's technically a sealant in the corners.
Caulk vs Silicone
So, you notice that I am using the term 'sealant' instead of caulk for most of this page. The reason is that caulk and sealant are similar but technically two different things.
Both come in tubes and are applied with a tool called a caulk gun.
But the difference is as follows:
Caulk
Caulk is a flexible material that is used to fill and seal cracks. Caulk is usually acrylic or latex-based and dries fairly hard. Once dry, it loses a lot of its flexibility.
Because caulk is acrylic or latex-based it tends to be easy to use and cleans up with water.
Sealant
Sealant is also used to fill and seal cracks. However, sealants are made out of different materials. In the tile industry, they are often made from silicone or a urethane base.
Sealants block fluids well and remain flexible even after they are dry.
Further, sealants are more difficult to use and can't be cleaned with water. Rather, a solvent is required to clean them.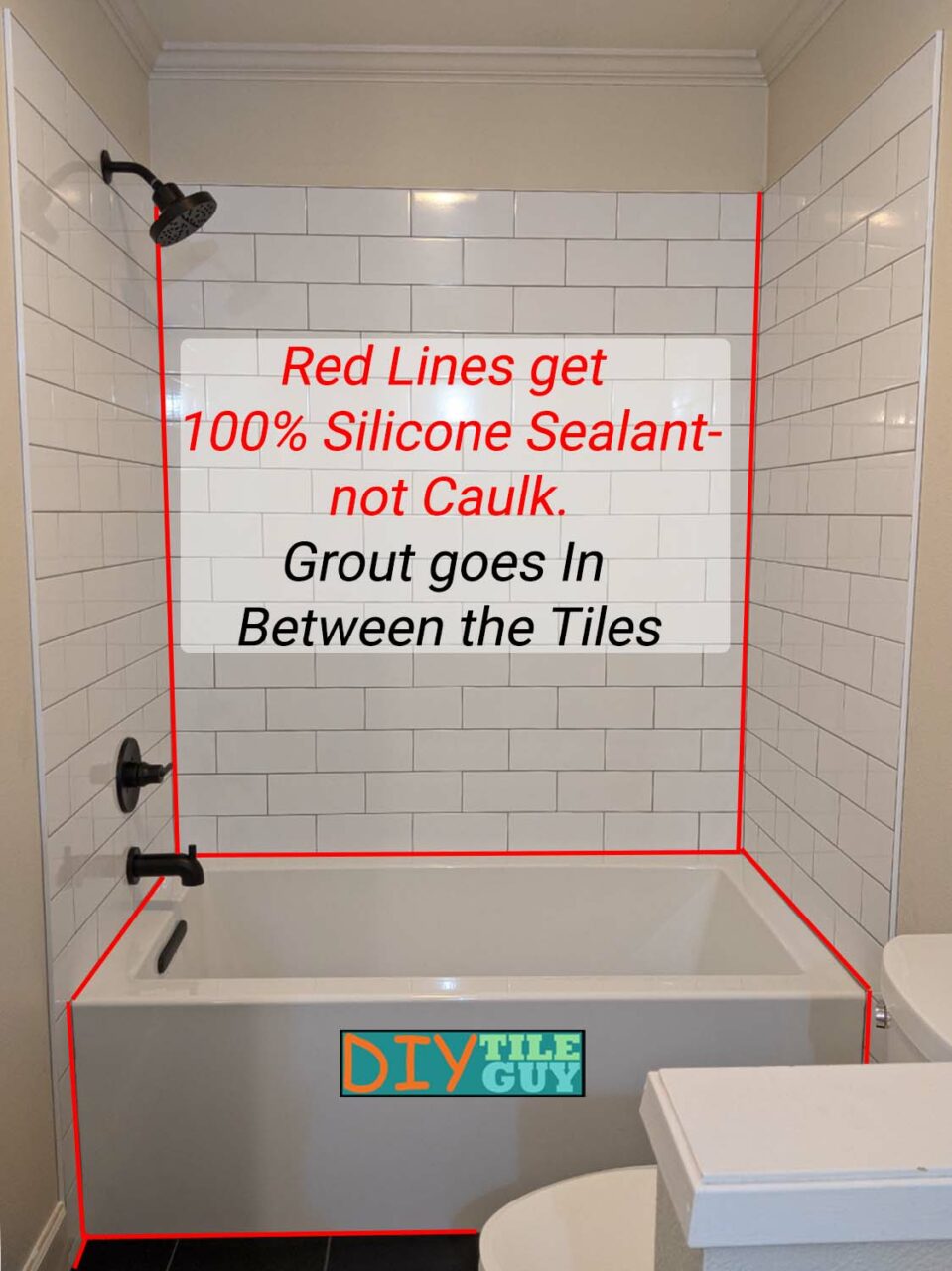 Silicone
Finally, silicone is one type of sealant that is used frequently in the tile industry. It is a flexible sealant, not caulk, that cleans up with a solvent.
Most grout manufacturers make a 100% silicone sealant that matches their grout colors. This is so you can use their grout and then apply this flexible sealant in the corners and have it still look like the grout.
Keep in mind that the two items will rarely match perfectly but they are usually very close.
Finally, check out my video on how to 'caulk' with 100% silicone and not make a huge mess.
Mortar vs Grout
Above, I mentioned that grout is not what you stick the tiles on. So, you may have deduced that this is where mortar comes into play. Well, you'd be right!
Mortar is an adhesive that is cement-based that is used to stick tiles to walls and floors. We use different types of mortars in the tile world depending on what it is that you are installing and what you are installing it over.
If you want to know more about polymer-modified mortars, unmodified mortars, LFT, thixotropic, etc. click the link and it will take you to a post that helps you understand what those terms mean and to find the right mortar that you need.
What is Thinset?
Thinset is a type of mortar that we use in tile applications. Thinset mortar revolutionized the tile industry back in the 1950s and 60s.
Consequently, you may hear people use the terms 'thinset' and 'mortar' interchangeably. In the world of tile, this is perfectly OK.
Caulk, mortar, grout; a review