I know what you are thinking: Stain-proof grout has over-promise and under-deliver written all over it.
But these grouts are the best-performing grouts when it comes to absorbency. They're not cementitious grouts so they don't fade over time, they don't need to be sealed, they are color consistent, and non-porous.
Stain Proof grouts like epoxy and urethane
As far as installation, this kind of grout is the most difficult to install, is the most expensive, and usually takes the most time to install. Additionally, they can be difficult to clean up during the installation and a nightmare to clean up after installation.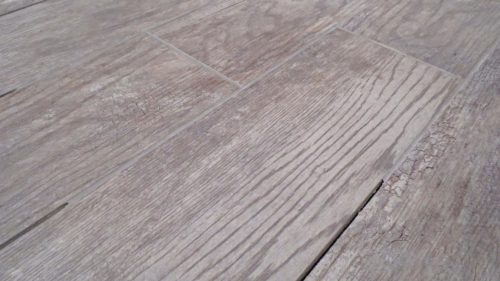 Also, keep in mind these grouts are not dirt-proof or cleaning-proof. But when cleaned, the whites turn back to white and not some sort of dingy form of white.
So, below are the different types of grouts that are considered to be "stain-proof."
Epoxy
Probably the toughest of any kind of grout, stain-proof or otherwise. Epoxies are extremely hard and durable.
They are used in commercial kitchens and can be exposed to the harshest environments. They never need to be sealed. Typically, they work for grout joints 1/16th-1/2 inch.
These are the most difficult to install and the most difficult to clean after the installation if something was missed or not washed thoroughly.
Another characteristic of epoxy grout is that it must be mixed in full batches and spread all at once.
If you don't move quickly enough you will waste some of the expensive product or maybe spread too big of an area and not be able to get it all cleaned before it sets up.
Additionally, they also can yellow in UV light (sunlight). My personal experience is that they are the most difficult kind of grout to get "full in the joint". They typically want to wash down too far and create too deep of a grout joint.
All the big companies make epoxy grout but the most popular residential epoxy is Spectralock by Laticrete. Make sure to get Spectralock Pro Premium. It makes a difference.
Additionally, I've used a bit of Ardex WA epoxy grout and have been impressed with it so far.
Cleaning Epoxy Grout Haze
After installing an epoxy grout, sometimes there might be a grout "haze" over the tile. You'll want to avoid this if possible by being diligent when installing and washing the grout.
However, if you do have this haze in spots, it's always nice to have a quart of epoxy grout remover on hand. Obviously, Laticrete will recommend their own Stonetech Epoxy Grout Haze cleaner but Miracle Sealants has a good one also.
Epoxy Grout additives
Laticrete makes an additive that can be added to Spectralock Epoxy grout. They call it "Dazzle" which is Part D of the system. You would still need to purchase parts A, B, and C.
The Spectralock Dazzle additive comes in several different colors and also a Glow-in-the-Dark option.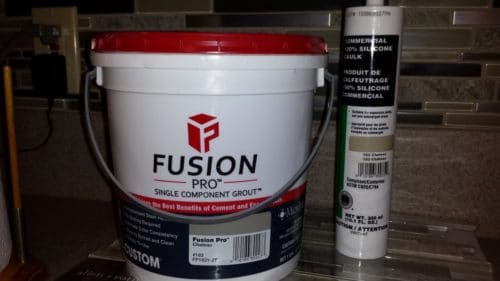 Single component grout
The category of grout with the worst name.
The first generation of these grouts was made from urethane but the newer single component stain proof grouts are some sort of siliconized acrylic (or something, they don't tell you exactly).
So we can't just refer to all of them as "urethane grout" anymore.
A company called Bostik makes single-component grouts that actually are urethane-based. These include:
Quartzlock2
Dimension
Starquartz (I think this is now Dimension)
Trucolor
I talk more about Dimension at the bottom of this page.
The newer single-component grouts that are not urethane-based include:
Fusion Pro
Flexcolor CQ
Spectralock 1 (not to be confused with Spectralock epoxy)
All of the single-component grouts come in a bucket that can be resealed. You don't have to use a full batch at a time. You can use however much you want then put the lid on and stop.
Cleaning single-component grout haze
Like epoxy grouts, cleaning during installation can be an issue and Bostik makes a product called Blaze that I have found to work well for cleaning any urethane haze off of the tile. Once the grout is dry you can use this cleaner to clean up any grout haze that may have been missed during the initial cleaning.
To clean up Flexcolor CQ, Mapei recommends their Heavy Duty Stone, tile, and grout cleaner. For Fusion, CBP recommends four different cleaners. Personally, I've had some success with latex paint remover but the mentioned companies don't recommend that product.
Warning!
Don't use single-component grout for the following applications:
steam showers
submerged installations (like fountains)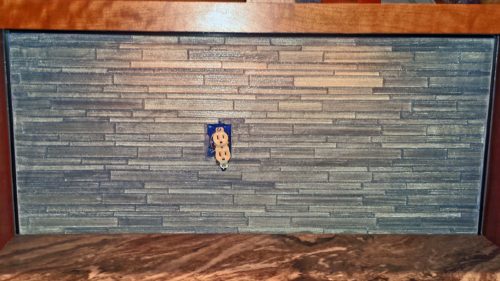 Translucent Grout
A popular choice for glass tile is translucent grout. It's difficult to describe the effect that it has but it seems to enhance the look of glass rather than break it up.
Examples of translucent single-component grouts are:
Bostik Dimension (formerly Starquartz)
Mapei Flexcolor 3D
Fusion Pro Designer Series
It used to be that translucent grout only came in the single-component category but Laticrete has recently released Spectralock Pro Premium Translucent Grout.
Unlike the single components, it only comes in one color, translucent.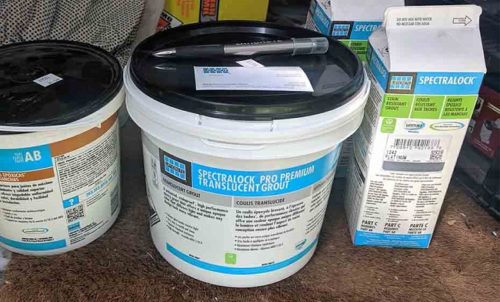 Which grout do you prefer? Share your experiences with these grouts or others in the comments below.