Do Kerdi Showers fail?
If you listen to some Youtubers you very well may come to that conclusion
'The Kerdi System wicks water and can't pass a flood test' is what they are claiming.
However, I can prove the Schluter Kerdi Shower System works.
Why can I be so confident?
Estimated reading time: 6 minutes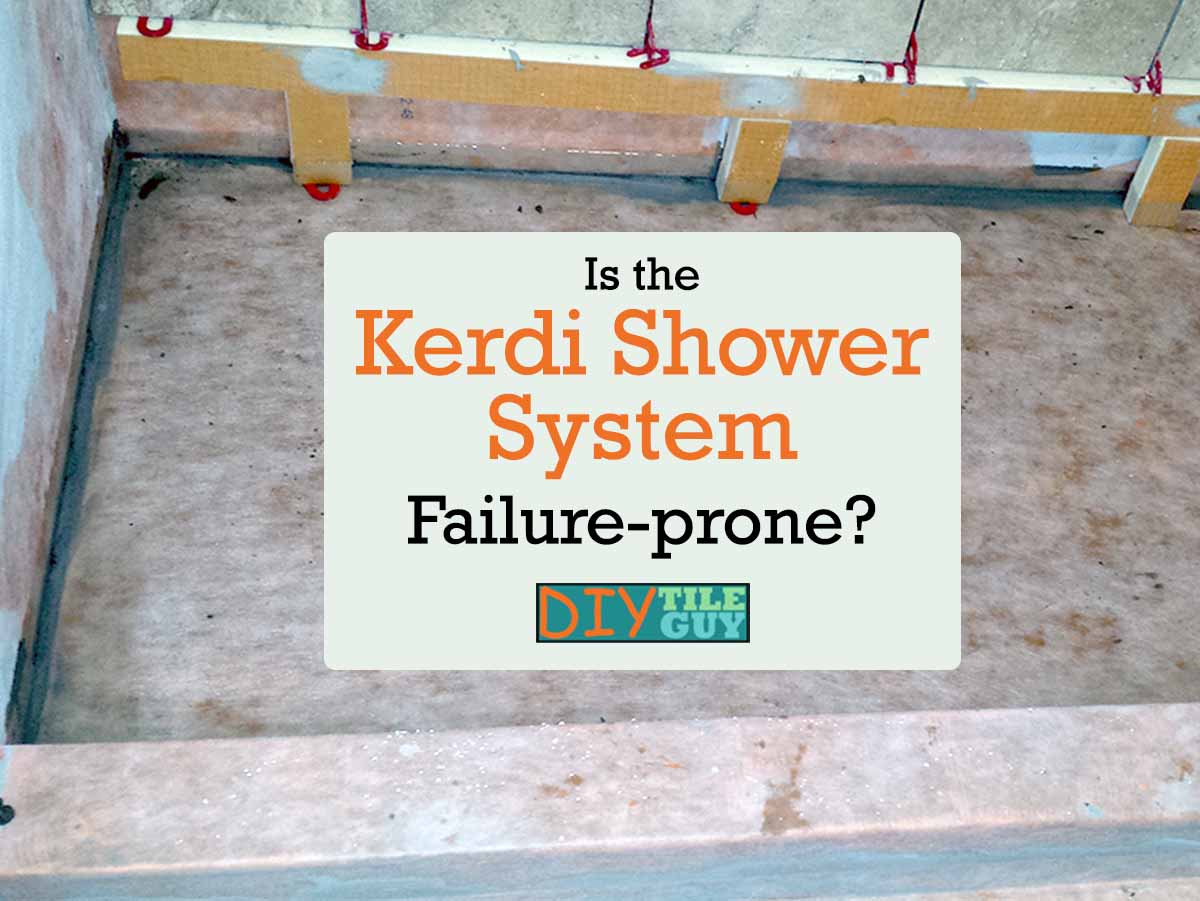 I, personally, have built an estimated two hundred showers in my career as a full-time tile setter starting in 1996. Further, I have tested every single one of them going back over 20 years.
Here's what I can share in this post:
The Kerdi System works, despite what the clickbaity Youtubers will tell you
What the particular issue is that is causing all the commotion
What the YouTube critics have inadvertently revealed about themselves
Why I choose not to use the Kerdi System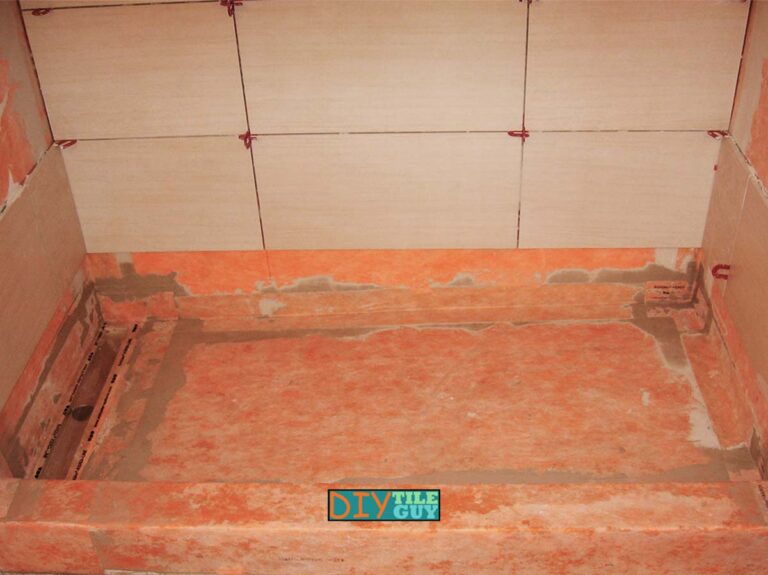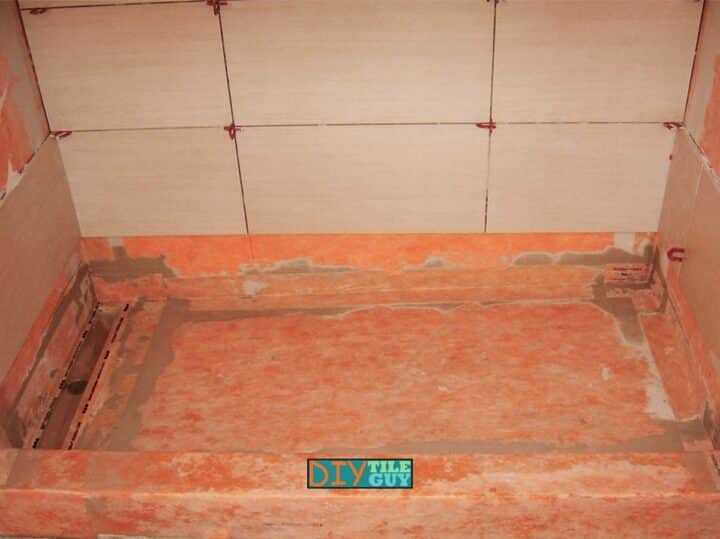 Testing my first Kerdi Shower
Above is a photo of my very first Kerdi shower that I built back in 2012. It was in a high-rise building and the Kerdi system helped solve a problem that was unique to this condominium.
Because it was my first Kerdi install, I admit to worrying about the Kerdi system failing and having neighbors directly below.
So I was careful in how I flood-tested this Kerdi shower. I filled it up in stages and monitored it closely.
Finally, I had it completely filled and on Friday, July 6th, 2012, I let the shower pan sit, immersed in water, for the entire weekend.
By the way, if you are unfamiliar with what a flood test is and how one is conducted I've written a whole post on just this subject.
What is the problem with the Kerdi System?
Where people are having problems is when they seam two pieces of Kerdi fabric together.
Schluter is very clear in their instructions that this is to be done with thinset mortar, either with unmodified mortar or their own brand of polymer-modified mortar. [1]
The 2-inch overlap
Specifically, what Schluter requires is to overlap the two fabrics by no less than 2 inches and press them together with a thin layer of mortar between them.
But thinset isn't waterproof!
I know what you are thinking. However, asking if thinset is waterproof is the wrong question to ask.
So, what's the right question?
Is the system waterproof? The answer is 'Yes.'
Think about this: other manufacturers have competing shower systems and the components all seam together the exact same way: a two-inch overlap with thinset mortar in between.
I'm talking about:
Why have they all authorized the 2-inch thinset overlap for their products?
Because it works.
The video above is from Schuter and shows how to install the Kerdi System. I have it set to start with them demonstrating the 2-inch thinset overlap.
Water Wicking
Through testing, they've learned that water will travel into the seam to a point. That's the reason for the 2-inch overlap.
Water can wick into the seam but won't travel past 2 inches if properly installed.
Why not use sealant?
Some manufacturers give you the option of using sealant to seam the membrane together rather than thinset mortar.
In fact, Wedi is one that requires sealant and forbids the use of mortar for seaming their Subliner Dry membrane. [6]
Is this a better way?
Possibly.
You see, the 2-inch thinset overlap works as long as it's done correctly.
But if it needs adjusting, it can be difficult to seal it again.
This usually isn't an issue with sealant as long as the sealant is still fresh.
The downside of sealant
There have been some reports of the fleece on the fabrics preventing the sealant from getting a good bond.
Further, you need to be sure that the sealant you want to use is compatible with the material that you want to seal.
Not all manufacturers will share their sealant testing data publically. So, unless a manufacturer specifically suggests a particular sealant will work with their product you're going to be on your own.
Kerdi-Fix for Seams
Schluter doesn't want Kerdi-Fix, their sealant for the Kerdi Shower System, to be used to seaming sheets of Kerdi together.
They state that Kerdi-Fix is to be used to seam Kerdi to other building elements (for example, bathtubs).
Membrane-to-membrane seams are to be sealed together with thinset mortar, according to Schluter. [7]
Why I've moved on from the Kerdi Shower System
I prefer to use other waterproofing products in my own installations.
I'd rather use sealant on the seams because I can flood test quicker. Additionally, Schluter requires the use of unmodified mortar to install porcelain tile and this is an area where I prefer the use of a modified mortar.
Schluter has since blessed the use of their own modified mortar but I had moved on prior to this change.
However, I still frequently use Ditra and their wide range of profiles for finishing tile edges. Additionally, their shelves have proven to be quite popular also.
The Kerdi System is proven to be successful
However, even though I choose to use other waterproofing products, I know one thing for sure: the Schluter Kerdi Shower System works and has a proven track record.
The Schluter Shower System is the most successful system on the market today.
I recommend it highly to both pros and novices. Further, with the broad line of products, training information, and videos, it's particularly a good choice for DIY'ers.
What did we learn from the YouTubers?
The interesting thing that was inadvertently revealed is that the YouTube critics had not been flood-testing their showers.
Many of them have installed Kerdi Showers in their customer's homes for years but now are shocked as a result of their garage tests.
They couldn't be bothered to test the showers they built for their customers.
Rather, what motivated them to finally test their installs was dangling sweet YouTube clicks in front of their eyes.
Conclusion
The Kerdi System works. I know this because:
I've tested it myself
So have all of Schluter's competitors
Don't let the Youtubers scare you. Follow the instructions and test your work. There are literally thousands of successful Kerdi installations out there.
If you want to learn more about shower waterproofing see my in-depth post here.
References
Kerdi Waterproofing Data Sheet 2022.10
Laticrete Hydroban Sheet Membrane data sheet DS-41-0921
Custom Building Products Redgard Fabric Membrane data sheet TDS-550 2022.09.08
Mapei Mapeguard WP 200 technical data sheet 2020.07.17
Noble AquaSeal Sheet Membrane Installation Instructions 2022.11
Wedi SublinerDry, Sealing Gaskets and Flexicollars Installation Manual 2022.04
Schluter Kerdi-Fix data sheet 2017.09