Shower organization is an important consideration when building a new tile shower. You need to keep your products within reach and in predictable locations.
The shower corner shelf is a practical way to tackle your storage needs.
Shower shelving has come a long way. A custom recessed shower niche isn't the right solution for everyone and neither is hanging everything from suction cups or the shower head.
Finally, if you are interested in built-in accessories for your bathroom make sure to check out my post on flush-mount floor registers. They look great!
This post contains affiliate links. The site owner may earn a commission should you click on an affiliate link and make a purchase. Read more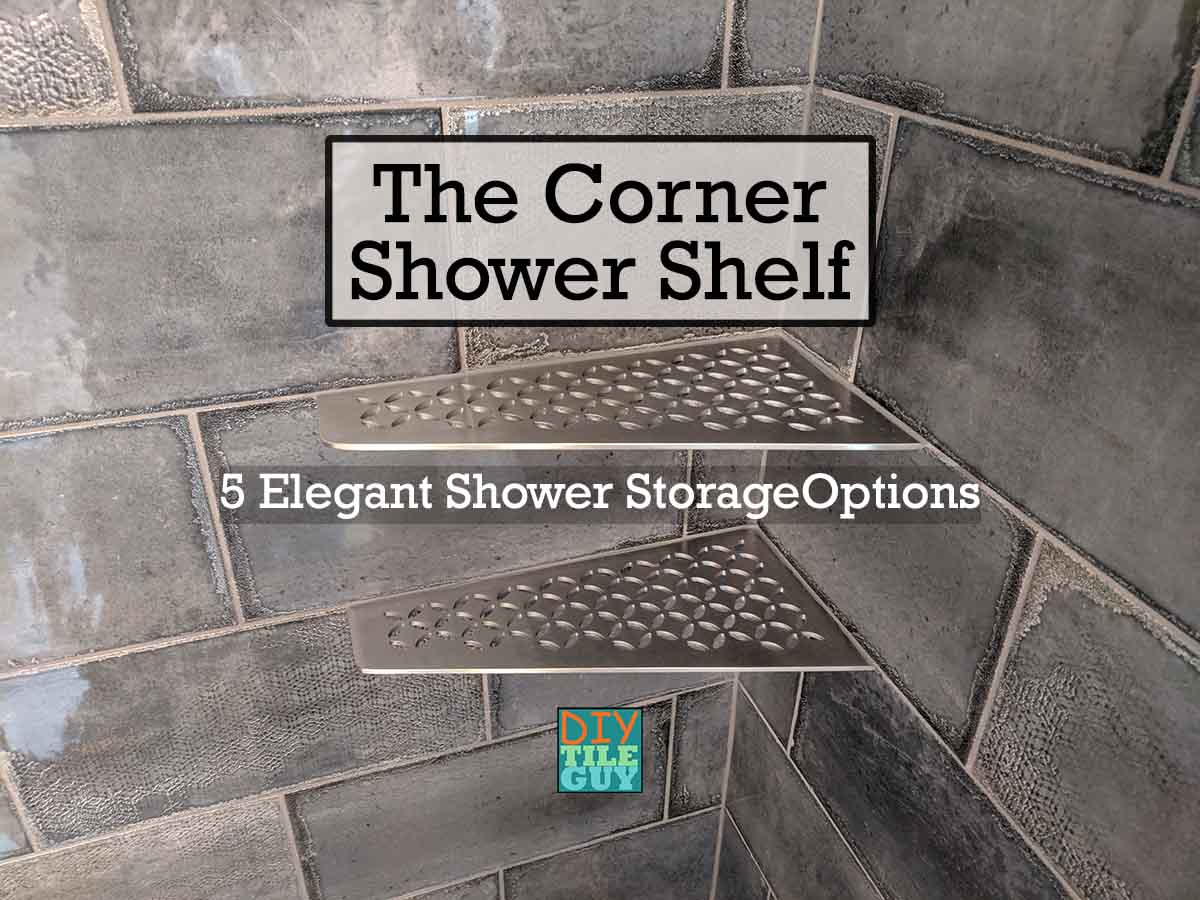 5 Built-in Corner Shower Shelves
This post introduces 5 different built-in shower shelves.
A few can be retrofitted into an existing shower but others would be installed during the tile installation.
Let's get into some details about each tile shelf.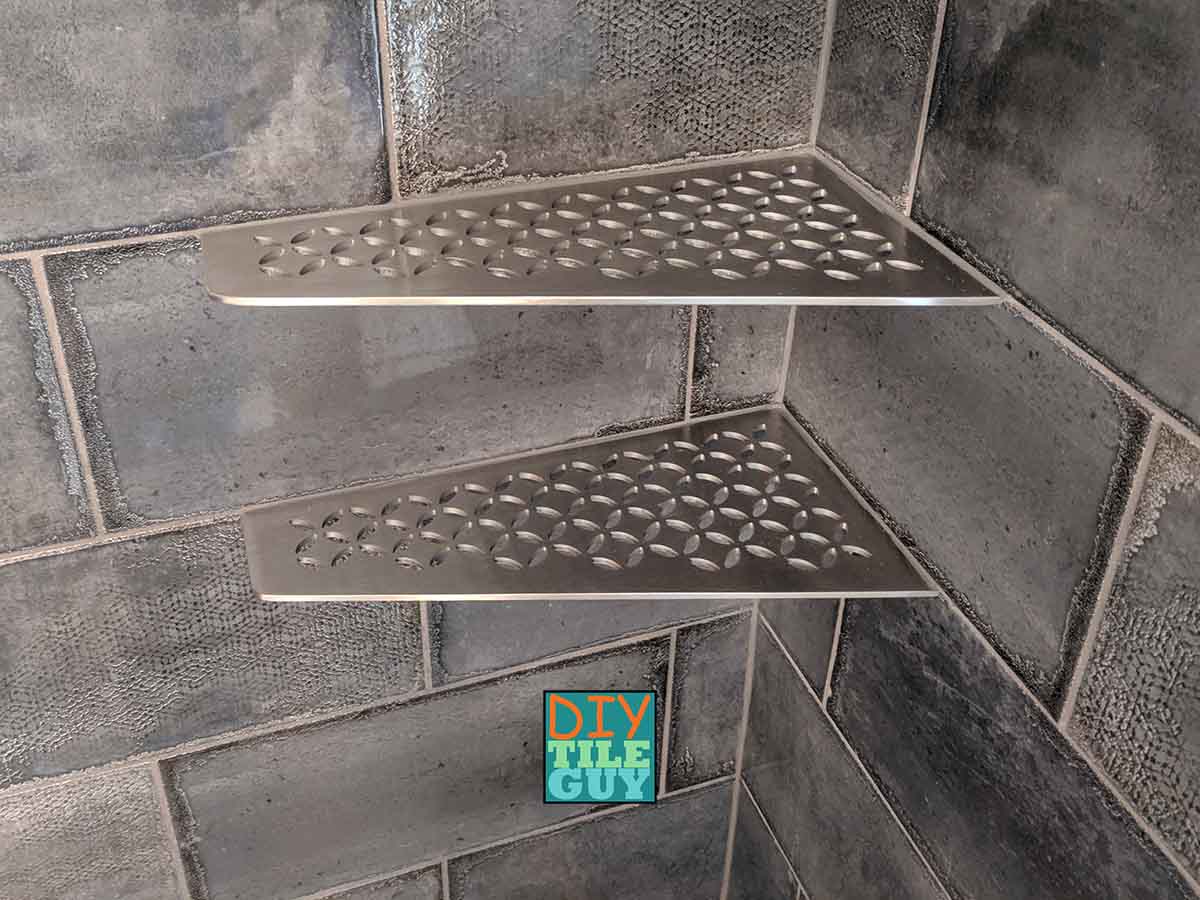 In 2019, Schluter introduced their line of shower shelves and they have boomed in popularity.
Additionally, they make 3 different types of shower shelves: corner, floating, and recessed niche. Shelf E is their line of corner shelves.
These tile-in corner shelves come in:
5 different designs
6 different finishes
3 different shapes (triangular, quadrilateral, pentagonal)
Further, the Shelf E line can be retrofitted into an existing shower.
If you are looking into adding elegant and smart shower corner shelves you will definitely want to consider the Schluter Shelf E as an option.
---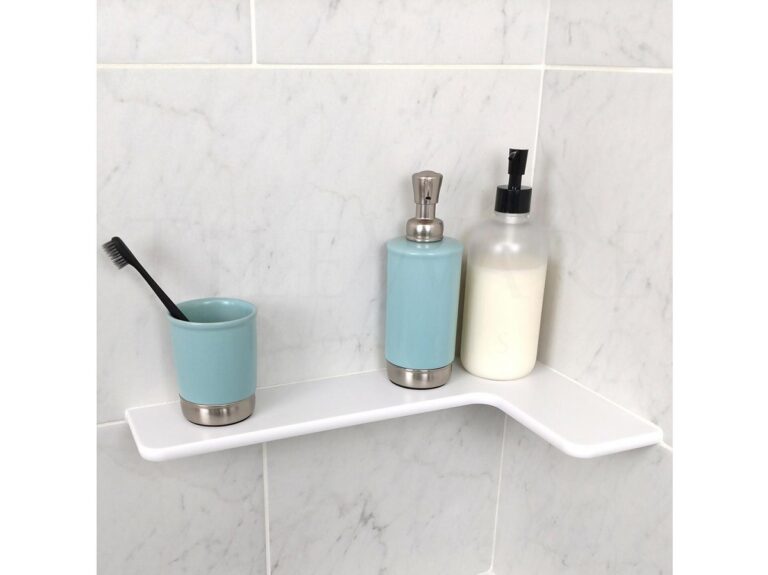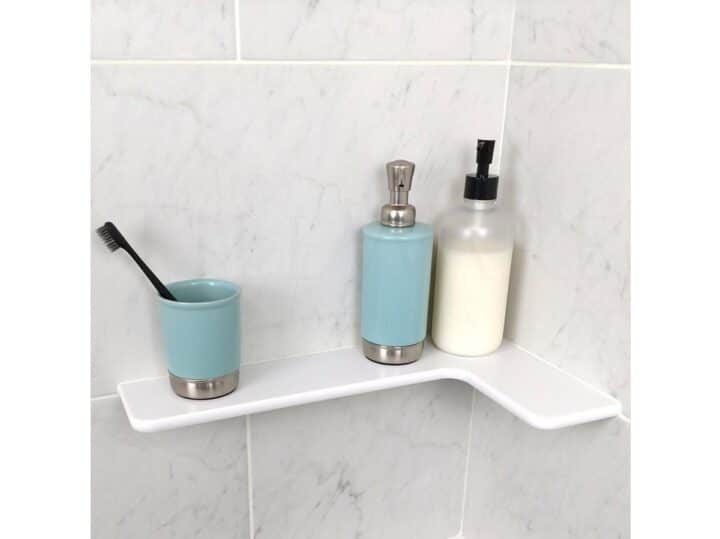 TileWare is a lesser-known company but they have great, innovative hardware accessories for your bathroom.
For example, their Boundless Corner Shelves. These shower shelves come in:
a traditional semi-circle
a rectangle
an 'L' shape
Further, they have an optional hook attachment (in a variety of finishes) for hanging items.
This shelf needs to be installed at the time of the tile installation.
---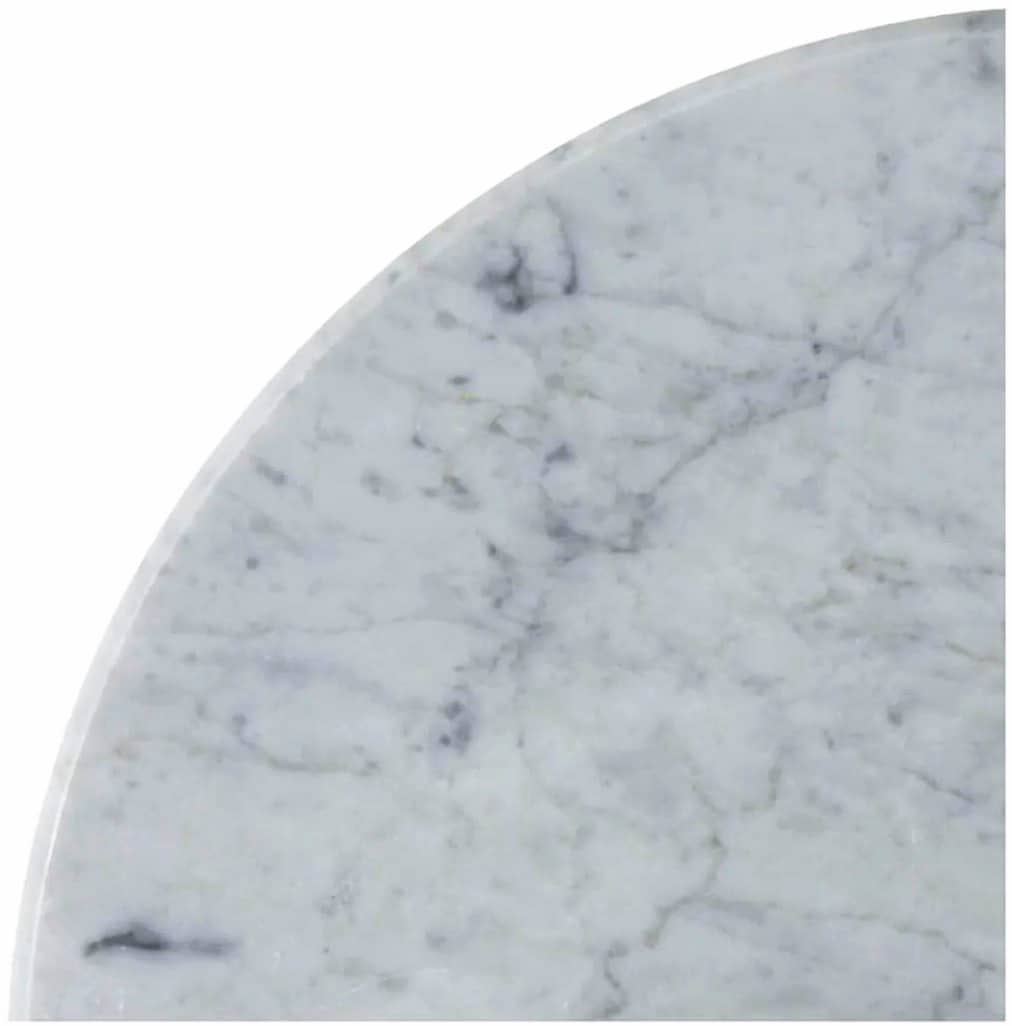 A simple marble or natural stone corner shelf is a great choice to provide storage options in your shower.
Sometimes you may choose to have these made out of your countertop material but, oftentimes, ordering premade versions is the simplest and cheapest answer.
The reason for going with marble is because all sides: top, front, and back can be finished.
Note: this link goes to a faux marble product. Typically, fake marble is easier to maintain and is less prone to staining than real marble.
This product can be installed at the time of tiling or can be retrofitted to an existing shower.
---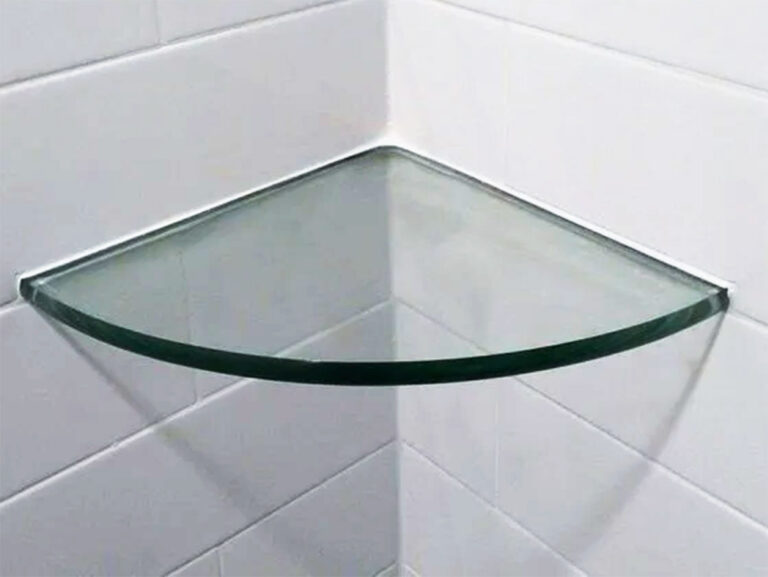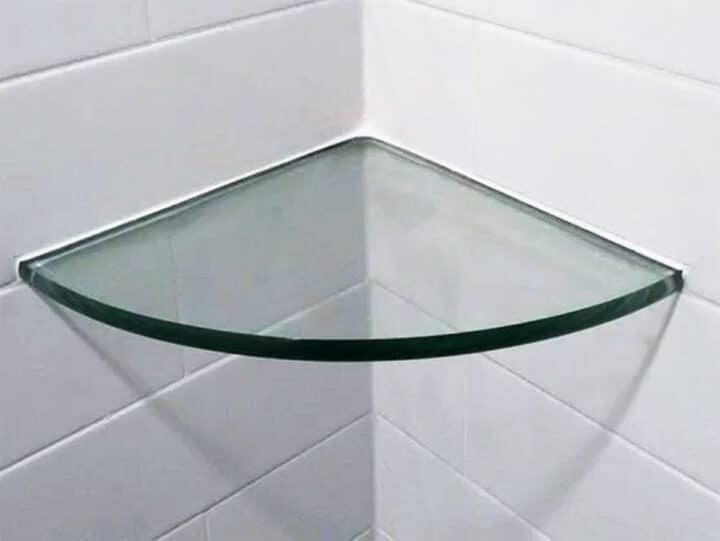 Glass corner shower shelves are another popular option. You don't have to worry about introducing new colors or tones as clear glass goes with everything.
You do want to make sure that you purchase tempered glass, or safety glass, so that it won't send shards of glass everywhere if it should happen to break.
Depending on the shelf, you may need to install it at the time of tiling. This particular shelf that I've linked to has a mounting system so it can be installed in an existing shower.
However, I would encourage you to actually drill and silicone it in rather than relying on adhesive mounts.
---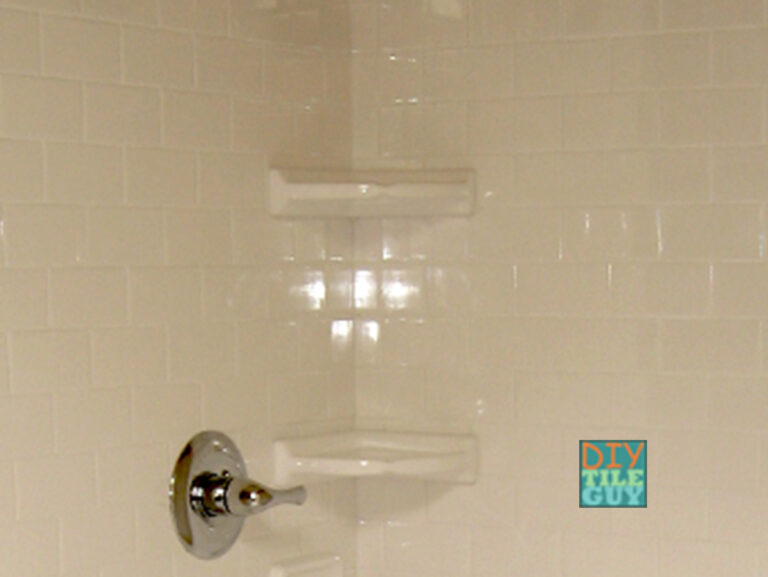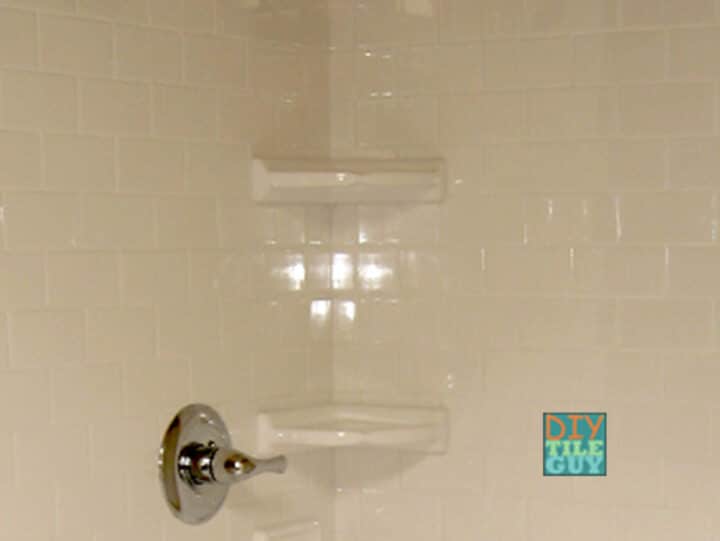 Finally, there's the classic corner shelf. Usually made of ceramic although some of the newer ones are comprised of composite materials.
They come in a variety of colors and have a dimple in the front for drainage. Additionally, they are very sturdy, durable, and easy to clean.
You'll want to select this shelf carefully as some come raised back that is meant to be fitted during the tile installation. Others have a flat back that would need to be installed on top of any existing tile.
---
Those are the 5 corner shower shelf options. Which is your favorite? Let me know in the comments.