Ditra-Heat-Duo is a great product as long as you use it properly.
However, it's not unusual for people to expect this product to do more than what it's capable of. Consequently, that's where the disappointment comes in.
Let's talk about Ditra-Heat-Duo and determine what it does well and situations where you may want to consider other options.
Estimated reading time: 6 minutes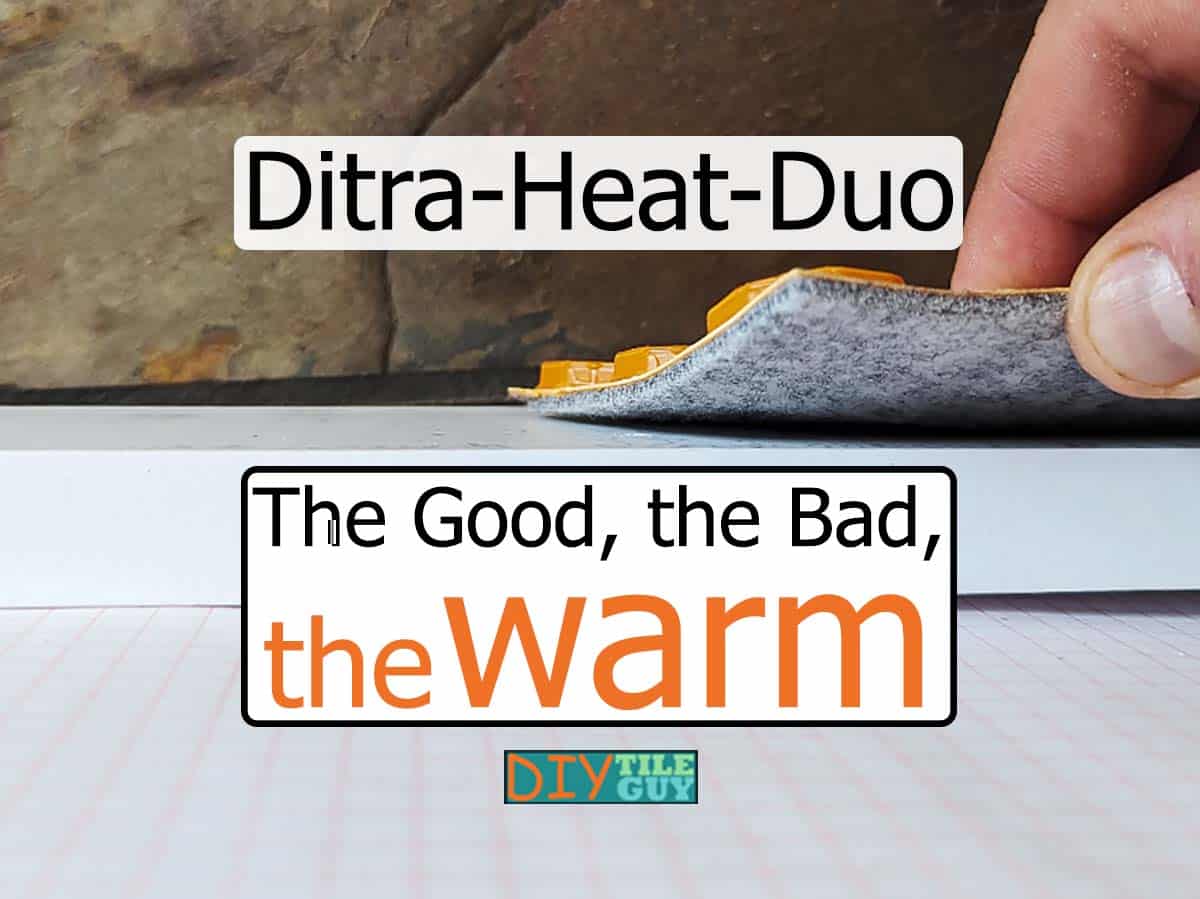 What makes Ditra-Heat-Duo Unique
The Ditra line of products are all uncoupling membranes that offer different features for different needs and applications.
The Ditra-Heat version has pegs integrated into the design so that an electric floor heat wire can be weaved through it.
Both Ditra-Heat-Duo and Ditra-Heat-Duo-PS (peel & stick) are unique in that there is a thick fleece on their underside which helps to reduce sound transmission and act as a thermal break between the electric heat wire and the concrete slab below.
What is the purpose of Ditra-Heat-Duo?
Initially, the product was launched as Ditra-Heat-TB, the 'TB' being Thermal Break. Its purpose was to provide a thermal break between the concrete slab and the floor tile.
Later, they realized that this product had good sound-deadening properties also. So, they relabeled it as Ditra-Heat-Duo. The dual functions are:
Thermal Break
Sound Insulation
Further, this is in addition to other features that it shares with other Ditra products, for example, vapor management.
This post is focusing on what makes this particular product unique amongst the Ditra line of products.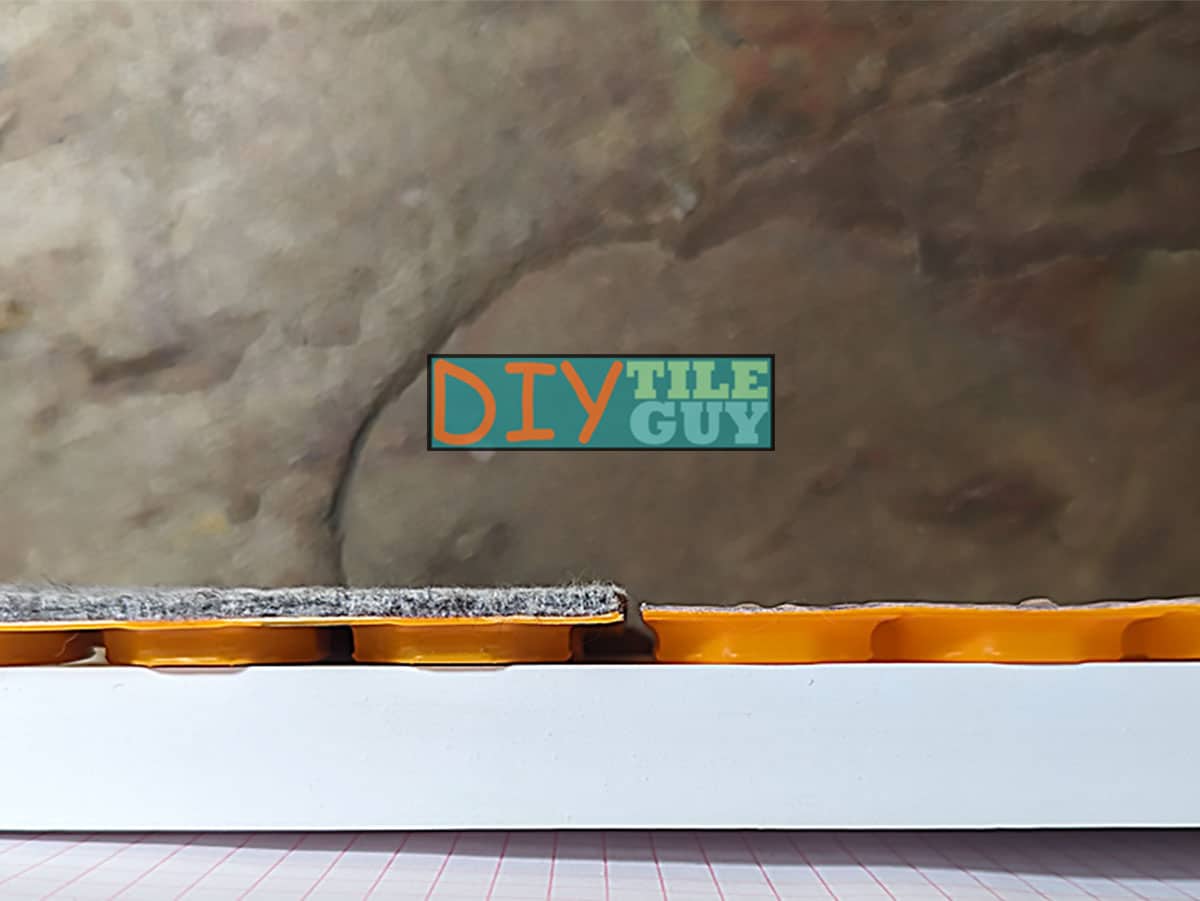 Ditra-Heat-Duo as Sound Control
In regards to sound transmission, this product does a particularly good job with deadening impact-type sounds.
So, in the example of a condominium, this product would help reduce the tapping, walking, and thudding-type sounds from transmitting to the unit below.
Ditra-Heat-Duo meets or exceeds the minimum requirements for Bonded Sound Reduction Membranes as outlined in ANSI A118.13. [2,3]
So, Ditra-Heat-Duo's performance in regard to sound reduction is pretty straightforward and further data is available at the references below.
Ditra-Heat-Duo as a thermal break
When it comes to thermal reduction, the results are less clear. For one thing, there is no ANSI standard to measure heat loss into a slab.
What is a thermal break?
Additionally, the term 'thermal break' is a bit unclear in its definition. One definition that I saw is that it's a product that doesn't conduct heat well.
Another definition calls it a type of insulator.
But Schluter seems to very carefully select the term 'thermal break' and they don't use the word 'insulation'.
Does Ditra-Heat-Duo reduce heat loss?
Because of the thicker fleece that both Ditra-Heat-Duo and Ditra-Heat-Duo-PS are equipped with I have no reason to doubt that both of these products have less heat loss than their thinner Ditra-Heat siblings.
But the question is: How much? Can we define it?
Ditra-Heat vs Ditra-Heat-Duo
In the Ditra-Heat Installation Handbook, they talk about a test they did in their laboratory where Ditra-Heat was put up against Ditra-Heat-Duo.
Schluter claims that Duo heated up a floor 90 minutes faster than Ditra-Heat. Both membranes were over concrete and the floor was heated from 68 degrees Fahrenheit up to 78 degrees. [4]
So, Ditra-Heat-Duo is a great product to install over concrete, right? Not so fast.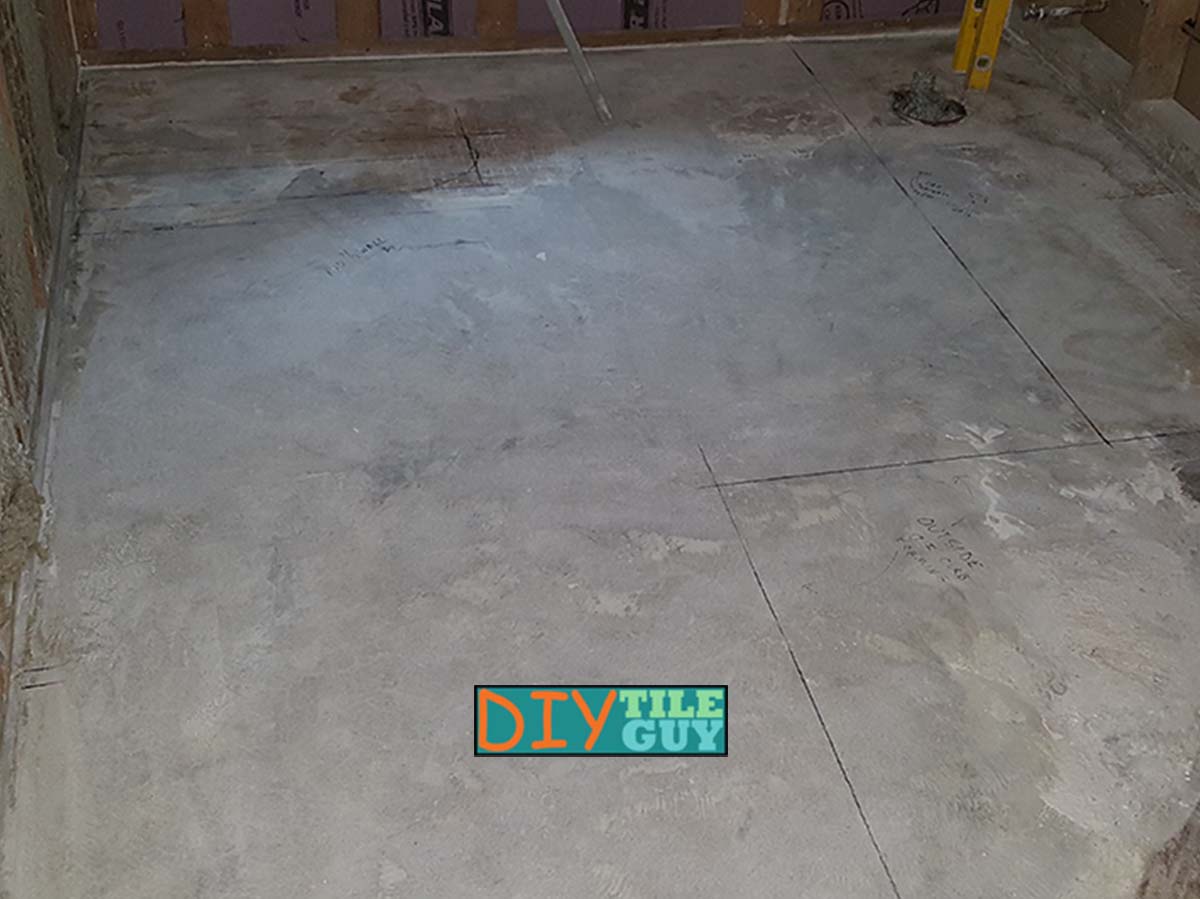 Concrete subfloors are not all equal
On page 34 of the same Ditra-Heat Installation Handbook, Schluter distinguishes between two types of concrete subfloors:
Elevated concrete
Concrete on or below grade
Elevated concrete
This type of concrete subfloor is what you would find in a residential condominium or hotel. The concrete on one floor is room temperature and stands over another floor that is also room temperature.
In this instance, a tile floor would not need to be heated up a significant amount to provide comfort.
Concrete on or below grade
This type of concrete floor sits directly on the ground and an example would be the first floor of a home or perhaps a basement.
Many of these types of floors are not insulated underneath the concrete and soak up the ground temperature around them.
In a Northern climate, the ground can be frozen and a concrete slab will absorb that temperature. An electric floor heating system would need to heat things up much more than just a few degrees as in the example above.
Installing Ditra-Heat-Duo over concrete subfloors
The reason Schluter makes the distinction between the two types of concrete is that their product Ditra-Heat-Duo is designed for one of those two subfloors.
Ditra-Heat-Duo does not have a sufficient amount of insulation to heat a concrete basement slab that has absorbed the ground temperature that surrounds it.
In fact, Schluter, says as much in the Ditra-Heat Installation Handbook:
However, in the case of an elevated structure, Ditra-Heat-Duo is likely a great choice.
Not only would you be getting an ANSI A118.13 sound-reducing membrane but you would also be increasing the performance of your electrically heated floors.
You would accomplish both of those tasks with one product.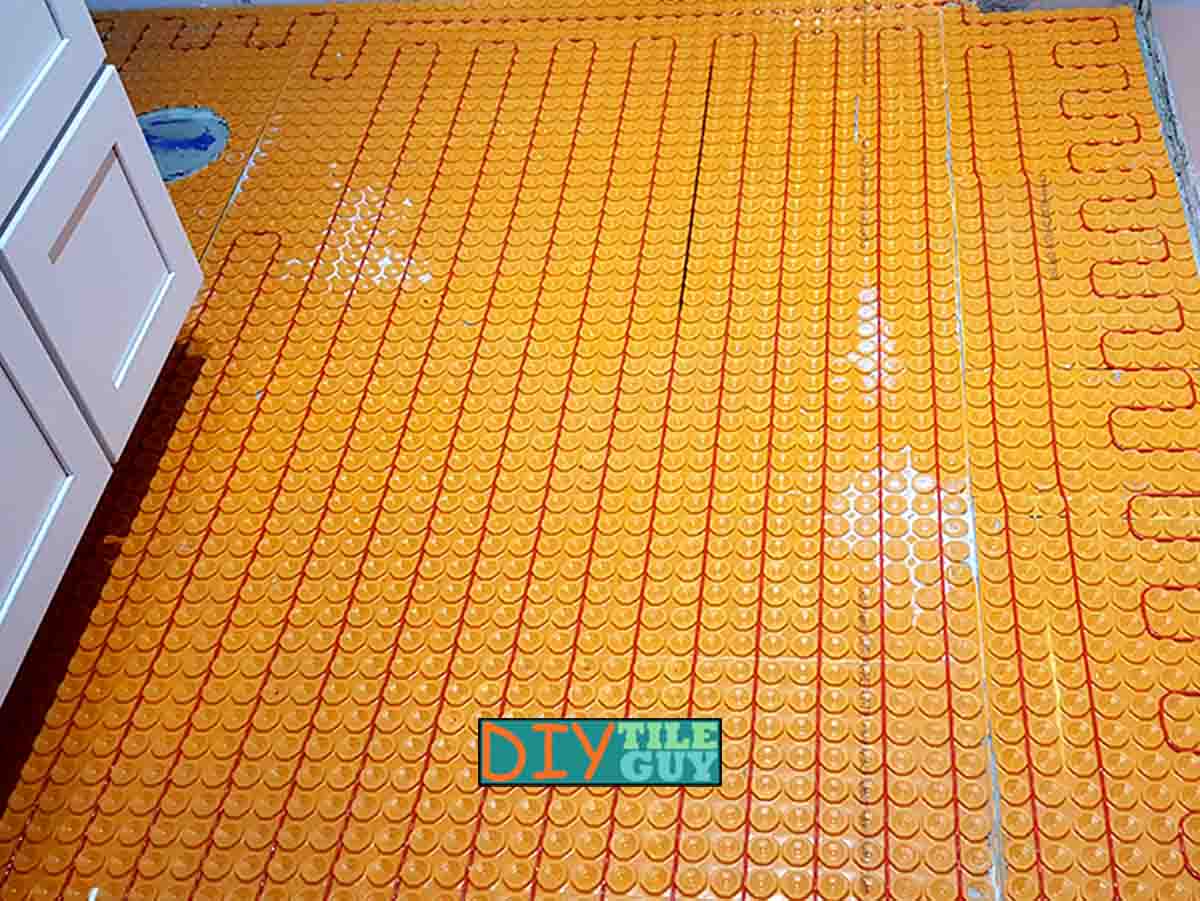 My own personal experience with Ditra-Heat-Duo
Several years ago, when the product was fairly new on the market, I installed (then called) Ditra-Heat-TB over a basement floor in the Seattle area.
I ran another company's cable heat system wire (not Schluter's brand) at a narrow spacing and covered the ENTIRE floor with heat. The coverage was very thorough with no gaps.
The feedback that I received a couple of years later was that the floor took "a looonngg time to heat up."
It was at this point that I realized that Ditra-Heat-Duo was not meant for this type of installation.
In the future, I would insulate the concrete floor with foam backer board prior to installing an uncoupling heat membrane like Ditra-Heat.
Bottom line on Ditra-Heat-Duo
Ditra-Heat-Duo is an excellent product choice for a heated floor in a condominium or hotel environment. You get a thermal break while simultaneously reducing sound transmission. All in one product!
However, Ditra-Heat-Duo is not a sole solution for installation over an uninsulated concrete subfloor. For this application, you want to look into better solutions for insulating concrete prior to installing an electric heat system.
FAQ for Ditra-Heat-Duo
What is the R-value of Ditra-Heat-Duo?
0.35
Ditra-Heat-Duo has an R-value of 0.35 [5]
References
Schluter Handbook download page to download Ditra-Heat Installation Handbook
Ditra-Heat Installation Handbook page 31 Sound Control (04/2023)
Ditra-Heat Data Sheet page 5 Sound Control (09/2022)
Ditra-Heat Installation Handbook page 33 Ditra-Heat-Duo (04/2023)
Tile Magazine- Improving Residential Construction Sustainability (10/22/2018)