I know it seems like a pretty simple thing.
You want to tile a bathroom floor so you go down to your local big-box store and pick up what you need.
What could go wrong? Well, sometimes more than you think.
Below are 5 tips for purchasing tile from Home Depot, Lowes, Costco, Floor & Decor, and the like.
Estimated reading time: 5 minutes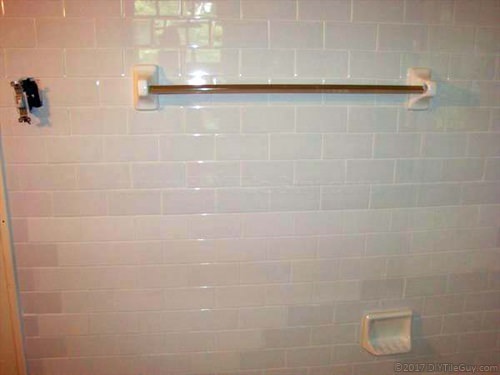 The number one problem: Batch numbers
The biggest issue with big box store tile purchases is shading and sizing differences.
This is great if the tile is supposed to have shade variations and not a solid tone.
However, that's not what I'm talking about here. I'm talking about variations from batch to batch.
Do you know what's not fun? Realizing that the next box of tile doesn't match the tile you just installed.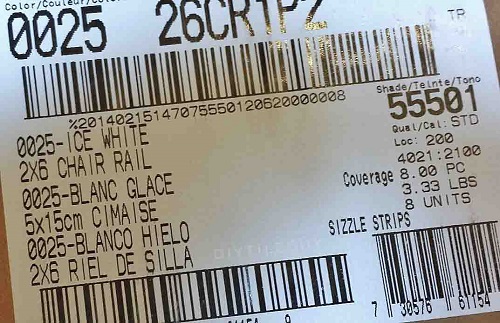 Sometimes you can't even notice the difference until you stand back and look. Nobody wants a different colored line or block of tiles in the middle of their floor.
On every box of tile, there is a dye-lot number which is sometimes called a batch or shade number.
Different batches of tile will have different numbers. Batches can be different in both size and color from run to run.
Consequently, you'll need to check your boxes of tile to make sure that the numbers are all identical.
Flaws
I don't have any concrete proof of this but my hunch is that the big box stores get the "seconds" to sell in their stores.
Therefore, it seems like I see greater numbers of mismatched sizes, chips, and factory flaws than tile that is purchased straight from the distributor. Again, I can't prove this but I think this is the case.
I also see an inordinate amount of sizing differences between the tiles sold in these stores.
Furthermore, tiles can vary by 1/8th inch or more from one to the next. This makes controlling the size of the grout joint very difficult.
5 Tips for purchasing tile from a big box store
1.
Don't purchase from different stores.
With as much tile as Home Depot and Lowes stock, the batches will likely vary from store to store.
That is to say, if you purchase all from one store then you are reducing the odds that you will be getting different dye lots.
If one store doesn't have as much as you need then go to another store and buy everything in one purchase.
2.
Buy new unopened cartons.
One of the great things about big box stores is that they typically have great return policies. You can return your extras rather than throw them away or store large quantities of them.
One of the bad things about big box stores is that you may purchase someone's returned tiles.
Do you think people return the good tiles or the bad tiles?
The person before you may be returning different batches of tile. I've seen cut, broken, and completely different tiles in boxes that have been returned.
3.
Buy too much.
As was mentioned above, the return policies are great. So, purchasing too much tile lets you be choosey in what you install.
You can pick through the flawed tile and return what you don't use.
Furthermore, I recommend getting 20-30% extra when buying through a big box store.
Why You Should NOT Buy a Newly Remodeled Home
4.
Always check the different components.
If all of your tile is one size then this won't be an issue.
However, if you are installing more than one size or shape of tile then you'll need to make sure the different sizes match -even if it's from the same line.
Make sure that your 12×12's and 6×6's match. Take out a piece of bullnose trim and compare it to the rest.
I can't tell you how many times I've found them to be starkly different.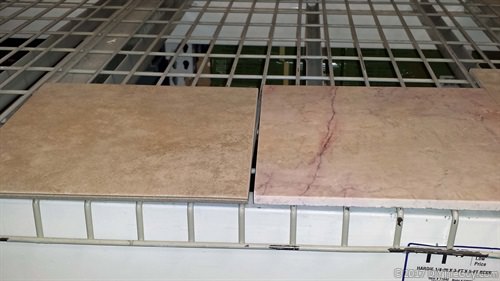 5.
Know what you are purchasing.
Different kinds of tile can be easier or more difficult to install. This can lead to unexpectedly higher prices if you are hiring the project out or more headaches if you are doing it yourself.
Tiles that tend to rate higher on the difficulty scale include:
natural stone tiles
large tiles (6×24's, 18×18's, etc)
glass tiles.
Tiles that are simpler to install include:
ceramic tiles
subway tiles
porcelain tiles with a more rounded "shoulder" or edge.
Big box stores have great prices, great return policies, and are very convenient to shop. So, if you can find tile there then you can be sure that you are buying it at a great value.
As a result, this means no more regretting your tile purchases now that you know these 5 tips.