Update:  Noble has since discontinued this product and another one designed specifically for walls. There is a new product called ValueSeal that has taken the place of both products. It's a crack-isolation membrane that can be used on walls for waterproofing also.
You've probably heard of Ditra. Maybe you've heard of Stratamat or SpiderWeb. If you haven't you can check out my write up about Ditra here.  In the tile industry, these products all belong to a category called uncoupling membranes. People use these products as underlayment before installing their tile. But Noble Company has a product out called Noble EZ and it isn't an uncoupling membrane… and that's what makes it interesting.
No Rules is Good Rules?
One of the issues in my industry is that these uncoupling membranes don't have any rules or standards because the people that make the industry rules can't agree on what exactly these membranes are and how they should be tested. My understanding is that they can't be categorized as a Crack Isolation Membrane because they can't pass the ANSI 118.12 crack test (this is alleged).  So uncoupling membranes are a product without an industry recognized category. No standards mean that they aren't independently tested. If they aren't tested how do we know which ones will perform and which ones are simply pretenders?
Schluter's Ditra has been on the market for 25+ years- that should be a pretty good indication that it's working OK. Laticrete's Stratamat and Custom Building Product's SpiderWeb are relatively newer products but come from reputable companies that provided data sheets that describe how their products are to be used and their limitations. But what about the products on the internet that look similar but cost less….? Buyer beware.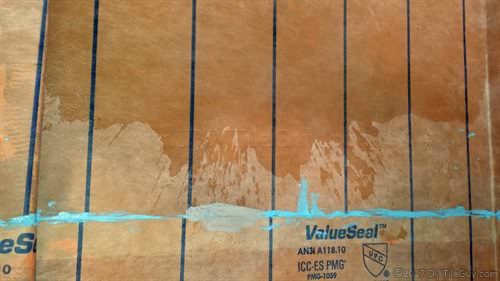 Crack Isolation vs Uncoupling Membranes
Noble Company has made membranes for years. I believe that they were the first ones to make a waterproof sheet membrane. Yes, even before Kerdi. They are predominately in the commercial end of things and they don't market directly to the consumer as much as the other companies. As a result, they tend to get overlooked in the residential market. My experience and my impression of them is that their products flat-out work. If I need something to perform then I buy Noble products.
Many companies, not just Noble, have made sheet membranes that can be installed over wood subfloors and have done it for years. NobleSeal CIS is but one example. But you paid a premium for a product that was, frankly, over-the-top for a residential wood framed floor. This is what makes the uncoupling membranes so appealing is that they are priced to compete with cement board. There are several applications for these membranes but out here on the west coast where most floors are wood framed uncoupling membranes usually are used in place of cement board or some other tile underlayment. You pay a little more for Ditra or SpiderWeb but it's easier to carry, cut, and install than cement board.
Noble EZ and Dal RCI
Finally Noble has come out with a product that is a light-duty version of their NobleSeal CIS crack isolation membrane and it's priced to compete with Ditra and the rest of the gang. It would appear that this is the best of both worlds as you have a membrane that has been tested as a crack isolation membrane and is rated as High Performance and priced to compete with the uncoupling membranes.
An important note:  The crack testing was done using their NobleBond EXT glue which is their premium glue. This membrane can be installed with their other glue product called NobleBond 21 (not for wet areas) or with an ANSI 118.4 latex-modified thinset but wasn't tested with either of these products. The glues will allow for a little more movement so it would stand to reason that it probably wouldn't get the High-Performance rating if a thinset is used to adhere the membrane to the subfloor.
I still like uncoupling membranes (SpiderWeb II is my fav) but Noble EZ is what I'm using for my residential interior installations now. It's thin (1/32 inch) which helps with height limitations so you don't have an awkward transition into another room. I still will use uncoupling membranes if I need the 1/8″ thickness which sometimes is necessary. Daltile sells a relabeled version of Noble EZ and they call it Dal RCI.
Update:  As of 9/2017 there still aren't standards in place for uncoupling membranes.