Best and Worst of the Web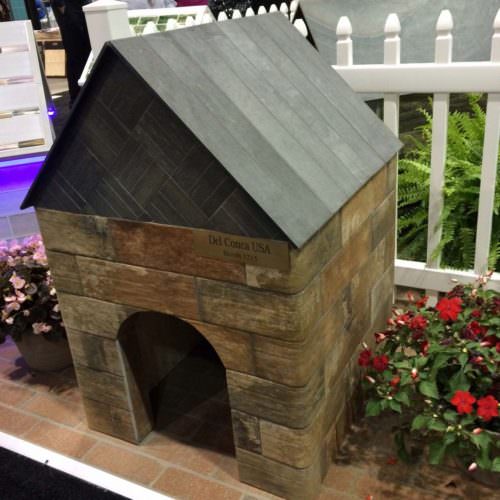 Best of the Web
Tiled Dog Houses
On display this year at Coverings (coverings.com) was an exhibit featuring tiled dog houses. Coverings is the biggest tile trade show held annually. This year it was held in Orlando Florida.
After the show, the tiled dog houses were donated to a local animal shelter.
More photos in this link:
https://www.delconcausa.com/2017/04/coverings-2017-donated-tiled-doghouses-to-the-local-animal-shelter/
Schluter Thinset
If you've used Schluter's products before you'll know all about the modified vs unmodified confusion. Well, it just so happens that Schluter came out with their own line of thinsets. Yes, there are modified and unmodified versions. Yes, you can use modified for their products.
According to Schluter their modified mortar is "specially formulated" for use with their products. We shall see…
Schluter SET™ unmodified, Schluter ALL-SET™ modified, and Schluter FAST-SET™ rapid-setting (Schluter.com)
2018's Hottest Home Trends- Pantone
This lady is one of the top forecasters in my industry. Consequently, she's all over the design trends. Although I'm not looking forward to FRINGE I do like the last trend on her list.
Pantone Predicts 2018's Hottest Home Trends (Realtor.com)
6 of the Most Popular Architectural Styles on Houzz
I always find Houzz trends interesting. However, there's not as much minimalism as I would have expected.
Trending Now: 6 of the Most Popular Architectural Styles on Houzz (houzz.com)
#1 Design Trend of 2017- Apartment Therapy
This seems to confirm #1 and sort of #2 of the Houzz trends in the above link.
Survey Says: This is the #1 Design Trend of 2017 (apartmenttherapy.com)
Tiny Man Caves?
I love the tiny home movement but I don't know about these tiny man caves. I think maybe I'd prefer the garage.
Mini Man Caves – video in link (realtor.com)
Tiny Homes- Coverings
Speaking of tiny homes-
Also at Coverings this year was a tiny home exhibit as part of their Installation Design Showcase (IDS).
The IDS is an exhibit where tile is actually installed during the show over multiple days. Now, normally they just do some concept rooms then tear them down at the end of the show and throw them away.
Well, this year was different. Tiny homes were built which had extensive tile in them. Furthermore, the homes were shipped off so people could actually use them.
The video below is the best I've seen covering this aspect of the show.
via The Design Tourist (youtube channel)
Worst of the Web
How to caulk a shower
If I'd seen this video first I may not have wasted my time making my version of How to caulk a bathtub or a shower (diytileguy.com).
Warning: possible foul language. (I don't want to watch it again to verify)
Stain "Testing" Grout
I wasn't going to put this guy in this section again. After all, he made my Worst of the Web (diytileguy.com) in my last post. However, he just posted this gem and I couldn't let it slide.
Where do I begin? First of all, he compares 3 different grouts in two different categories- apples and oranges. Obviously, the better and more expensive one delivers the best results.
He also has way too thick of test samples, doesn't let them dry long enough, and doesn't conduct the test with two samples: one with sealer and one without. This drives me crazy!
That's it for Best and Worst this time. If you see anything that you think should make the list let me know in the comments below.