New Tile Products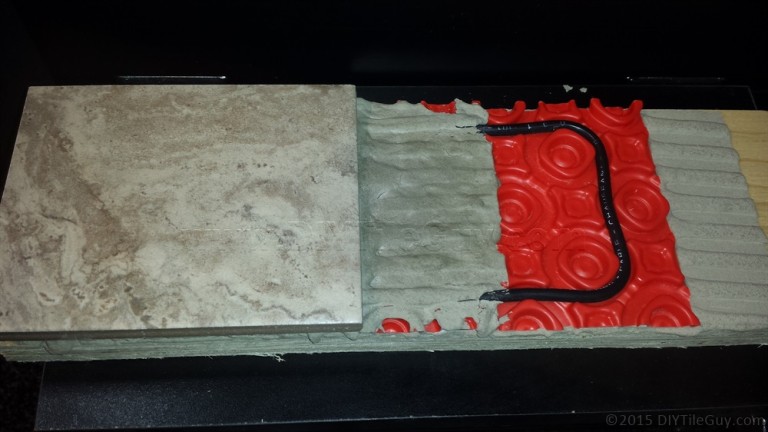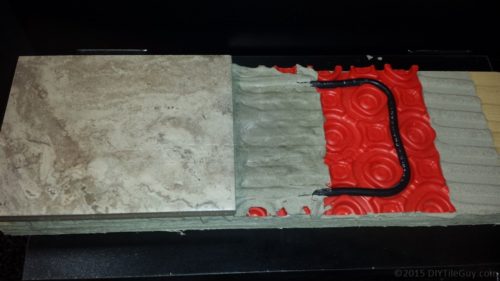 Heated Tile Floor Membranes
Joining the likes of Ditra Heat
and Prodeso Heat
is the newcomer Prova Flex-Heat. The newer trend in heated tile floors is to run the heated wire in the tile underlayment rather than on top or below. The advantage is the installation is a little easier and it allows you to keep the overall floor height down. This allows the heated tile floor to meet up nicely with neighboring floors like carpet and hardwood.
Like Ditra Heat and Prodesso Heat, it is basically an uncoupling membrane that allows the wire to run inside of it. Where it differs from its competitors is that it's only the uncoupling heat mat. They don't make their own wire system. So you are able to run a name-brand heat system that you already trust such as Suntouch
or NuHeat
. You would simply be running their heat system in this uncoupling heat mat. I don't have experience with this particular product but I have used Prodesso Heat and these types of systems are here to stay.
Corner Shower Shelves
I saw two different types of shower corner shelves and made a note of each. Sometimes finding corner shower shelves are difficult with certain tiles. Both of these tile products provide a way around that problem. The first is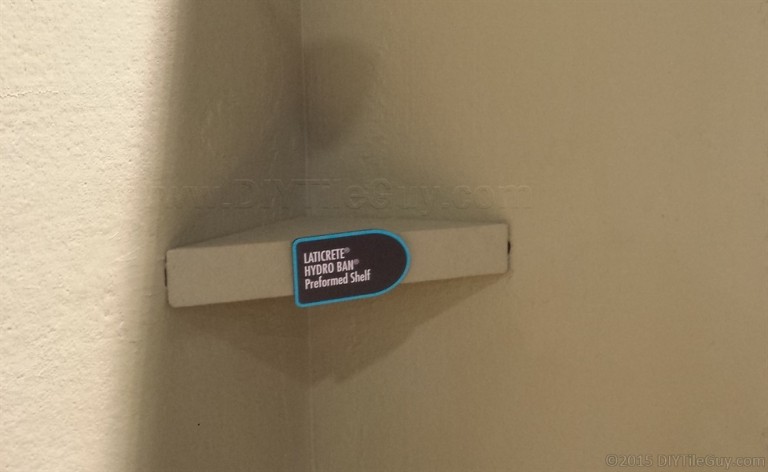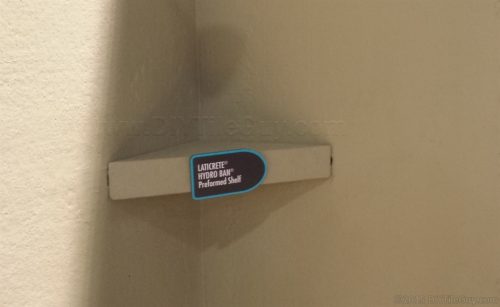 Laticrete:
I don't know if this is a new product or that they've always had this and I just missed it. But Laticrete makes a preformed corner shower shelf
that gets tiled over with your shower tile. It's not a big corner bench that someone moved up. It's a shower shelf that is properly sized for the corner.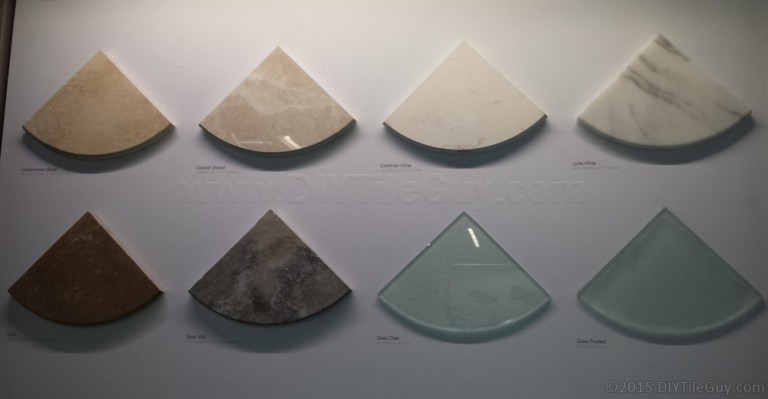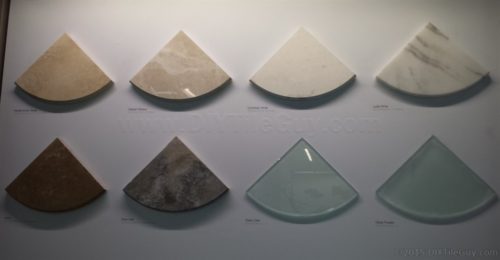 Bedrosians:
Another option is these premade corner shower shelves from Bedrosians. They are made out of natural stone or glass. Sometimes none of the products that you look at are a good match for your tile. Then it might make sense to go with a frosted glass corner shower shelf, for example.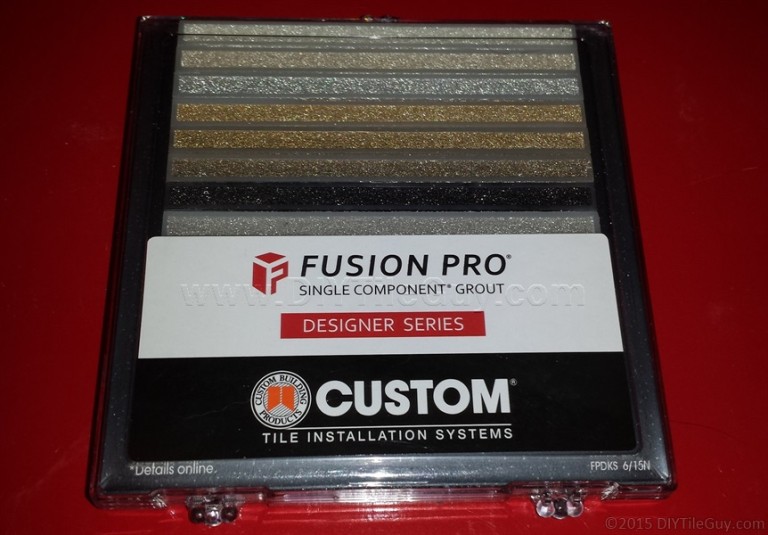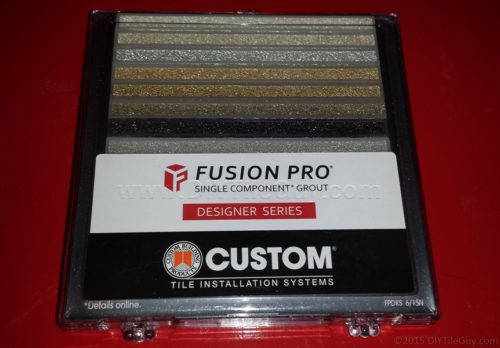 Fusion Pro Designer Series
I saw that Custom Building Products had their new Designer Series colors in their very popular Fusion Pro stainproof grout
. There are currently 8 colors and they all sparkle and have names such as Raw Sugar and Starry Night. They don't say it anywhere but I think this line of grouts is more designed for glass tile… or anyone that could use a little dazzle in their life.
Linear Trench Wall Drain
And finally, one of the more intriguing tile products that I saw recently was this linear shower wall drain from Quickdrain. It's like any shower trench drain that you see nowadays except it's a wall mount. Not a floor mount. I've often thought about making a shower bench with a toe kick and locating the drain under the toe kick so that it sort of disappears. This would be the perfect application for that sort of thing. At any rate, I'm keeping this shower wall drain in mind because I know there will be a place for it down the road.
Tile Tools
Tile saws
Update: The two saws below are now under the Delta Tools brand and are called the Delta Cruzer 7-inch and 10-inch tile saws. See my in-depth review and video of the 7-inch saw here.
Delta Cruzer 7-inch Tile Saw vs Dewalt D24000 | Tool Review
In the world of tile saws, there were a couple of new ones that caught my eye. The Dewalt D24000
has been the gold standard for the last 10+ years. There have been some challenges along the way but none that I really saw as a danger to unseat this popular saw. That is…until now.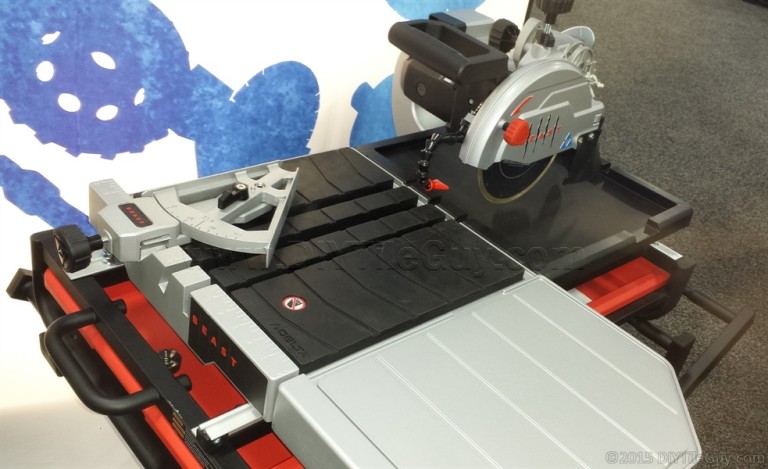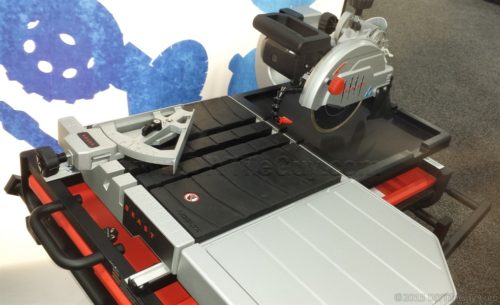 Lackmond Beast7 and Beast10
Lackmond has teamed up with Delta to bring the new Beast7
and Beast10
saws to the market. These saws struck me as well designed, they are lightweight, and they are made for today. The Beast7 is a 7 inch saw that is made to compete with the Dewalt 10 inch saw. It cuts the same size tile (24 inches) and has all the same features such as tilting and chopping head. It does all this and manages to stay 20lbs lighter than the D24000's listed 69lbs. The Beast10 is bigger still and cuts 36-inch tile and weighs in at 78 lbs.
These saws are brand new and there are still some bugs to be worked out. Time will tell what happens but my bet is that these end up taking over the market.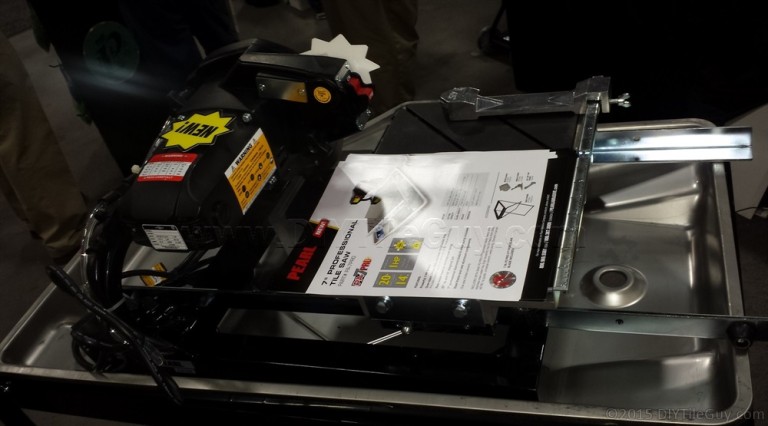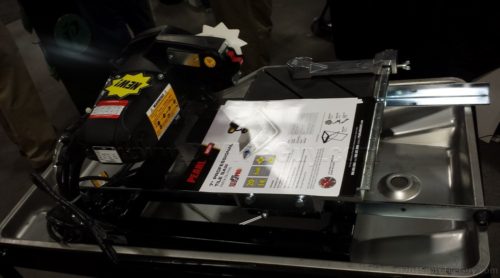 Pearl PA7 Pro
On the other end of the scale is the small Pearl Abrasive tile saw- the PA7-Pro
. It's also a 7 inch that is small and lightweight. It has a stainless steel tray and cuts up to 18 inches. It's priced well below the saws mentioned above but is much better quality than a lot of the saws that are similar in size. I'm in the market for a small tile saw and I've got my eyes on this one.
These are the tile products and tile tools that I thought were new and interesting at the trade show recently. Which one(s) are of the most interest to you?