Thinset Decoded Part 1:  Understanding the Differences
The thinset aisle at your local big box store can be confusing and you may feel like you don't know where to start. Do you ever wonder why one thinset costs $9 and another is priced at $35? What is the difference between modified and unmodified? Which one does Schluter want you to use for Ditra and Kerdi? Does it matter if your tile installer uses a medium bed for your large format tile?
Alas, relief is here! Here is a breakdown of the terms and differences in thinsets so you can shop smart and purchase what you need. Therefore, this first post is going to examine the different terms that are used to describe thinset.
Thinset:  Defining the terms
note:  CBP refers to Custom Building Products a tile mortar manufacturer
unmodified: Doesn't contain polymer additives. Essentially sand and portland cement (although that's overly simplified). Liquid additives can be added to make these kinds of mortars into modifieds.
also known as:  dry-set
examples:  Laticrete 317 & 272; Mapei Kerabond;
modified:  Contains polymers which add flexibility and bonding strength.
also known as:  polymer enhanced, latex fortified,
examples:  CBP Versabond; Laticrete 253 Gold; Tec Sturdi flex, and many many more. The majority of thinsets on the market are modified.
Thinbed: designed for thin installations. Most tiles 13 inches and under should typically use a thinbed mortar
also known as:  thinset
examples:  Laticrete 252 Silver; Mapei Ultraflex; CBP Versabond Flex. and much more.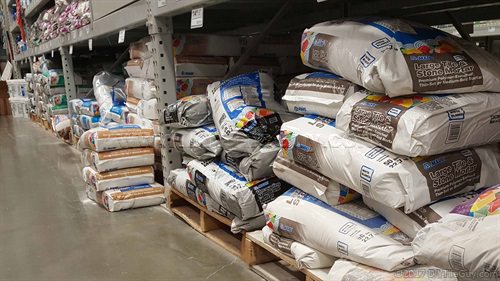 Medium bed: designed for larger and thicker porcelain and natural stone tiles. Coming in 2015 this category is soon to be known as "Large or Heavy Tile" and probably be shortened to LHT.
also known as:  LFT, marble & granite mortar, large format tile mortar
examples:  CBP Marble & Granite; Laticrete 4XLT; Mapei Ultimate Large Tile Mortar
non-sag: designed to hold the tile up on a wall without it "sagging" or slipping down. Results will vary.
also known as:  lightweight
examples:  Laticrete 255 Multimax; Tec 3n1; CBP Prolite
Rapid set:  mortars that cure at an accelerated pace
also known as:  speed set
examples:  Laticrete 4XLT Rapid,  CBP SpeedSet
Specialty thinsets: these are designed for specific applications
examples:  CBP glass tile mortar; Laticrete 125 Sound & Crack adhesive
Now that we know the terms let's move onto…


Disclaimer:  I am a full-time tile setter and am very familiar with the brands of Custom Building Products (referred to as "CBP" above) and Laticrete as I have extensive experience with them. I am somewhat familiar with the brands Tec and Mapei. This is why all the references above are from these four brands. I have no familiarity with Ardex, Bostik (with the exception of Ditra-set),  ProSpec, Merkrete, or any others. Please read the manufacturer's instructions and data sheets and if anything conflicts with the information in these posts, please follow the instructions from the manufacturer.