Coverings Atlanta Recap
Coverings is the biggest trade show in the tile industry. This is where I look forward to seeing new and innovative products released.
Well, this year, there were 4 new tile installation products that I thought deserved mention. I'll list them in the order that I think is coolest to just cool. Starting with:
Now, this is an innovative product that I don't believe existed until Laticrete launched it. These are little packets that you add to thinset mortar and encase electric floor heat wires with.
The benefit is that it increases the conductivity of the electric in-floor heat wires by 20% (according to Laticrete).
Obviously, this is something that Laticrete wants to be used with not only their own thinset mortars but also their Strata_Heat system. Additionally, they mention that it's not to be used with their lightweight mortars. Currently, it's only authorized with their 253 Gold, 254 Platinum, and 4XLT thinset mortars.

Of course, since this product is new and innovative I have a gazillion questions about how it works and how far one could push the limits of wire spacing but, alas, they'll have to wait.
There's been a need for a wall leveling product for some time. This isn't the first one on the market but it has a shot at being widely available with Mapei's distribution chain.
In the past, to get walls flat and plumb the advice has always been to shim the studs or create walls out of old school mud work.
Typically, installers and DIY'ers do the best they can at flattening walls but still come up short in getting them perfect. Then the temptation is to skim thinset mortar over the walls to make up for any inconsistencies. Or, alternatively, apply more (or less) mortar to each tile to flatten them out as you install. However, both of these methods are outside industry recommendations.
The workability of it appeared to be very good. This would be an excellent choice for when other trades have installed cement board before the tile installer arrives. This is not an uncommon practice in new residential construction.
Foam backer boards are not specifically mentioned as a suitable substrate but they aren't ruled out either. However, in general, this isn't an ideal way of truing up foam backer board walls. Typically, the waterproof membrane goes in the front of the wallboard directly below the tile.
With all that being said, I can see carrying around a bag of Mapei Planitop for when my efforts at truing up backer board fall short- which is more often than I care to admit.
With all the other uncoupling heat membrane systems out there I think it was a matter of time before Ardex came out with a heat version of their Flexbone uncoupling membrane.
However, rather than just come out with a membrane the people at Ardex came out with an entire heated system. This includes wire and thermostats.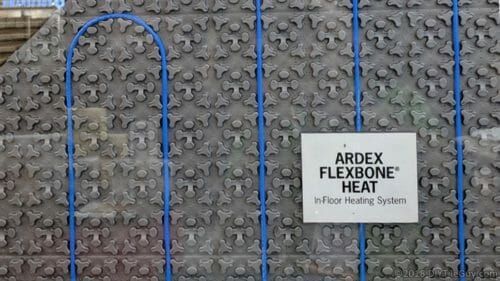 A couple of twists that they've added are gentler curves on the returns. Additionally, they've added a little bump that helps hold the heating wire up off of the membrane. This would allow thinset mortar to get all the way underneath the wire which would, in theory, be slightly more efficient.
The thermostats look good and include both a programmable touchscreen thermostat and a wifi option is also available.
With Ardex's product line they do have some unique options available with this heating system. For instance, it appears that either thinset mortar or a self-leveling compound (Liquid Backer Board) are acceptable for encasing the heating wire over Flexbone Heat.
Furthermore, I believe the heated membrane can be eliminated and just the heat wires used with Liquid Backer Board. However, this product is not yet on the market and we'll have to wait a bit longer to find out some of the details.
Custom Building Products has come out with a self-leveling underlayment that can go over wood, or OSB, subfloor. Not only that, it doesn't require the use of metal or plastic lath reinforcement.
Its only competitor that I'm aware of would be Liquid Backer Board (LBB) by Ardex. However, with Custom's large distribution it will be interesting to see if this product comes into some of the big retail chains.
Over a primed wood subfloor, WSF can go as thin as 1/4 inch thick (versus LBB at 1/8″).  In my local market, WSF is considerably less expensive than LBB on a per bag basis. However, when I factor in the coverage of each bag the savings aren't as significant.
Even still, Custom Building Products is one of the early entrants to this field of self-levelers over wood subfloors. It is my belief that these products will continue to gain popularity up here in the northern climates where there's a lot of wood subfloors and floor heat remains popular.
These weren't the only new and innovative products that I saw at Coverings but just the four at the top of my list. If you see something I missed or have feedback about the products above then I'd love to hear it. Let me know in the comments below.